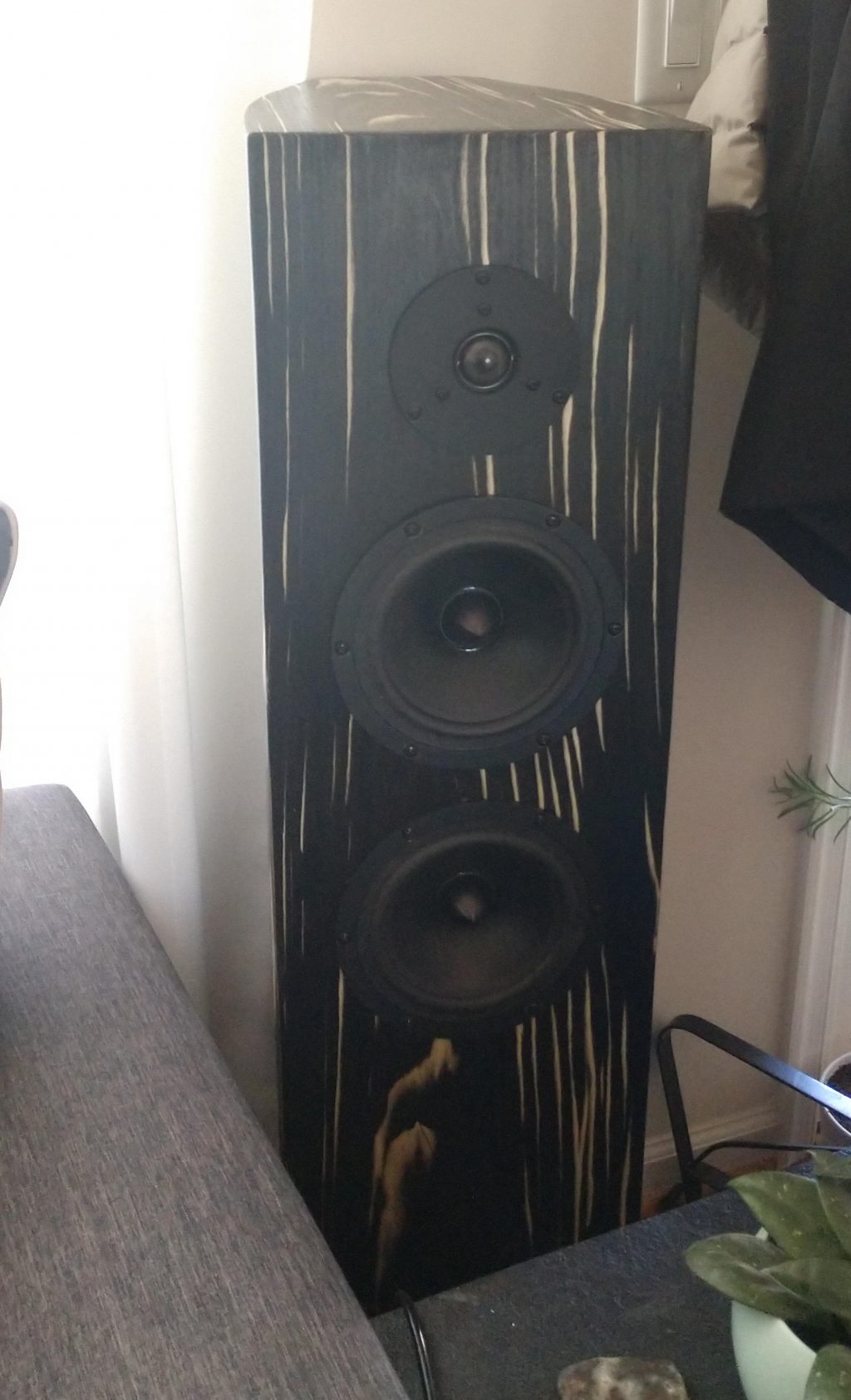 All Dayton
---
Designer:
Mark
Project Category:
Tower Speakers
Project Level:
Intermediate
Project Time:
8-20 Hours
Project Cost:
$100 – $500
Project Description:
I wanted to design a set of speakers that I could use without my sub and I had some veneer waiting for me to use up.
Design Goals:
I wanted pretty flat response down to 35 hz and all the way up to 20k. I wanted the drivers to clear my couch which they sit beside and I wanted to have some fun too.
Driver Selection:
I recently built the Amigas for a family member and enjoyed the sound of the RS-180 mids after they fully broke in. I prefer a slightly warmer sound, so I decided to go with dual RS-180P (295-375) drivers and the tried and true DC-28F (275-070) tweeters to balance out the high end.
Enclosure Design:
I wanted to try my hand at bending some plywood and make curved sides. I used two layers of 3/8 inch plywood glued together to provide the stiffness. The port is rectangular at the bottom to get a little more loading off the wall.
Enclosure Assembly:
having the flush-cut router bit made the frame pretty easy after I made the template. Bending the plywood was pretty time consuming and used a lot of wood glue. I used strap clamps to pull the plywood to the curve and used my nail gun and a lot of glue to secure it. After that, it was pretty standard.
Crossover Design:
I used X-sim to design the crossover with impedance correction and BSC to offset the 10″ wide front. I used l-pads on the tweeters for minor adjustments after they were in the room and broken in.
Tips & Tricks:
If you plan on bending wood, have a couple strap clamps handy and a nail gun ready to go. Before finishing with the veneer, leak check the seams. I used Audacity to run a lot of 20-100 hz signals to find and seal a few small leaks.
I have used the tweeters before and found that they are kind of sticky for a year or so, do not open them up in your dusty garage.
Conclusion:
I learned from the Amiga build that these mids need to be fully broken in. As these broke in, they really came to life. The vocals are superb and you can feel the bass in your chest. I'm really happy with the sound. I may re-finish them with a lighter veneer though, that is a lot of black.
About the Designer:
I'm an audio enthusiast who enjoys electronics and woodworking.
Project Parts List: