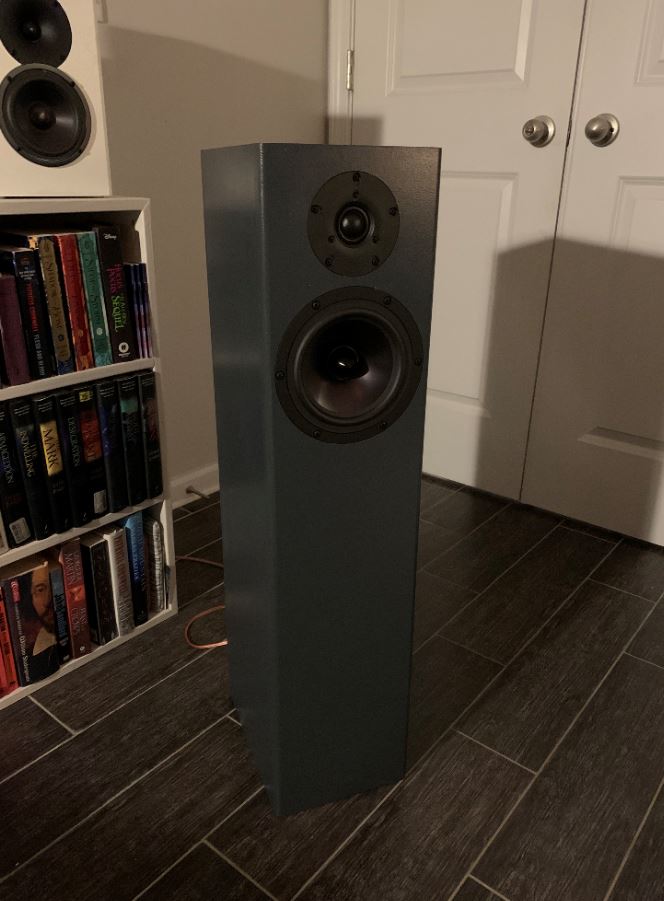 Amiga MT Tower HiFi Killer Speaker Full Kit
---
Designer:
Ryan C.
Project Category:
Tower Speakers
Project Level:
Intermediate
Project Time:
8-20 Hours
Project Cost:
$100 – $500
Project Description:
After building the C-Note and Classix II kits, both of which are great speakers and phenomenal value, I wanted to explore a more HiFi kit. I spent quite some time considering various kits from GR Research, DIY Soundgroup and CSS Audio, among others. The Amigas rose to the top with the best overall value especially with cabinets included. Additional consideration was that they were compact towers that wouldn't require stands. The lower sensitivity was a concern, however my Yamaha R-N303 would be strong enough to drive them in my average size master bedroom.
Design Goals:
Great HiFi sound on a budget
Driver Selection:
Kit:
Peerless by Tymphany DX25TG59-04 1″ Fabric Dome Tweeter
Dayton Audio RS180S-8 7″ Reference Shielded Woofer 8 Ohm
Enclosure Design:
Vented kit
Enclosure Assembly:
The kit arrived quickly and well packed. The quality MDF is significantly better than what you can get at your local hardware store. It went together beautifully, gluing everything except the baffle together at the same time. You will need a lot of 12"+ clamps if you do it this way. I highly recommend leaving the baffle off to line with dampening, secure wire leads and crossover. Anxious to hear these, I went with a simple furniture paint for finish – Valspar Chimney Smoke. Definitely worth the extra $ to buy the complete kits.
Crossover Design:
Thanks Paul! I used the PC boards for the crossover to which I highly recommend (eBay).
Tips & Tricks:
I highly recommend leaving the baffle off to line with dampening, secure wire leads and crossover. Predrill all your holes first to keep you cabinets debris free. I followed the designers recommendation to put some poly in the bottom 1/4 of cabinet. Cover your openings for sanding and painting to keep it clean inside. MDF can require a lot paint coats so you may want to use Kiltz primer first. I did this with my last project and it was night and day difference on how the paint laid.
Conclusion:
No regrets. These are an amazing value and I would absolutely do it again. The positive bass comments are true, big and tight, and you can feel it! These speakers are articulate but not fatiguing. Well placed in a medium size room they will wow you with soundstage and detail. They will not play real loud (max out under 100db) but do they sound great.
About the Designer:
Just a dad that loves music and building things.
Project Parts List:
| | | |
| --- | --- | --- |
| Part # | Description | Qty |
| 300-7124 | Amiga MT Tower Speaker Kit With Knock-Down Cabinet | 1 |
| 081-425 | Parts Express #8 X 1″ Deep Thread Pan Head Screws Black 100 Pcs. | 1 |
| 100-017 | Audtek 16 AWG OFC Speaker Wire 100 Ft. | 1 |
| 260-276 | Parts Express Round Speaker Wire Terminal Cup 2-15/16″ Gold Spring-Loaded | 1 |