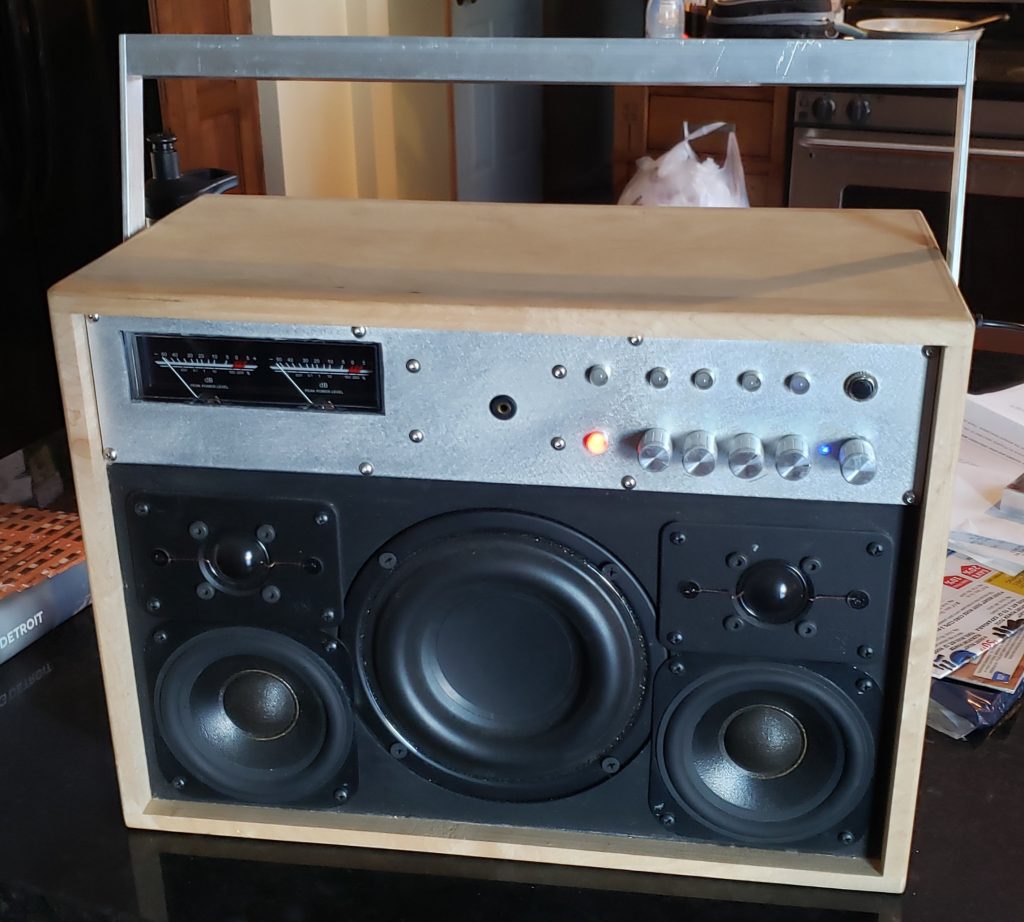 Another Boombox Part 1
---
Designer:
Don A
Project Category:
Portable Speakers
Project Level:
Intermediate
Project Time:
8-20 Hours
Project Cost:
$100 – $500
Project Description:
Project started out trying to build a retro looking boombox using PE Executive 200watt Bluetooth kit as a starting point.
Design Goals:
Incorporate mini ADS L200E speakers into design and port the subwoofer. Retro 70/80s boombox look.
Driver Selection:
264-917
Enclosure Design:
Modeled after Paul Carmody's Isetta Bluetooth speaker. 6 liters after accounting for port and woofer. With a 1.5″ D x 10.5″ L port. Electronics cavity is isolated from woofer. ADS speakers in same size sealed enclosure as original.
Enclosure Assembly:
1/2″ Baltic birch plywood, same as provided in PE Executive speaker. Dadoed slots to assist in assembling speaker.
Crossover Design:
Crossover from ADS L200E were used.
Tips & Tricks:
VU meter backlighting needs a relay to shut off power, otherwise will drain the batteries.
Custom grill from Speakerworks.com.
Handle aluminum tube has wood in ends to hold screws for straps. Use washers to space out straps so they wouldn't rub on sides.
Conclusion:
Happy with results. Not exactly a retro boombox but I like the way it turned out. Part 2 will be using a passive radiator instead of port to see the impact on bass and Boston Acoustics speakers instead of ADS.
About the Designer:
Degreed electrical engineer and avid woodworker, have been building speakers and audio components for 30 years.
Project Parts List:
| | | |
| --- | --- | --- |
| Part # | Description | Qty |
| 264-917 | Tang Band W5-1138SMF 5-1/4″ Paper Cone Subwoofer Speaker | 1 |