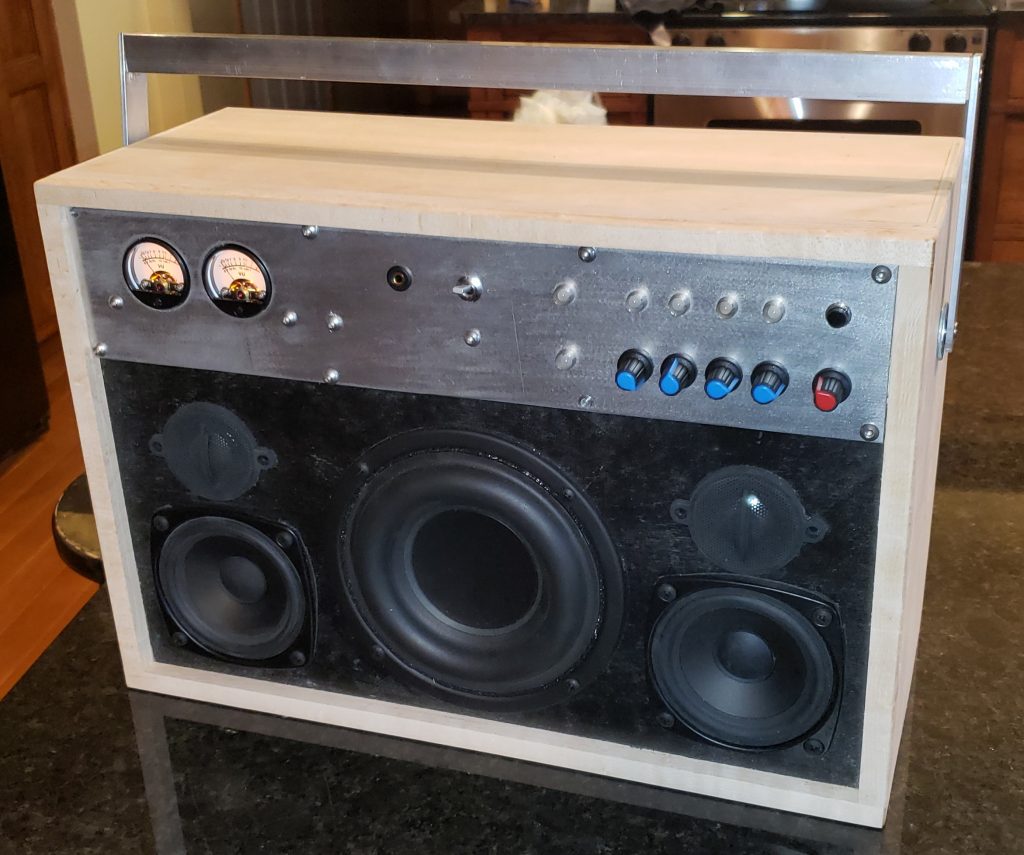 Another Boombox Part 2
---
Designer:
Don A
Project Category:
Portable Speakers
Project Level:
Intermediate
Project Time:
8-20 Hours
Project Cost:
$100 – $500
Project Description:
Another take on the retro boombox using a passive radiator instead of a port and Boston Acoustic speakers instead of ADS as in Part 1.
Design Goals:
Incorporate a SB Acoustics SB15SFCR-00 5×8 passive radiator with Tang Band subwoofer and Boston Acoutics Micro90x speakers. I also used the 5 cell PE battery board LBB-5V for more volts to the amp.
Driver Selection:
264-917
Enclosure Design:
Enclosure was increased to about 7.1 liters for the woofer/passive radiator and separate similar size sealed enclosures for the Micro90x speakers as the originals.
Enclosure Assembly:
Same 1/2″ Baltic birch plywood with dados to assist in assembly.
Crossover Design:
Crossovers from Boston Micro90x were used.
Tips & Tricks:
This time I used a switch to turn VU meters on and off since there is no switched outputs on the battery board or amp.
Conclusion:
Passive radiator is the way to go with the Tang Band 5.5″ subwoofer. It will go louder before distortion sets in and it seems to sound better to me. The Boston speakers sound great with this design even with the weird tweeter mounting I had to accomodate. I really didn't notice an increase in output level with the higher voltage going to the amp but battery seems to last longer.
About the Designer:
Degreed electrical engineer and avid woodworker, have been building speakers and audio components for 30 years.
Project Parts List:
| | | |
| --- | --- | --- |
| Part # | Description | Qty |
| 325-210 | Dayton Audio LBB-5Sv2 5 x 18650 Lithium Battery Charger Board/Module 21V with Charge Protection | 1 |
| 320-635 | TPS3116D2 Class D 2.1 Bluetooth 5.0 Amplifier Board 2 x 50W + 100W with Filter and Volume Controls | 1 |
| 264-917 | Tang Band W5-1138SMF 5-1/4″ Paper Cone Subwoofer Speaker | 1 |
| 142-105 | 18650 2600mAh Li-Ion Flat Top Rechargeable Battery 5-Pack | 1 |
| 325-142 | Dayton Audio LBB-5CL DC Charging Power Cables and LED Light Kit for LBB-3v2 / LBB-5 / LBB-5S Battery Board | 1 |
| 081-420 | Parts Express #8 x 1/2″ Deep Thread Pan Head Screws Black 100 Pcs. | 1 |
| 081-422 | Parts Express #8 x 3/4″ Deep Thread Pan Head Screws Black 100 Pcs. | 1 |
| 090-5017 | Clear Acrylic Mounting Plate for Metal Panel Mount DC Jacks | 1 |
| 090-5016 | 2.1mm Metal Panel Mount DC Jack | 1 |