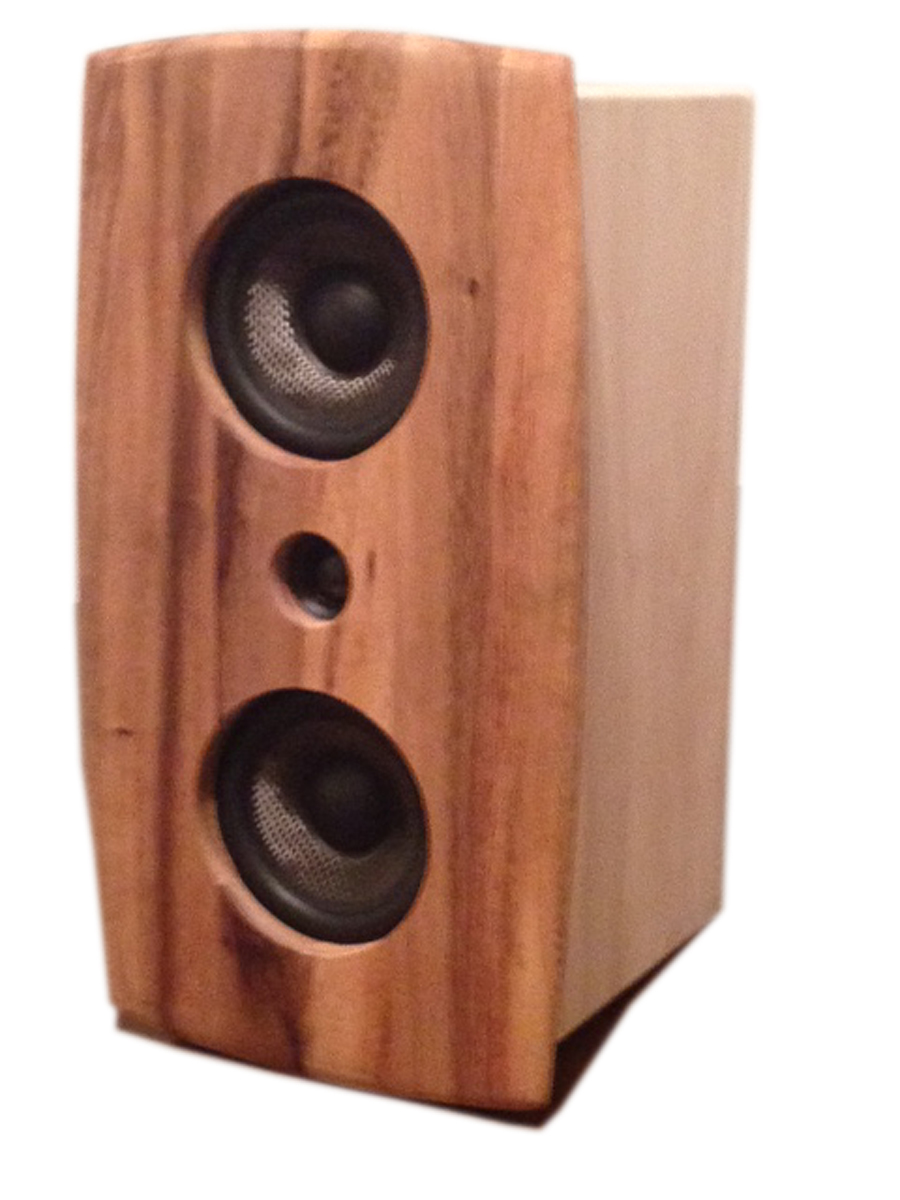 Artisan
---
Designer:
Jared
Project Category:
Bookshelf Speakers
Project Level:
Beginner
Project Time:
8-20 Hours
Project Cost:
$100 – $500
Project Description:
Dual 4″ midrange drivers with 1″ fabric dome tweeters; ported
Design Goals:
I wanted to build a pair of speakers that would look good in a loft apartment or something like than. Something very very simple with clean lines, a touch or modern, a touch of rustic. I decided on two tone and Kevlar drivers. I HATE visible screws and hardware. I think it makes stuff look cheap. So I knew I wanted the drivers to be mounted from the rear, and once I got the wood cut I decided I was NOT going to use any screws, etc. on the rear either. If you're really nice, I will explain how the speakers are held together. It's not glue, it's not magnets, and it's not sheer determination. But they are sealed up fantastically and completely serviceable. In fact, I already replaced the crossovers inside with better components. I also ported the rear panels and recessed some binding posts for banana plugs. Find 'lil sub' for the matching sub I made later.
Driver Selection:
Stolen from Micca MB42Cs.
Enclosure Design:
Ported, about .25 cu ft. Acacia front panels, pine sides and rear.
Enclosure Assembly:
Ported, about .25 cu ft. Acacia front panels, pine sides and rear.
Crossover Design:
Stolen from original enclosures but upgraded.
Tips & Tricks:
Patience. Problem solve. Be creative. Let design limitations inspire not just solutions, but improvements.
Conclusion:
Flat response. Excellent sound – better than expected. I will probably upgrade the tweeters with Vifas from PE soon. I have a suspicion that will improve the already excellent sound. Played these through my tube amp after listening to them on my solid state amp for a while and I am almost certain Johnny Cash came in the room, switched off my stereo, and performed a few songs for me.
About the Designer:
I like taking on a project a couple of times a year – indoor shutters, guitar amp, office desk, bedroom bench, etc. I have built a few speakers before but they never turned out this nice. I was too cheap and too hasty in my youth. I like the design elements that emerge due to apparent limitations and trying to keep the design as simple as possible.