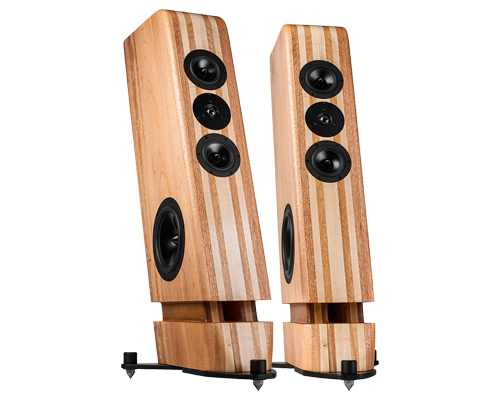 AudioMotive
---
Designer:
Julian Franke
Project Category:
Tower Speakers
Project Level:
Advanced
Project Time:
20+ Hours
Project Cost:
Over $1,000
Project Description:
3-way, Bass Reflex design in an MTMW configuration
Design Goals:
My goal was to design audiophile quality speakers with a contemporary look, a furniture grade finish and "spousal" appeal, while keeping the size to a minimum and maximizing the frequency response.
Driver Selection:
Woofer: DA RS2255-8 8″ (295-356), Qty. one per speaker
Midrange: DA RS125-4 5″ (295-370), Qty. two per speaker
Tweeter: DA DC28FS Shielded Silk Dome (275-075), Qty. One per speaker
Enclosure Design:
The enclosure has parallelogram shape with a baffle angle of 15 degrees. The tweeter and midranges are mounted on the front baffle with the 8″ woofer mounted on the side. The left and right speakers are mirror images of each other. It has a butcher block look design element that carried over from a previous project.
Enclosure Assembly:
The best way to describe the enclosure assembly is a cross between Lincoln Logs and Lego Blocks. Most of the 125 wooden pieces (per speaker) are 3/4″ x 1″ of various lengths with the ends cut at a 15 degree angle. Each piece was glued and clamped in place to form the profile, layer by layer. The internal assembly (driver chambers, braces, wiring, crossover mounting and acoustic dampening) was done prior to gluing the last side panels in place. I used an orbital sander with 40 grit sanding discs to shape the enclosure and a plunge router to radius the corners and cut the holes for the drivers. The cabinets were finished with rejuvenating oil.
Crossover Design:
3-Way, 2nd-Order All-Pass (APC) – Crossover frequencies are 300 Hz and 2700 Hz. Due to the size of the components, I split the sections up onto two boards, the Band-Pass section mounted in the lower part of the speaker, and the High and Low-Pass section mounted in the upper part of the enclosure.
Conclusion:
With the speakers taking almost a year to complete, I believe my Design Goal was achieved, and perhaps even exceeded. These speakers have a fairly flat response from 30 Hz to 20,000 Hz, detail in the mids and highs with good bass response, and a good looking cabinet that got two thumbs up from my wife.
About the Designer:
I've been an audio enthusiast for as long as I can remember. My Dad built a pair of speakers back in the 60s using Electro-Voice drivers that I still listen to today. I've been designing and building speakers for the last 15 years. I work as a Mechanical Design Engineer for a robotics integrator. My hobbies include photography and an ongoing project of maintaining a classic truck. I live with my wife of 18 years and an Italian Greyhound.
Project Parts List: