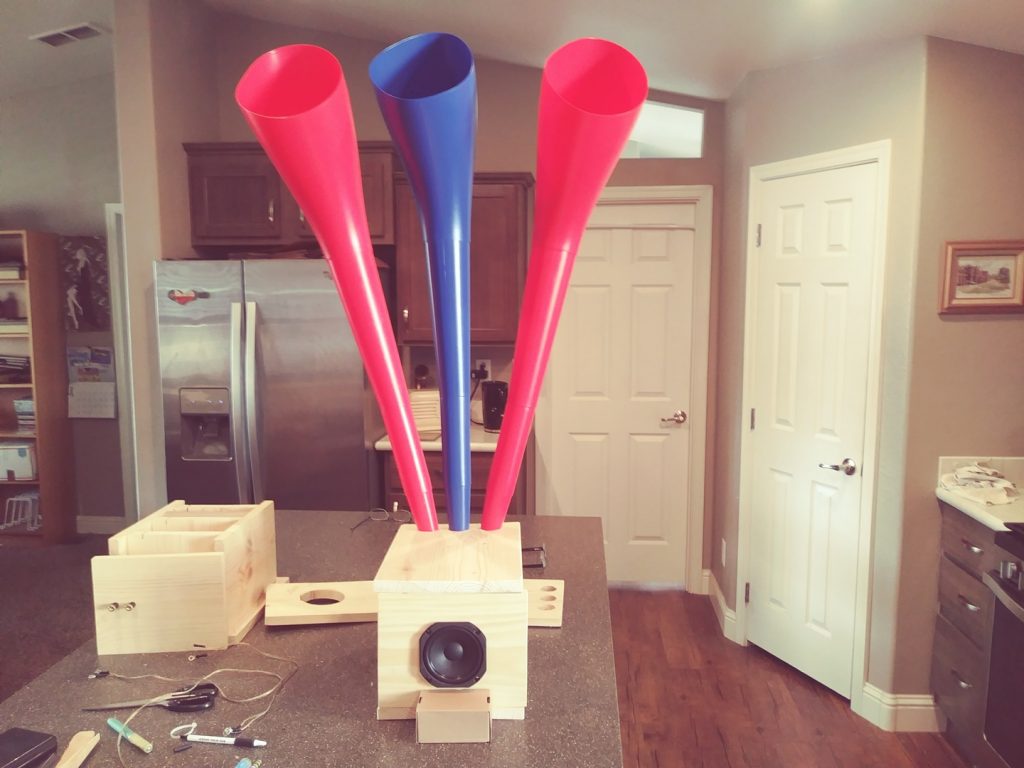 AVE 750
---
Designer:
Dave Starks
Project Category:
Freestyle Speakers
Project Level:
Intermediate
Project Time:
8-20 Hours
Project Cost:
Under $100
Project Description:
Speakers that deliver big sound way in a small package? AVE 750 Alpine Vuvuzela Exponential Horn Speaker with a mouth of 750cm2.
Design Goals:
To create a strong single point rear loaded horn speaker capable of handling some power and delivering a smooth rich sound.
Driver Selection:
LaVoce FSF041 4″ Full Range Speaker. part # 293-710
Enclosure Design:
An original that grew out of the notion of making an affordable rear loaded horn speaker. Utilizing LaVoce 4″ full range drivers and calculations from the Bulgarian Audiophile rear loaded horn calculator website. So to make a rear loaded horn speaker that fit the parameters of the LaVoce I need to have a transmission line that equals 100 cm in length with an interior cross section of 54cm2. The exponential portion would then grow from an area 54cm2 at the throat of the horn to a cross sectional area of 750 cm2 at the mouth. Then searching the internet for cheap exponential horn I came across collapsible Vuvuzela Alpine Stadium Horn $5 each. Which were advertised at a meter long Perfect! for this idea.
Enclosure Assembly:
Lastly I am a novice woodworker so I chose to use dimensional lumber Pine lumber 7.25″ x .75″ and 9.5″ .75″ cut to length and sanded. Using titebond glue for the wood and Elmers for the chipboard. Sonic barrier 260-520 and Acousta-stuff 260-317 were used to damp the interior. The horns came from Oriental Trading Co.
Conclusion:
The sound is pleasant, has way more bass than I expected from the speakers advertised range. The sound stage is seriously the best I have ever experienced. Fanning the horns out against the wall helps in both sound stage and bass emphasis.
About the Designer:
Retired Shoe Salesman that loves to learn and challenge himself.
Project Parts List: