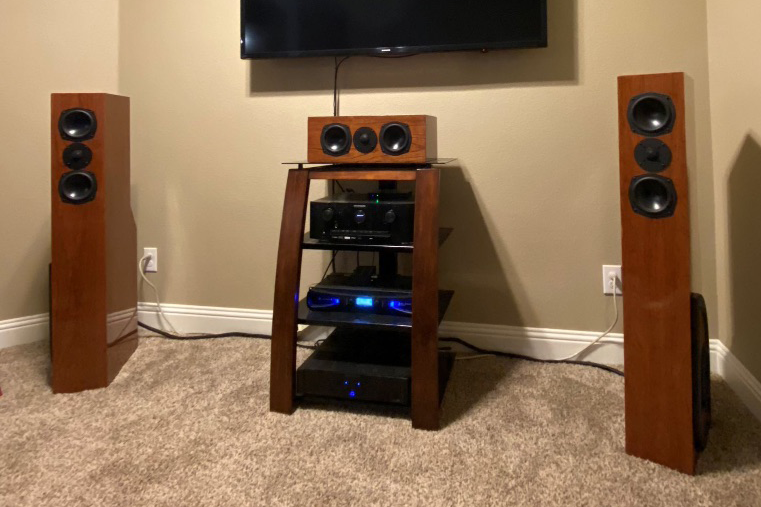 Aviatrix Tower Sub
---
Designer:
Aviatrix Tower
Project Category:
Tower Speakers
Project Level:
Intermediate
Project Time:
20+ Hours
Project Cost:
$500 – $1,000
Project Description:
I wanted an all in one speaker with built in subwoofer. I liked the size and sound of the aviatrix speaker kit so I used that as the base of my design. I incorporated a bottom ported enclosure to house a dayton ultimax 8.
Design Goals:
The goal was an all in one speaker with built in subwoofer.
Driver Selection:
I used the Aviatrix speaker kit components and a dayton ultimax 8 inch subwoofer.
Enclosure Design:
The design was based off the sealed dimensions recommended for the aviatrix speaker kit. I adjusted the height and extended the back of the tower to increase the air space to house the ultimax 8 and the slotted port. The enclosure is 0.75 cubic ft and tuned to 30hz as per recommended by the manufacturers specs. I designed the port to go down the front of the speaker, across the bottom and out the back. I mounted the subwoofer on the side because I didn't want to alter the design of the aviatrix and I liked the look of the tall thin tower.
Enclosure Assembly:
The enclosure was built out of 3/4 inch mdf that was glued and brad nailed. I covered the mdf in cherry veneer and stained it with a mix of 2 different stains I already had. I used several coats of gloss polyurethane as the top coat to get the deep shine I wanted. I wet sanded and polished the polyuethane once it was completely dry to a smooth finish. The top portion is built to the aviatrix recommended sealed dimensions and sealed off from the sub section. The subwoofer enclosure is bumped out I think at a 20 degree angle. I fabricated a custom trim out of 1/2 inch mdf that is attached to the enclosure and the outer ring is made out of 3/4 inch mdf and pressure fitted.
Crossover Design:
I used the crossover designed for the aviatrix speaker and mounted it in the upper part of the speaker. The subwoofer section is powered by my crown amplifier with built in crossovers.
Tips & Tricks:
Do a lot of reading and practicing before using gloss polyurethane. It is not easy and requires a lot of patience.
Conclusion:
I wanted a tower speaker that had a built in subwoofer because I wanted a clean simple design without big boxes laying on the floor. The Ultimax 8 blended in wonderfully with the aviatrix speaker and everything came together beautifully. I was very excited the way the project turned out and the sound was amazing. I liked the speakers so much I made a center channel to finish the set.
About the Designer:
I have been doing car audio for over 25 years. I recently started building some home speakers a couple of years ago.
Project Parts List: