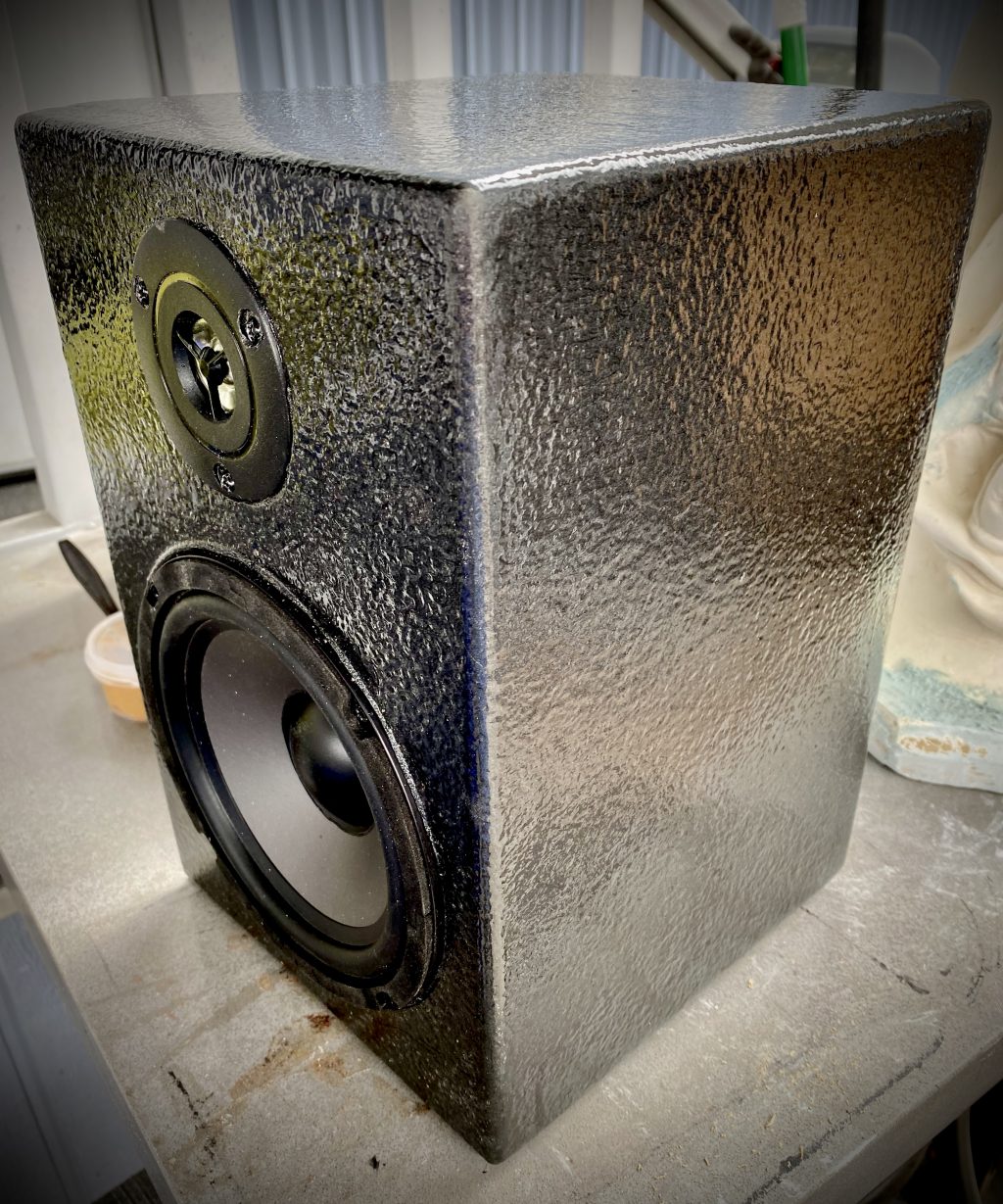 B652 revision B
---
Designer:
Brad
Project Category:
Bookshelf Speakers
Project Level:
Intermediate
Project Time:
8-20 Hours
Project Cost:
Under $100
Project Description:
The B652 bookshelf speakers are a great entry-level speaker and deliver a lot of wow factor for the price. Driven by an older Yamaha receiver, and a 70's Pioneer manual turntable with Ortofon Red cartridge, they rock!
Design Goals:
Simple goal was to replicate the cabinet, maintaining the inside dimensions, but use 3/4" mdf to significantly tighten up the enclosure, remove resonance, and hopefully get a little lower, and cleaner sound out of these.
Driver Selection:
The 6 1/2" polypropylene woofer and 5/8" polycarbonate tweeter that the B652 is manufactured with.
Enclosure Design:
Same exact design and cubic foot capacity with much thicker mdf.
Enclosure Assembly:
The B652's hang at an angle about 7' high in my shed/workshop and when driven hard, the cabinet resonance became noticeable. I built from scratch, a replica, but opted for 3/4" mdf to replace the 3/8" mdf they are made with. Installed a 7/8" dowel across the center, right side to left side, under a little tension, to cross-brace the cabinet. All internal and external corners were radius cut with my router. On the inside, peel and stick Boom Mat (normally used on cars) was used on the sides, rear panels and on the stamped steel frames to reduce noise, then the cavity was lightly stuffed with polyfill. 3M VHB double-sided tape on the back of each driver to seal them to the front baffle. Some new binding posts and two coats of black hammered, rolled-on Rustoleum enamel was used.
Cabinet weight before: 3.4lbs (empty)
Caninet weight after: 9.2lbs (empty)
Crossover Design:
Same as shipped in the B652, which is only a capacitor (filter) on the tweeter.
Conclusion:
Wow.
Sure would be nice if I could scientifically, and accurately measure the before and after specs, but I can say there is a very noticeable difference from the cabinet upgrade. I listened to a set of test tones, before and after, and could now faintly hear 30hZ (probably at -10dB) in the after.
The barely audible 40 hZ tone before, was now very clear, with some decent volume.. those poor woofers were getting their excursions tested, and came through in style.
About the Designer:
My first stereo system, back in the early eighties got me hooked. A Marantz receiver and a set of EPI 4' tall towers with two opposing facing full-range drivers on top, column filled with fiberglass. Had them apart a few times, and probably every set of speakers after that to include a set of B&O massive 3-ways, some Cerwin-Vega rockers with 12" red-roll woofers, and others. Dayton Audio fills my life with sound now, from these B652s, to the pair of T4652 towers and the MKSX4 passive 4–driver subwoofer.
Project Parts List:
| | | |
| --- | --- | --- |
| Part # | Description | Qty |
| 300-652 | https://www.parts-express.com/Dayton-Audio-B652-6-1-2-2-Way-Bookshelf-Speaker-Pair-300-652 | 2 |