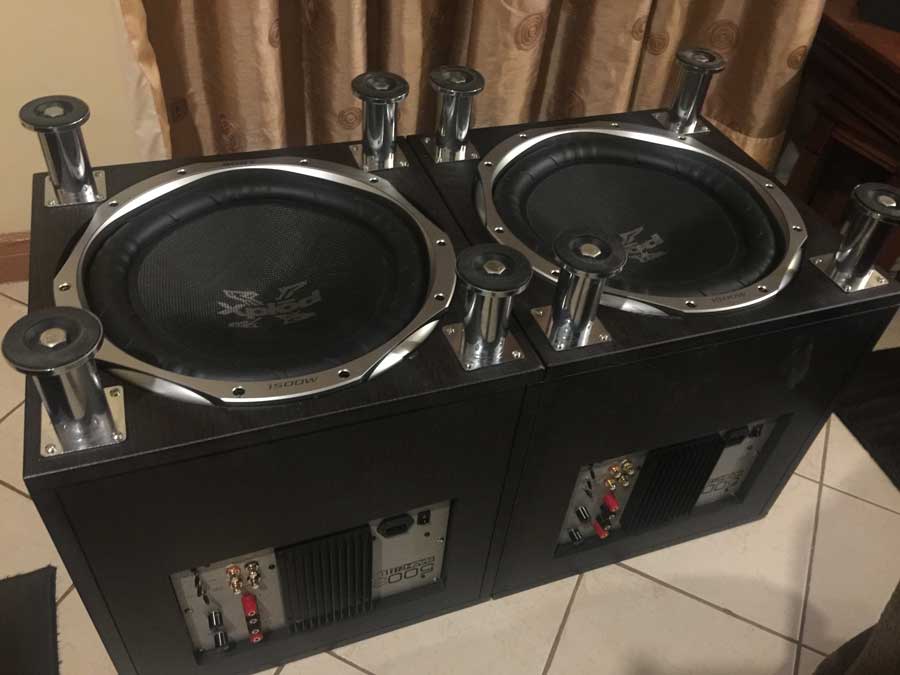 Bash 500 Twin Subwoofer
---
Designer:
Reithi
Project Category:
Subwoofers
Project Level:
Beginner
Project Time:
20+ Hours
Project Cost:
Over $1,000
Project Description:
For starters, I live in Nairobi Kenya.
I ordered two Bash 500 Plate Amplifiers way back in 2008 to add much needed low end to my home theatre system but never got to build them until now.
Some of the reasons for the delay was getting hold of 15″ subwoofers and good step down 240-110V transformers locally.
I eventually settled for Sony XS-L156P5 Subwoofers and 1000VA 230V to 55-0-55V Torodial Transformers for step down duty. The subwoofers have a Xmax of only 5.5 but figured they would sound OK with the right box.
Design Goals:
Add low end punch for music and movies to my home theater system.
Driver Selection:
Sony XS-L156P5 Subwoofer
Enclosure Design:
The box is downfiring. Net internal volume 2 cubic foot tuned to 34.66 Hz with two ports of 3″ diameter by 12.5″ long each.
Enclosure Assembly:
Glued and screwed together
Conclusion:
Sounds great. The low end can be overwhelming when watching movies. Overall, I am happy with the results.
About the Designer:
I have been building my own amplifier and speaker projects for over 30 years.
Over the years, my focus has shifted to SQ Car Audio.
Parts Used:
300-752 Bash 500S Digital Subwoofer Plate Amplifier 500W RMS