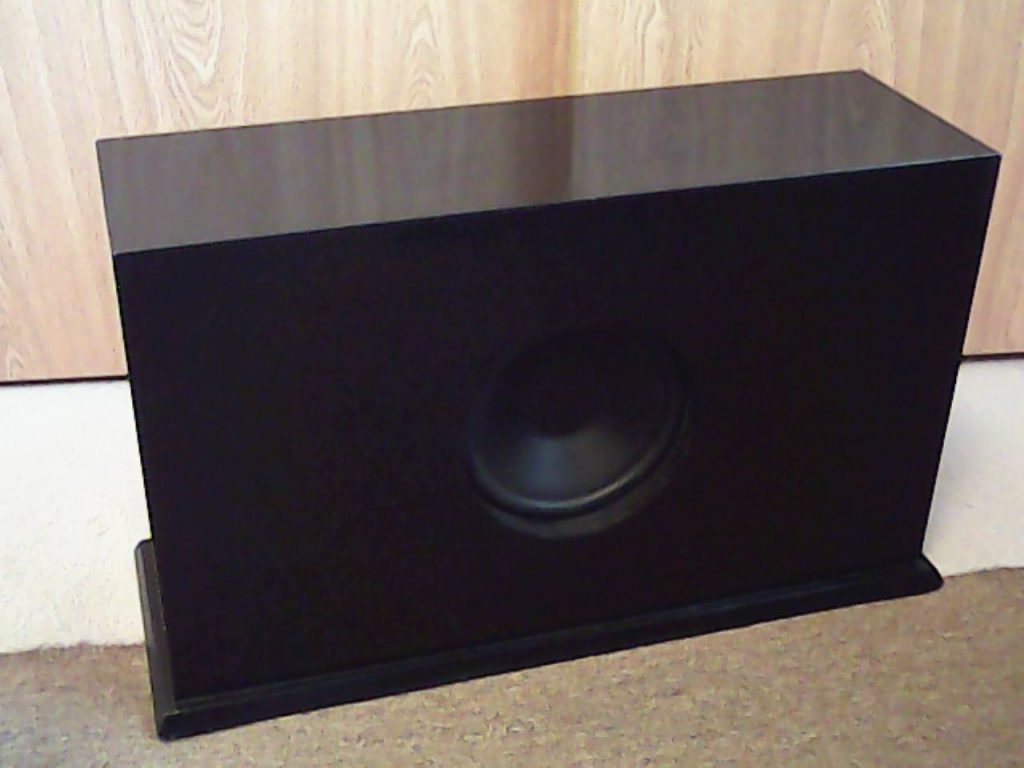 Basic Subwoofer
---
Designer:
JB Hunter
Project Category:
Subwoofers
Project Level:
Intermediate
Project Time:
8-20 Hours
Project Cost:
Under $100
Project Description:
This is a passive subwoofer made using the GRS 8SW-4 80W, 8″ subwoofer driver.
The finish is piano black.
Design Goals:
The goal of this project was to create a basic subwoofer with a piano black finish.
Driver Selection:
The driver is GRS 8SW-4 80W, 8″ driver,
Parts Express #292-480
Enclosure Design:
This is a sealed enclosure, 26″W x 16 1/2″H x 9 1/2″D
Enclosure Assembly:
The enclosure is made from 5/8″ particle board.
The finish is accomplished by first sanding the surface and using wood filler to fill any joints or rough spots.
Prime it with at least two coats, and sand the prime.
Spray at least 2-3 coats of gloss black. Sand and polish.
Spray at least 2-3 coats of clear gloss. After spraying the second or third coat, sand with 1000, 2000, 2500 grit sandpaper. Polish with liquid scratch and swirl remover. Do this for every additional coat of clear gloss.
Finally, go over the whole surface with wax and buff with a lint-free cotton cloth.
Tips & Tricks:
Always get the surface as perfect as possible before priming. Use wood filler on all joints between boards, and the ends of the particle boards.
Be very careful when spraying the first layer of clear gloss on the paint. Too much can cause the paint to crack and peel.
Always spray on horizontal surfaces.
Conclusion:
This was the biggest project of its kind I have yet attempted. I made a few mistakes with the finish, but the final product is still very satisfying, and sounds great. It plays classical, sacred, and country music exceptionally well. It's also great for movies and video games.
The 80W driver is plenty powerful for any large to medium room. Right now, I'm powering it with a small Class D 2.1 amp, SKU: 320-608, but I will probably get a much more powerful one in the future.
This is fairly simple and inexpensive project for anyone who wants to try their hand at building their own hifi system.
About the Designer:
I live in the Pacific Northwest, and am a technician/student/hobbyist who enjoys working with audio.
Project Parts List:
| | | |
| --- | --- | --- |
| Part # | Description | Qty |
| 292-480 | GRS 8SW-4 8″ Poly Cone Subwoofer 4 Ohm | 1 |
| 260-7508 | 4-Pack Rubber Cabinet Feet 0.88 Dia. x | 1 |
| 320-608 | 2.1 Hi-Fi Class D Audio Amplifier Board | 1 |