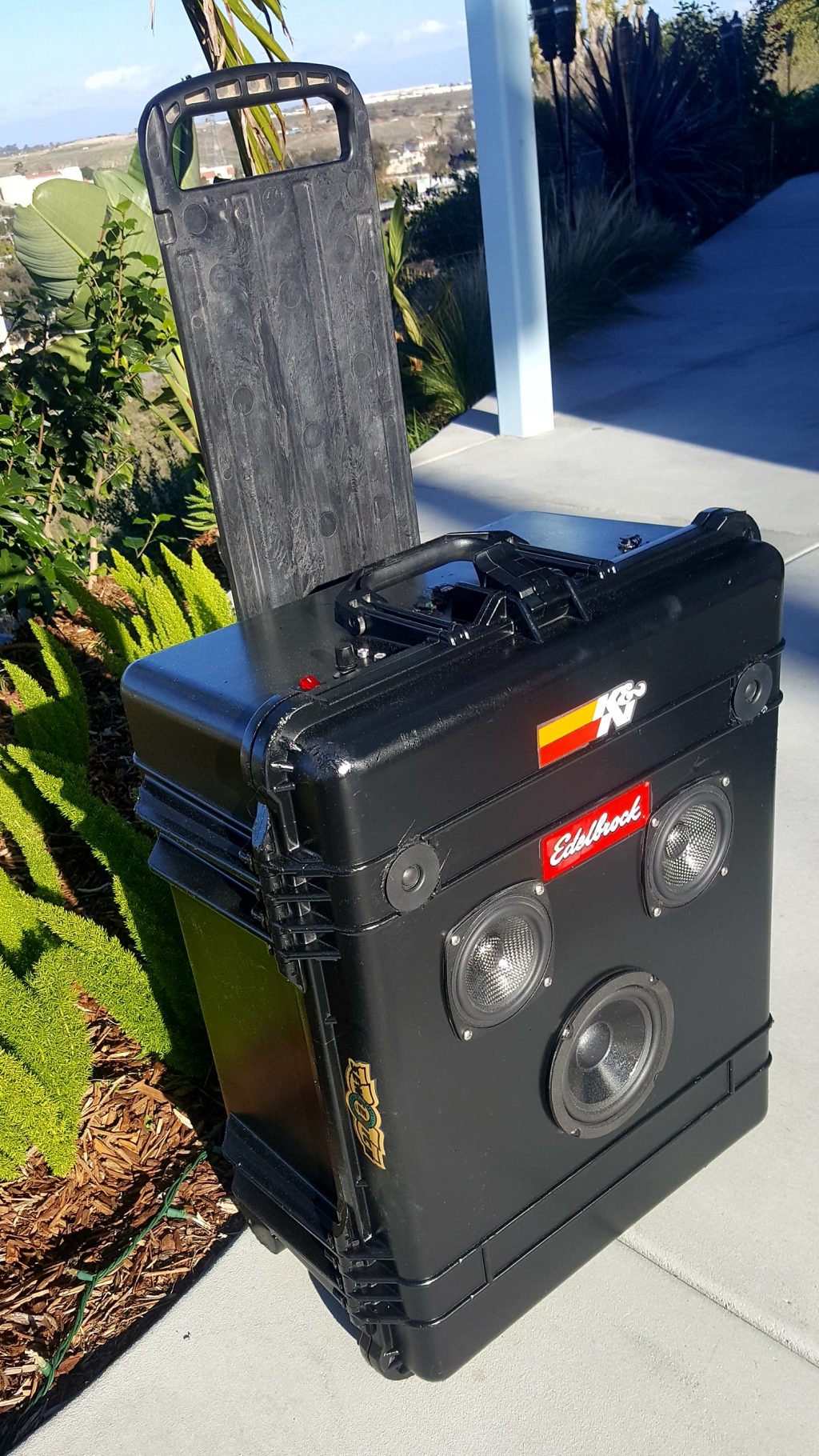 Beach Blaster 1610
---
Designer:
Fat Al
Project Category:
Portable Speakers
Project Level:
Beginner
Project Time:
20+ Hours
Project Cost:
$100 – $500
Project Description:
A build for my girlfriend and I to take to the beach, play cornhole or just listen in the yard.
Design Goals:
Portable speakers to take to the beach, on the boat, or fishing and not worry about water, sand or sun. Want to "feel " my music. Not just listen. Lightweight and portable. Beer and water proof.
Driver Selection:
(2) 295-298-Dayton Audio CF120-4 4-1/2″ Woven Carbon Fiber Midwoofer 4 Ohms 30w
(1) 295-307 Dayton Audio DC130B-4 5-1/4″ Classic Woofer Speaker 4 Ohms 40w
(2) 1/2″ Soft Dome Neo Tweeter 4 Ohm
Enclosure Design:
Pelican 1610 22.25″L x 17.12″W x 2″ Lid over 8.5″ Base
Outside Dimensions:
24.56″L x 19.31″W x 11.93″H
Enclosure Assembly:
Minimal cutting of case. Made templates for switches, knobs and lights.
Crossover Design:
(2) 260-1946-HPF-6k Hz 12 db/Octave-
(1) 260-1948-LPF-6K Hz 12 db/Octave-
PE recommended product from their tech service email.
Tips & Tricks:
Take your time with a build. Was going to start with ammo can but decided to go big or go home. This unit is solid, waterproof and dummy (almost) proof. Bluetooth instantly connects to your device. Board is easy to connect with your options. I added a subwoofer to my build and an extra KAB-Be board for batteries. Have been playing speaker for 3 days and still not had to recharge batteries. Granted not 24/7 but for 2-3 hours every day at mid/high vol. Used mostly what I had on hand for wiring and connectors. Next build will have 2.1 capability for dedicated sub speaker. Even thought the sound quality coming from this unit is excellent, I still would like to have control over the bass. Amp gets slightly warm when hitting the lows but cools fast. Not sure if going to install a port. Sounds good both vented and sealed. Looking forward to going to beach with this setup. Hard rock, rap and country (for testing only on country) are loud. You'll love it!!
Conclusion:
End result was totally beyond my expectations. This unit performs. Zero distortion when turned all the way up on both the enclosure and my Android. Playing through aux jack has some loss in performance but if needed I can at least play music through it. Bluetooth range is excellent at over 50 ft.
About the Designer:
This project was not only cool but totally fun to complete. Remodeled a house (without help from Crackhead could not have done it) and needed a time waster. Being left handed does not help when completing a project. LOL
Project Parts List: