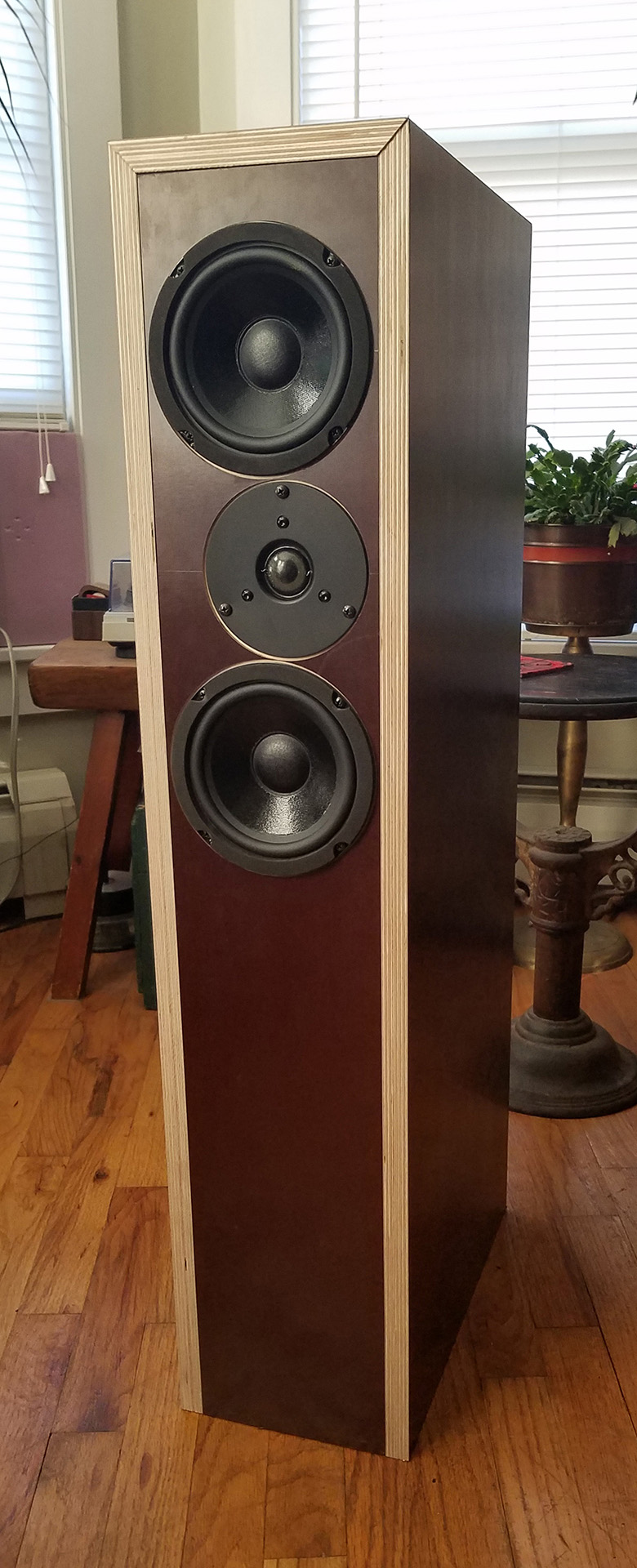 Beta MTM Towers
---
Designer:
4Matdesign
Project Category:
Tower Speakers
Project Level:
Intermediate
Project Time:
8-20 Hours
Project Cost:
$100 – $500
Project Description:
Combine the Tritrix MTM kit with custom "beta" plywood enclosures showcasing the 14 ply end grain on the speaker front. Clean and simple design.
Design Goals:
Wanted speakers to match a new receiver, Yamaha RN-303. This unit does not have variable loudness, only Bass/Treble control but love the power (100w), wifi capabilities, phono input and 2 channel output. Needed speakers to fill the midrange I wasn't hearing from the BR-1 kit I replaced. Also use this system for TV and wanted a speaker to watch movies news etc as well as LP records and spotify (digital)
Driver Selection:
300-700 TriTrix MTM TL Components Only Speaker Kit Pair
Enclosure Design:
Based on the design available knock down kit, I replaced the MDF with 3/4″ phenolic plywood. At 14 ply with a finished surface on both sides this material is stable and dense without needing lamination or painting. Decided to showcase the vertical by leaving the edge of the plywood exposed on the front and back resulting in a narrow visual look. To make this happen the verticals and top needed to be mitered not but-joined
Enclosure Assembly:
Kreg pocket screws. Silicon caulk on all internal seams. Router recessed speakers using the Jasper circle jig.
Crossover Design:
300-700 TriTrix MTM TL Components Only Speaker Kit Pair
Other Resources:
Tips & Tricks:
Buy the router circle-jig if you are making your own cabinets!
Conclusion:
These speakers do what I was hoping for. Bring the sound to listening height without stands and naturally fill the mid-range without adjusting the receiver. I never touch my Bass/Treble setting now.
About the Designer:
Fabricator with a degree in Architecture. second Speaker build,BR-1, and 6 small BlueTooth stereos.