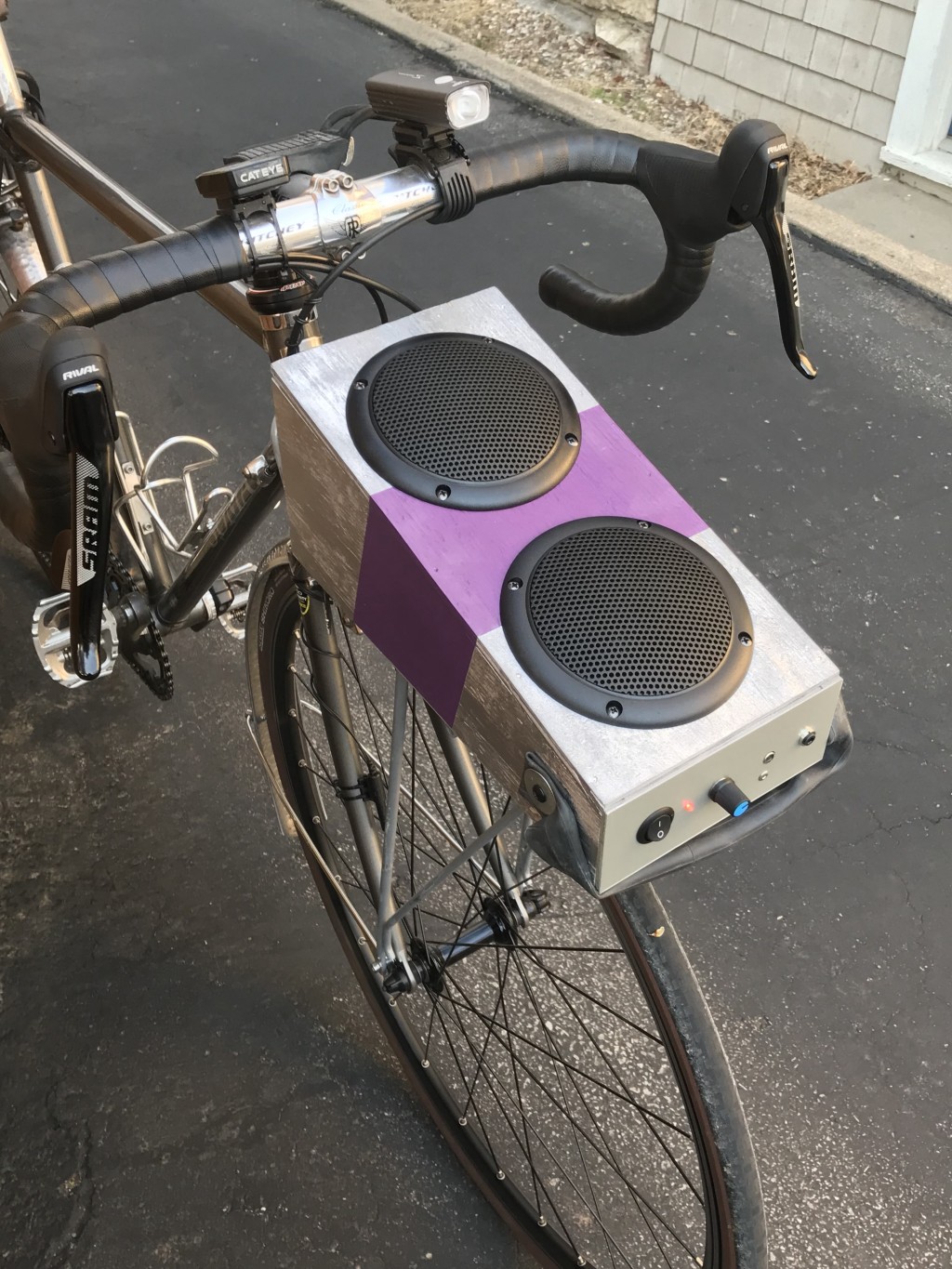 Bike BOOMbox
---
Designer:
Paul
Project Category:
Portable Speakers
Project Level:
Beginner
Project Time:
1-8 Hours
Project Cost:
Under $100
Project Description:
All weather, knock-around bluetooth portable
Design Goals:
I wanted this portable to be able to fit on my bike rack, and it needs to get loud when you're on the open road. Also perfect for back yard and garage
Driver Selection:
A pair of marine grade, 4″ full range speakers. Part Number 292-514
Enclosure Design:
I wanted a wedge design that could both stand up or be flat on the bike rack. Space is really limited on the bike, it's 12″ tall, 6″ wide and 5″ at the deepest, tapering to 2.5″.
Enclosure Assembly:
I used 5/16″ thick plywood for the face, sides and bottom, and aluminum sheet metal for the back and top. The wood is perfect for screwing into, and the sheet (one piece, folded) works well for mounting all of the controls and inputs.
Crossover Design:
thankfully, none.
Tips & Tricks:
I used 1/4″ tapered rubber plumbing fittings for the feet, just right.
Goop glue is good for securing the battery to the wood, and I used VHB tape to connect the metal back to the wood.
A used bike tube is perfect for a handle.
The battery is really impressive, no issue driving the amp. and they are cheap on ebay
Conclusion:
Very successful! This thing is loud, probably could have gotten by with the 15 watt amp. Very portable, it weighs in at 3.75 lbs.
About the Designer:
I have a mechanical engineering background, and have very little aptitude for electronics. I like to tinker, was very happy how this worked out.
Project Parts List: