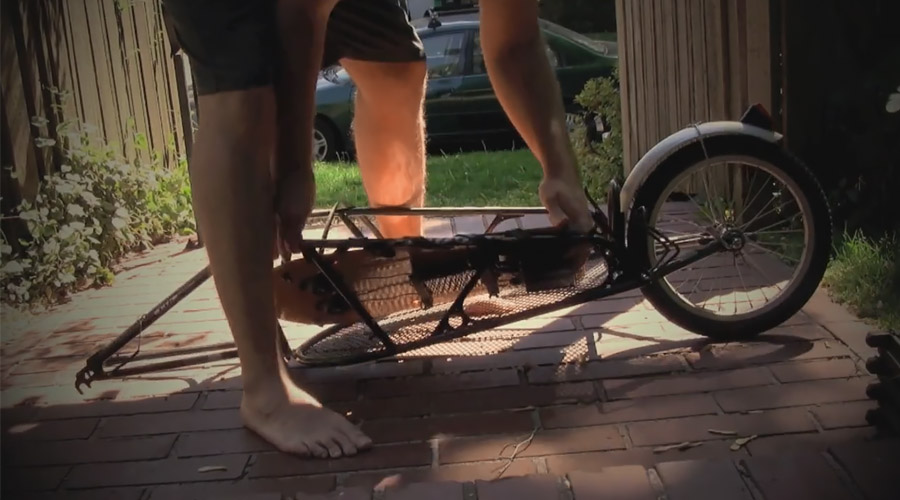 Bike Stereo
---
Designer: John O'Toole
Project Time: 1-8 hours
Project Complexity: Beginner
Project Cost: Under $100
Project Description
A medium sized, high performance 2-way design
Design Goals
I wanted a bicycle stereo for an upcoming event, and felt it would make for a fun DIY project. I already had a B.O.B. trailer for touring and decided to use that as my base. Next, I thought about the features that were important to me.
Features:
– easy to take on and off
– contained in one unit
– bluetooth enabled
– rechargeable
– water resistant
– loud enough
– sounds halfway decent
Process
I started researching amps on parts-express.com. The amp I decided to purchase had an option to include two speaker-like devices called "exciters", which can turn any panel into a speaker. I started researching and found that people have used them on everything from glass museum displays to fiberglass jet skis. I was inspired, and excited to come up with an original way to use them. I realized that it might be necessary to have the panel suspended in order to eliminate any vibration, and that single idea inspired the ultimate design.
Parts
– marine plywood
– used bicycle tube
– old camping pad
– mounting hardware including leather washers
– rechargeable bluetooth receiver
– 12 Volt 2 Amp Sealed Lead Acid Battery
– 6V-12V Switchable Charger with Alligator Clips
– DAYTON AUDIO DAEX25 SOUND EXCITER PAIR
– LEPAI TRIPATH TA2020 CLASS-T HI-FI AUDIO AMP W/POWER SUPPLY
– 2.1 X 5.5 MM POWER PLUG TO SCREW TERMINALS
– BANANA TO ALLIGATOR TEST LEADS
Conclusion
The bluetooth dongle holds a charge for eight hours and works great with an iPhone. The rechargeable lead battery powers the amp for even longer. It is loud enough, though the sound quality suffers significantly at the highest volume, which I suspect is a limitation of the plywood as a conductor. I've had it out in the rain, which caused the underside to collect a lot of dirt and mud, but the components weren't damaged. I think adding some protection on the grate in front of the rear wheel would prevent that from happening.
About the Designer
John O'Toole likes to work on projects, listen to music, and ride bikes. He is the webmaster at velocrow.com.