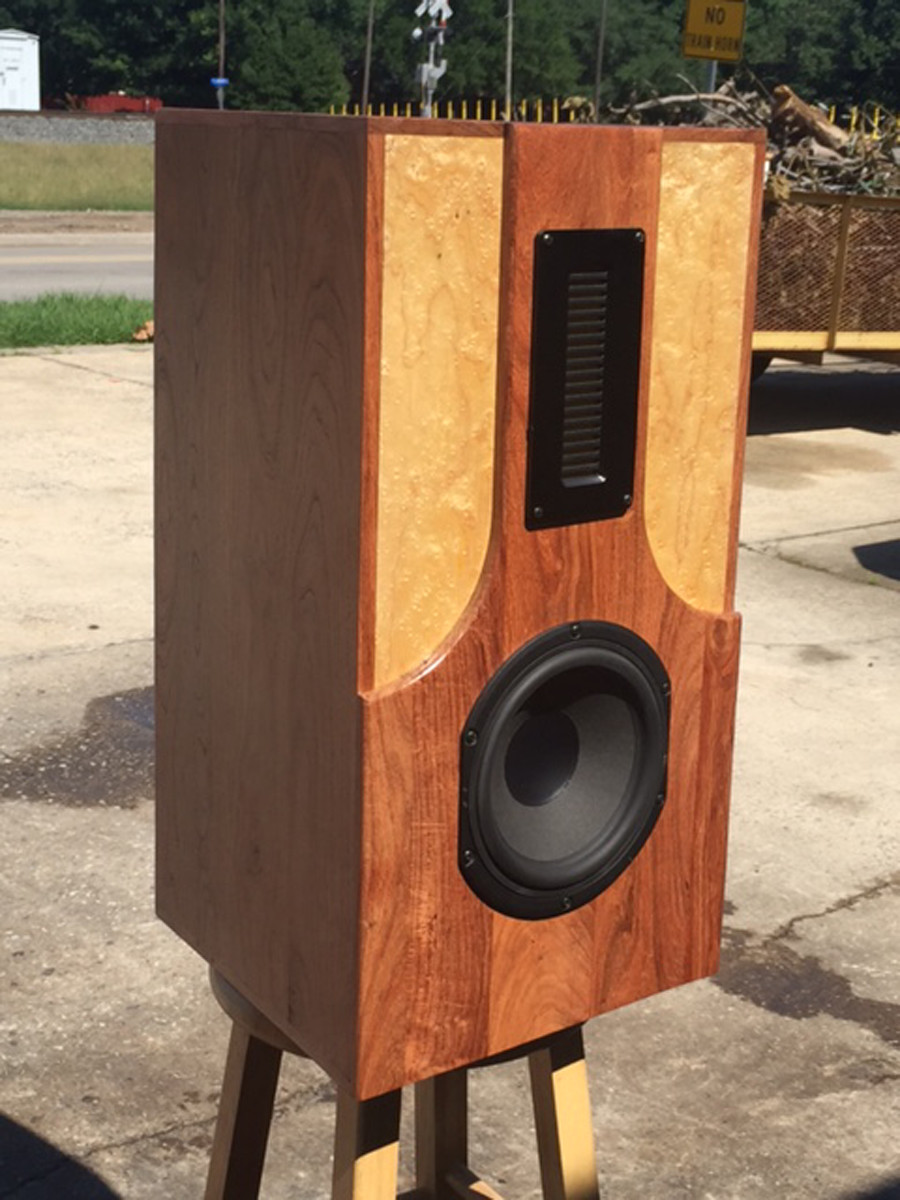 Bivens 01
---
PLANS:
Designer:
David Byboth
Project Category:
Loudspeakers/Cabinets
Project Level:
Advanced
Project Time:
20+ Hours
Project Cost:
$500 – $1,000
Project Description:
The Bivens 01 is a mid-sized ported two way audiophile level design with a retro look built to go with a classic Mcintosh receiver and Thorens turntable.
Design Goals:
Being from Texas, the client wanted a mainly Mesquite wood finish and was looking for something unique and extremely high quality. I chose a two way design with an 8″ woofer to keep the size reasonable.
Driver Selection:
The AMTPRO-4 Air Motion transformer was an intriguing choice for the Tweeter. It was on sale at Parts Express and had several features that I liked. The Consistant 4 ohm impedance across its range and a relatively low crossover point gave flexibility on the woofer selection.
The Peerless by Tymphany 830869 8″ Nomex Cone HDS Woofer was chosen for it's relatively low Fs of 30Hz and it's ability to extend up to 2K, above the designed crossover point of 1800.
Enclosure Design:
Simulations using WinISD Pro showed a 1.6 cubic ft. box with a 2″ port of 2.3″ long ended up with a system tuning of approximately 38 Hz. I wanted a trapeziodal cabinet. The cabinet was designed in Sketchup. The boxes were built of 3/4″ MDF with the Mesquite laminated to the outside of the box. Alternatively the boxes could be painted or covered with veneer.
Enclosure Assembly:
The MDF boxes were cut into kits on a table saw and glued together with wood glue. The drivers, crossovers and ports were installed temporarily to verify the design data. The Mesquite "skin" was made from laminating Mesquite Flooring into planks and planing/sanding until smooth. Birds Eye Maple veneer was used as a contrast on the front piece. The back, sides top bottom and front pieces were glued to the MDF Box. The entire thing was sanded and finished with a Satin polyester.
Crossover Design:
The Crossovers were designed using "Passive Crossover Design" an Excel based crossover designer that takes into account the impedance of the drivers over the entire frequency spectrum.
The crossover is a basic second order crossover with a crossover point of 1800 hz. There is a Zobel circuit on the woofer for impedance leveling. The tweeter is connected out of phase due to the crossover's phase shift.
Tips & Tricks:
This is not a simple build. There are few square angles. Plan and measure carefully!!! The better the pieces fit the better the project will look and work!
Conclusion:
These speakers have exceeded all design expectations. The detail, soundstage and stereo image is pretty incredible. They get low enough to be perfectly acceptable in a medium sized listening room with no sub.
About the Designer:
David Byboth is a degreed Engineer the owner of a Pro Audio production company. Building speakers has been a hobby of his for more than 40 years.
Project Parts List: