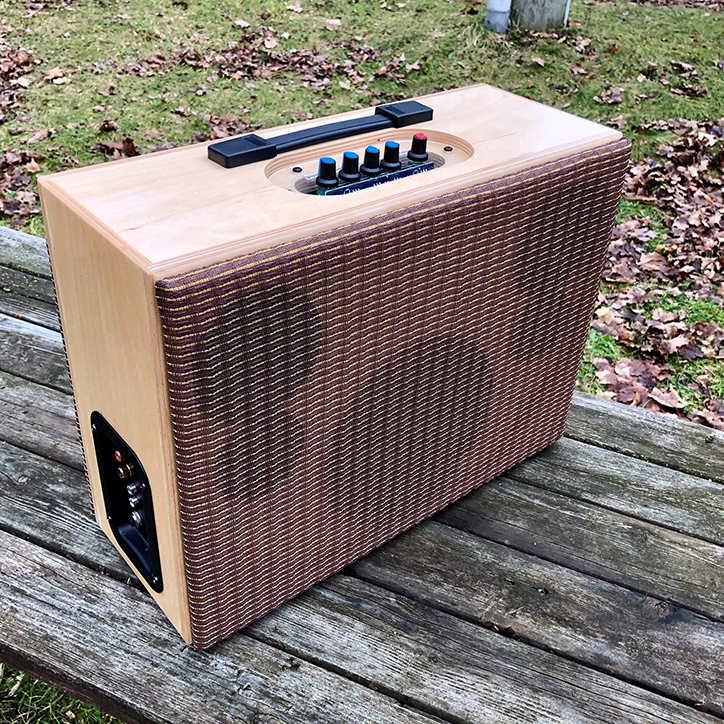 Blast Box build
---
Designer:
Dave M
Project Category:
Portable Speakers
Project Level:
Beginner
Project Time:
1-8 Hours
Project Cost:
$100 – $500
Project Description:
A Blast Box Build.
The CNC routered cabinet panels are very precisely made. Every rabbet is perfect, and the screw holes are perfectly placed. After sanding, it looked good enough for several coats of polyurethane finish, rather than paint.
Grille frames were made from 2- thicknesses of 1/4″ lauan plywood laminated together, cut out, and gone over with a roundover bit. Burgundy/Beige cloth is used. Grille guides are used to attach to the cabinet.
Because of the cloth grille covering the back, the charging jack had to be re-routed to the side.
A metal dish was used for the charging jack, charging indicator LEDs, battery condition LEDs, battery condition pushbutton, and two RCA jacks for a Line In.
Design Goals:
A good-sounding kit build, rugged enough to use in the workshop.
Conclusion:
It's a great sounding unit!
About the Designer:
Hi, I'm Dave.
Project Parts List: