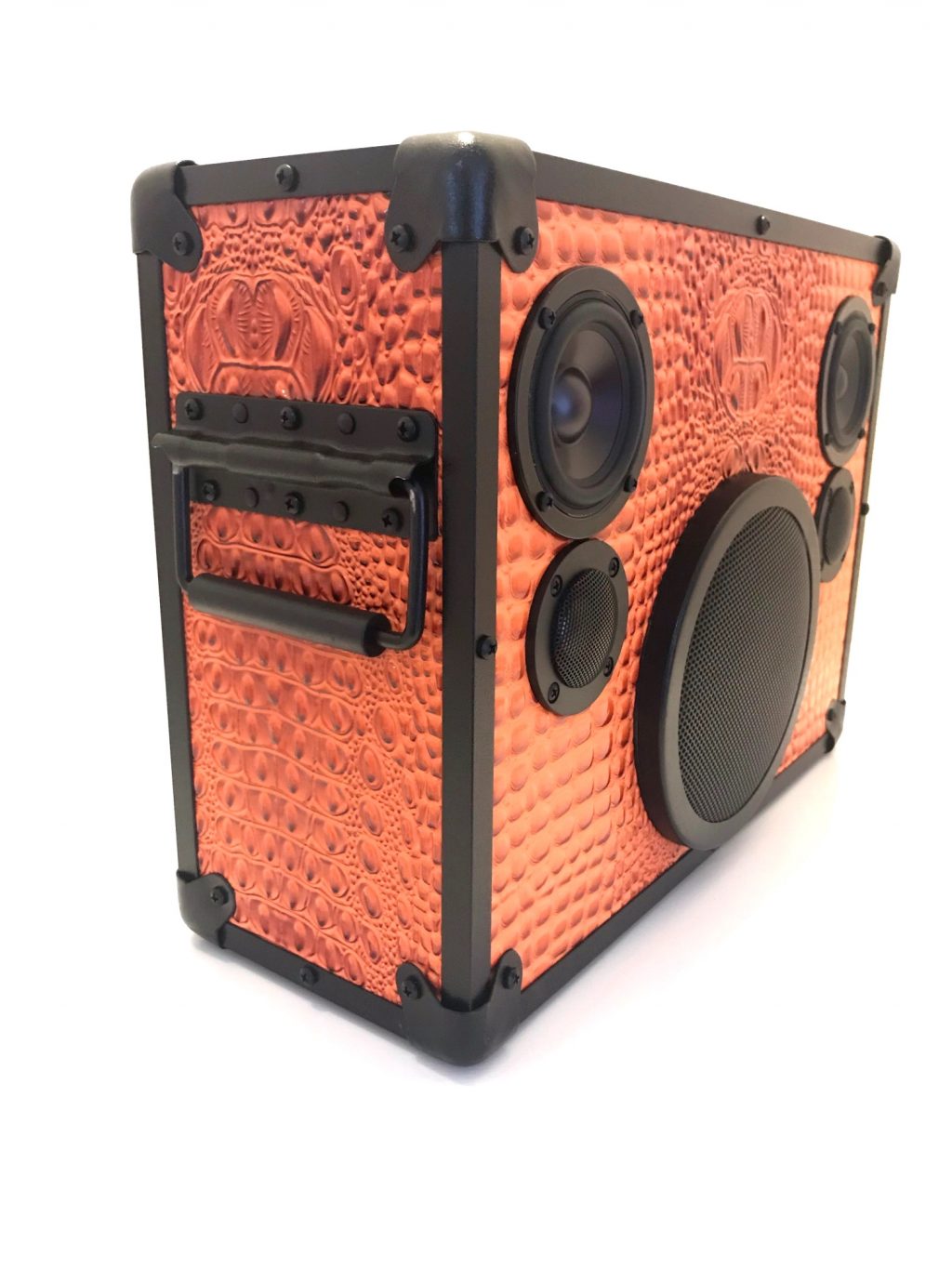 Blast Box with upgrades
---
Designer:
Jim P
Project Category:
Portable Speakers
Project Level:
Intermediate
Project Time:
8-20 Hours
Project Cost:
$100 – $500
Project Description:
I was looking to build a Bluetooth speaker from scratch. Then I came across the Blast Box. For the price and the features I couldn't pass it up.
Design Goals:
Build a Bluetooth speaker with some punch. And in the process learn something new.
Driver Selection:
Blast Box Kit
Enclosure Design:
Blast Box kit with Vinyl Alligator skin. Black truck bed liner paint on all the accents. Add grills for the sub and the passive radiator.
Enclosure Assembly:
Glued plywood, Vinyl skin applied with 3m contact glue.
Crossover Design:
Standard Blast Box crossovers
Tips & Tricks:
I upgraded the batteries and charger board to the Dayton Audio LBB-5 5 x 26650 Lithium Battery Charger Board / Module along with (5) PKCELL Flat Top 26650 3.7V 5000mAh Rechargeable Li-Ion Batteries. Nestled it on the sidewall instead of base of the box. Added the audio in jack and placed it in acrylic face plate with volume controls. I also added the wiring kit for the charger board. I added 2 lights in the back acrylic plate. Green for AC power Red shows when battery is charging, on the AMP face plate I also added from the wiring kit as well a button and lights to check battery level. Finally I upgraded the feet and added amp style handles as well.
Conclusion:
Great project for anyone interested in building a Bluetooth powered speaker. Sound far exceeds other Bluetooth speakers I've owned. And i'm super happy with the end results. I've already had friends and family asking me to make them one.
About the Designer:
Tech entrepreneur who loves music and woodworking.
Project Parts List: