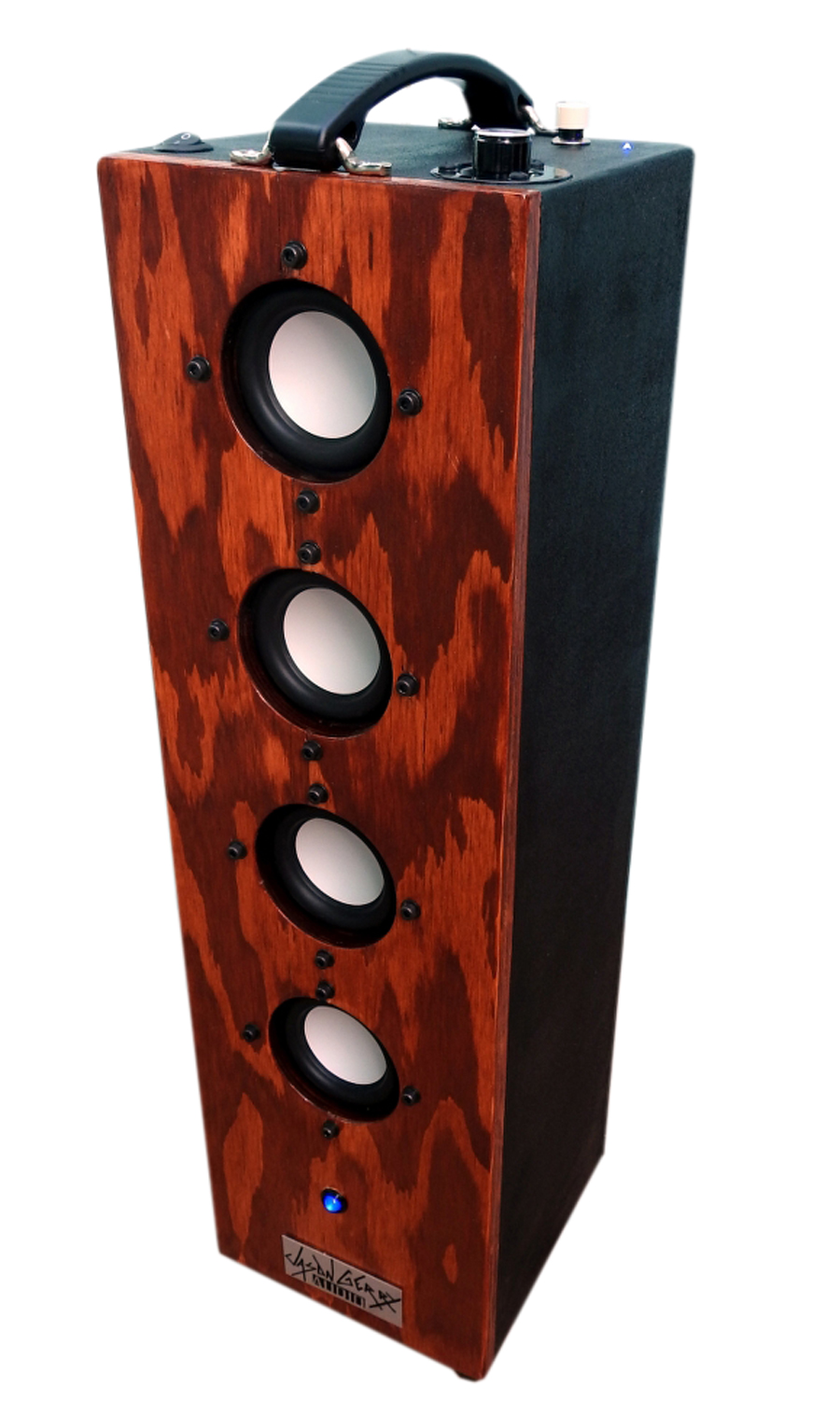 Bluetooth, Portable Tower Speaker
---
Designer:
Jason
Project Category:
Portable Speakers
Project Level:
Intermediate
Project Time:
8-20 Hours
Project Cost:
$100 – $500
Project Description:
This is portable, bluetooth 4.0, battery-powered, tower speaker system.
Design Goals:
To design a portable audio system that was bluetooth capable, durable, and has excellent audio output and battery life.
Enclosure Design:
The front baffle is stained, birch plywood with several coats of polyurethane. The rest of the enclosure was sealed and protected with several Acry-Tech DuraTex available at PE. Front emblem was installed as a signature, and for fun.
Driver Selection:
AuraSound NS3-193-8A 3″ Extended Range Driver 8 Ohm
Enclosure Assembly:
Wood glue and clamps. No screws.
Crossover Design:
No filters added. Drivers run full-range
Tips & Tricks:
When using Acry-Tech DuraTex, make sure your enclosure is sanded and painted properly, leaving no blemishes because they will show through.
Conclusion:
After about 20+ listening hours, the sound quality is pleasing. Warm and inviting. The stage is large and if you've heard the NS3, you are aware of the detail these drivers produce. Much more low end than expected I'm guessing around 50 Hz. Battery life is about 8 hours at 50% volume listening to all genres of music. I imagine battery life would double listening to music with less demand from the driver.
About the Designer:
Owner of Hi-Fi Luggage which builds bluetooth speaker systems into vintage luggage. Also works as a Marriage and Family Therapist out of Orange County.
Project Parts List