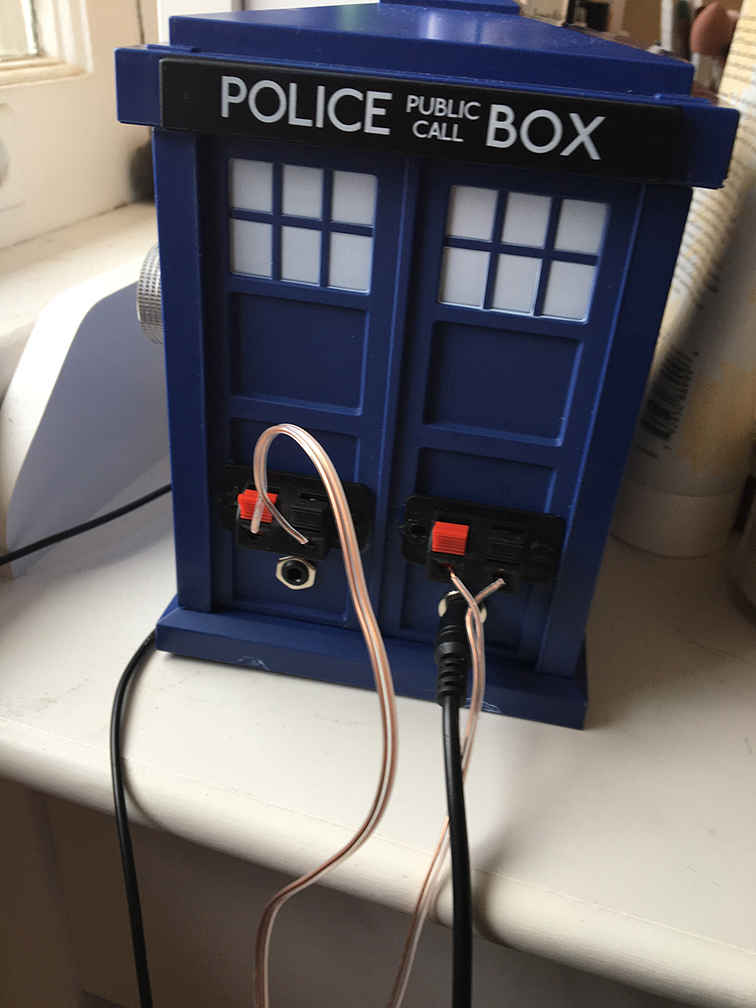 Bluetooth Tardis and furry speakers
---
Designer:
James
Project Category:
Bookshelf Speakers
Project Level:
Beginner
Project Time:
20+ Hours
Project Cost:
$100 – $500
Project Description:
Toy T.A.R.D.I.S. turned into a bluetooth amplifier with 3.5 plug, and a set of fur covered bookshelf speakers.
Design Goals:
Wanted to make a fun set of real speakers for my daughter's room. She's a huge Doctor Who fan, so I decided to find a toy T.A.R.D.I.S. and stuff a bluetooth amp in it. Did not have to have supreme sound quality, but needed to be simple to use and relatively inexpensive
Driver Selection:
woofers: 299-2120 – clearance items – I think they were $14 or so each
tweeters: 292-462 – about $15 for both
Enclosure Design:
Funko T.A.R.D.I.S. purchased from local comics shop – $17
.5″ MDF boards for speaker boxes
1″ ID PVC pipe, 2″ long for ports from Home Depot
2 yards of Blue Fur from Jo-Ann Fabric (on sale for 10 bucks!)
Enclosure Assembly:
Simply glued and screwed together the MDF, cut holes with a Jasper jig on a plunge router. Secured the PVC ports with silicone caulk, and spray-glued the fur on.
Crossover Design:
269-2196 – $1 each! These have a full-spectrum set of leads for the woofer, and a choice of two high-pass leads (one crosses at about 4200, the other at about 2000). I used the 4200 ones, which probably means there's a bit of a gap between the woofers (rated to 4K) and the tweeters, but I can't hear it.
Tips & Tricks:
I used a Dremel-style rotary tool with a conical bit to do all the cutting in the T.A.R.D.I.S., and it was super clean. No breakage at all. I was able to mount the blue LED for the bluetooth connection indicator right under the lantern on top of the police box, which is a fun detail.
Conclusion:
Lots of fun to make. Daughter loves it. I wish it had just a little more power, but I suppose that's my fault for using a slightly under powered wall wart. Might buy a bigger power supply just to see what it can really do. Speakers have plenty of bottom for a bookshelf.
About the Designer:
I have no training in this sort of thing. Just figuring things out as I go and trying not to get hung up on things not being perfect.
Project Parts List: