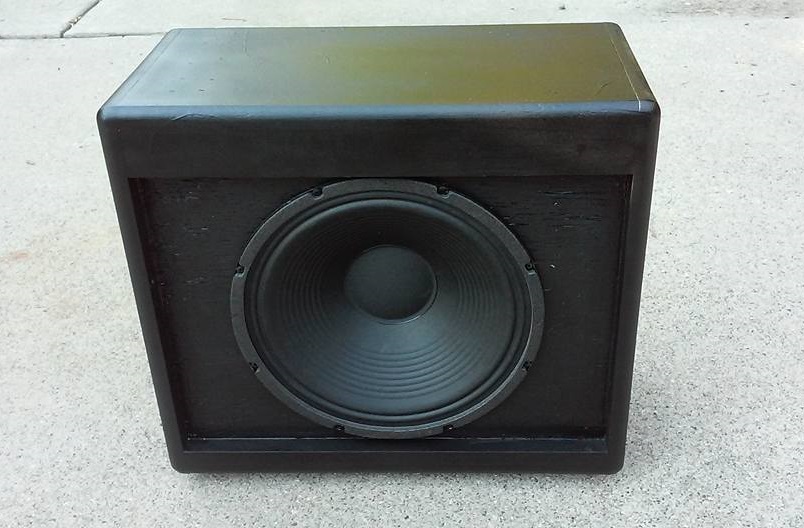 Bob Ross Bass Breaker Klone
---
Designer:
Chris N
Project Category:
Guitar and Bass Speakers
Project Level:
Beginner
Project Time:
1-8 Hours
Project Cost:
Under $100
Project Description:
The Bob Ross Bass Breaker Klone is an affordable, easy to build, guitar cabinet.
Design Goals:
My goals for this project were to build a guitar cabinet that was a traditional black exterior, shorter than my existing cabinets, and a sealed cabinet.
Driver Selection:
I chose the Eminence Legend GB128 based on its good reviews, smoother, more extended low end compared to my other guitar speakers. It is also American built (with a British cone).
Enclosure Design:
The enclosure is a sealed back design, a little over 1 cubic foot, with a removable rear baffle. I like the look of the Fender Bassbreaker, and the cabinet is roughly based on it.
Enclosure Assembly:
The enclosure is made from 1×10″ pine, with .75″ plywood for the front and rear baffles. I assembled it with biscuits, glue, and pocket screws. I used a router to cut the driver hole, and rounded over the cabinet edges. The rear baffle is held in with screws. The grill is made from scraps of plywood, fit to the cabinet tightly. I used plaid fabric for the grill material, and stapled it in place. I made feet for the cabinet out of 1×2″ pine, with a 45 degree miter on each end.
The finish is a base coat of Kilz primer, with Rustoleum textured flat black paint on top.
Tips & Tricks:
I used a standard 1/4″ jack, and drilled a hold and counter bored it so the jack could be threaded through. A deeper jack made for this application, or a terminal cup would work just as well. The painting on the back came about because the back of a speaker cabinet is usually boring and unattractive, and I wanted to put something on there more interesting. Being a long time fan of Bob Ross, I filled the space with happy tree's and water falls.
Conclusion:
I really like this speaker, the sound of it, and the proportions. I much prefer the sealed back to my open back cabinets. It is solidly built, with no rattles or buzzes.
About the Designer:
Building speakers is a happy means to an enjoyable end.
Parts Used: