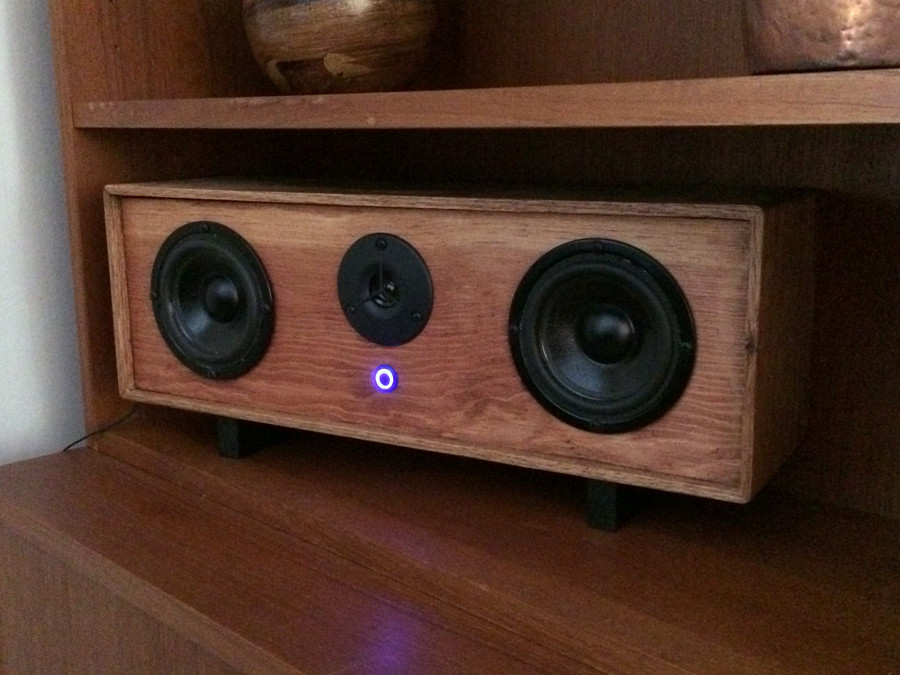 Bookshelf Bluetooth
---
Designer:
Woodman
Project Category:
Freestyle Speakers
Project Level:
Intermediate
Project Time:
8-20 Hours
Project Cost:
Under $100
Project Description:
Compact Bluetooth receiver/amplifier that would blend in with a midcentury teak look.
Design Goals:
Create a Bluetooth receiver with minimal controls that could be driven by a smartphone and sound good in a medium-sized living room with a mix of hard and soft surfaces.
Driver Selection:
264-872 Tang 4″ underhung woofers (2) to act as left and right channel speakers, along with an old tweeter I had laying around used in a center channel configuration. Very non-traditional but despite that it puts out amazingly good sound.
Enclosure Design:
Used the Golden ratio 2.6 x 1.6 x 1 to give me the cubic I needed and just laid out a basic rectangular shape. Added a lighted switch to serve as on/off indicator.
Enclosure Assembly:
1/2″ x 6″ oak with 3/4″ ash or poplar front baffle and MDF sealed back.
Conclusion:
Not back for a first effort, considering it was essentially just thrown together with a lot of what I had laying around.
About the Designer:
Hobbyist with more woodworking than electronic experience, I enjoy putting together functional projects rather than buying pre-made from stores. Now working on 50 watt 2.1 home theatre project with 6″ ported subwoofer cabinet.
Parts Used:
320-3519 Wondom bluetooth receiver board amplifier with two surplus passive crossovers I had.