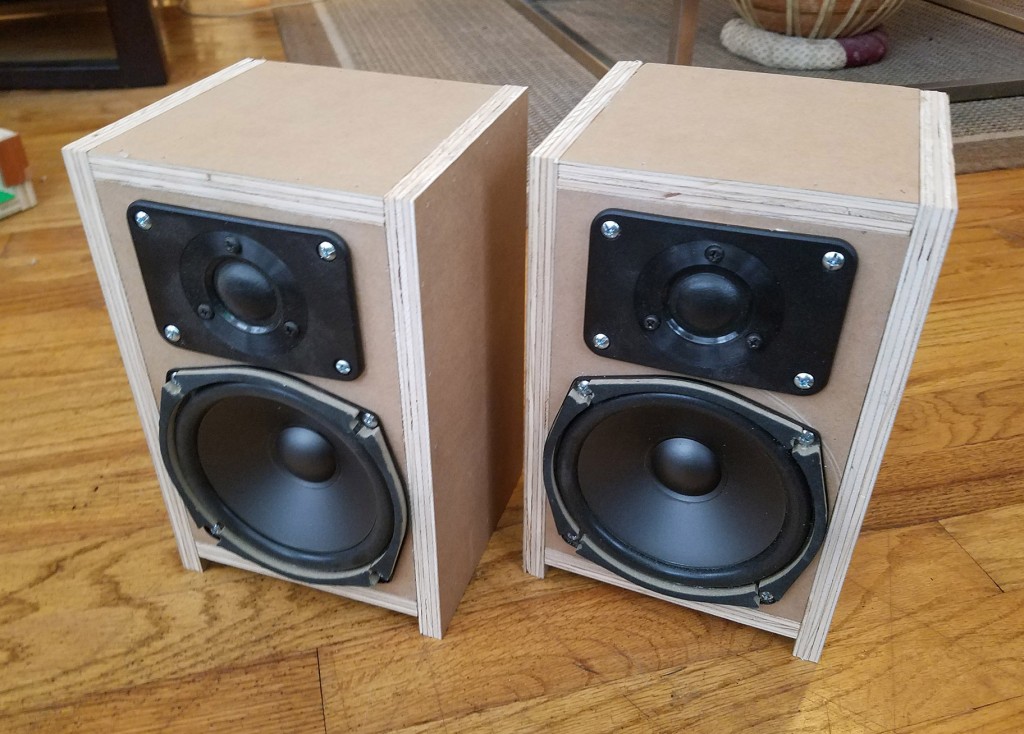 Bookshelf Elevens
---
Designer:
4Matdesign
Project Category:
Bookshelf Speakers
Project Level:
Beginner
Project Time:
1-8 Hours
Project Cost:
Under $100
Project Description:
2 way bookshelf speakers based on an Optimus Pro77 set from a thrift store. The original woofer surrounds were shot and bought replacements from Parts Express to restore them. Ended up also replacing the metal cases new plywood boxes.
Design Goals:
Replace the woofer in a set of older speakers I picked up for $5.
After realizing the replacement drivers would not fit in the metal box fronts, building simple new wood cases was my decision. Wanted to see if I could make this set work again with little investment.
Driver Selection:
WP-5211 5-1/4″ Poly Cone Foam Surround Woofer Pair 8 Ohms 299-2238 factory buyout
Optimus Tweeter Sd-72
Enclosure Design:
1/2 MDO plywood boxes.
Inner dimension 8.25″ h x 5.25″ w x 4.5″ d
No port yet, maybe in the future…
Enclosure Assembly:
Glued and brad nailed cases with poly-fill stuffing. Drivers are flush mount and screwed. Silicon caulked the tweeter plate to the face.
Crossover Design:
Used the original Optimus Pro 77 crossover which has
4.7uf 50V bi-polar electrolytic caps in series with the coil/tweeters,with the 0.4mH coil in parallel with the tweeter
Tips & Tricks:
Use a router circle plate such as the Jasper for the driver cut-outs!
saves hours of time in the end for $30.
Conclusion:
Total investment of $25 and 5 hours of time.
Sound is clean strong and will give years more music
About the Designer:
Architect/fabricator and music lover
Project Parts List: