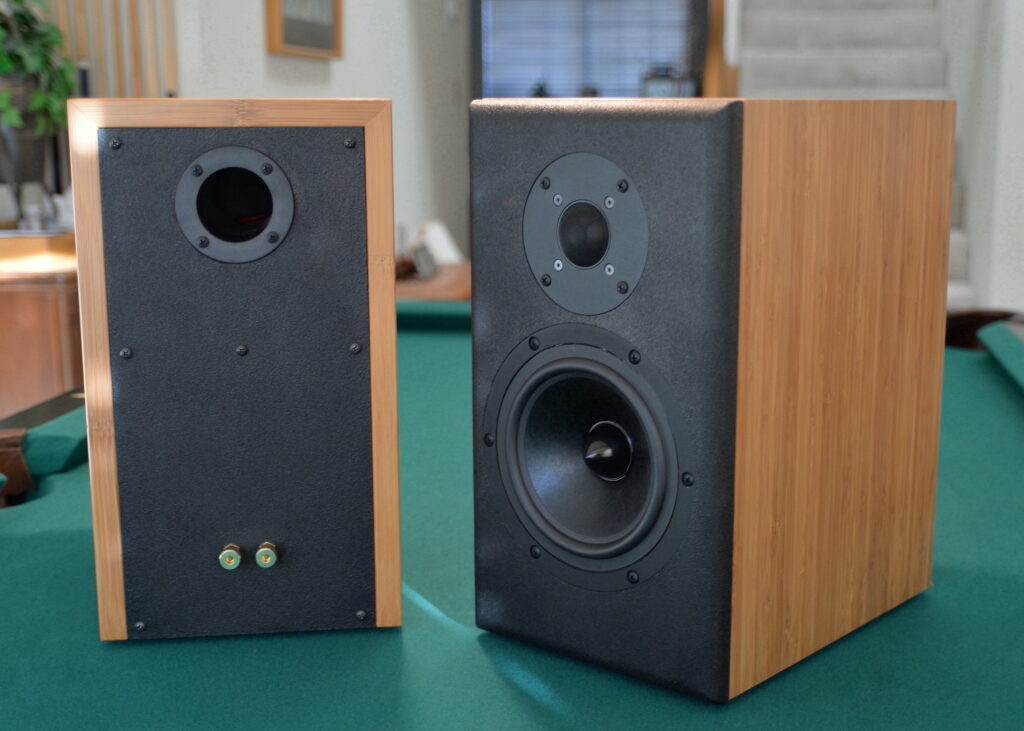 Bamboo Samba
---
Designer:
Art K



Project Category:
Bookshelf Speakers



Project Level:
Intermediate



Project Time:
20+ Hours



Project Cost:
$100-$500
Project Description:
 Samba bookshelf speakers with laminated bamboo cabinets.



Design Goals:
 I read that some speaker manufacturers are starting to experiment using bamboo as the cabinet material (e.g., http://forum.ascendacoustics.com/showthread.php?2597-Sierra-The-Cabinet). I had some leftover laminated bamboo lumber from a previous project, so I decided to try making speakers using (mostly) bamboo.



Driver Selection:
 Samba kit components.



Enclosure Design:
Used Samba kit dimensions, modified slightly to increase the volume due to additional internal bracing and enclosure panel miter joints.


Crossover Design:
 Used Samba kit design and components.


Tips & Tricks:
Laminated bamboo is a hard, heavy, but brittle/fibrous material. If your tools aren't sharp you may get tear-out when cutting.
I bought a full Samba kit and a baffle-only kit. Since I built my own enclosures I could use the MDF from the complete kit to build the extra pieces I need for the second enclosure.
Conclusion:
My first speaker project, it came out better than expected and sounds great even using a small Bluetooth Class-D tube amplifier.



About the Designer:
 
I am a (very) casual hobbyist woodworker. This was my first DIY speaker project.

Project Parts List:
| | | |
| --- | --- | --- |
| Part # | Description | Qty. |
| 300-7121 | Samba MT Bookshelf Speaker Kit with Knock-Down Cabinet | 1 |
| 300-7119 | Samba MT Bookshelf Speaker Kit with Baffle Only | 1 |
| 260-317 | Acousta-Stuf Polyfill 1 lb. Bag Speaker Cabinet Sound Damping Material | 1 |
| 260-196 | Black Perforated Large Hole Crossover Board 3.5×5 | 2 |
| 260-111 | Acry-Tech DuraTex Black 1 Quart Roller Grade Cabinet Texture Coating Kit with Textured 3″ Roller | 1 |