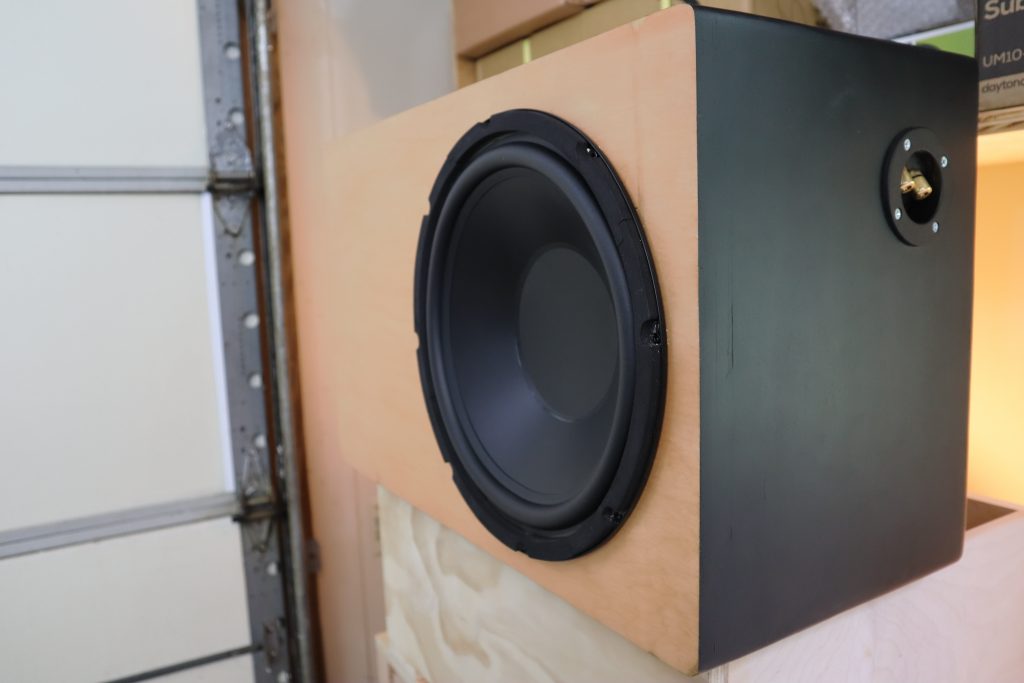 Budget Bass Box
---
Designer:
DIY Audio Guy
Project Category:
Subwoofers
Project Level:
Beginner
Project Time:
1-8 Hours
Project Cost:
Under $100
Project Description:
12″ GRS Poly Cone in a Sealed Box
Design Goals:
The goal of this project was to build the CHEAPEST subwoofer enclosure possible. The baffle is birch veneered MDF, stained with min wax poly shades. The rest is plywood, painted flat black with a layer of clear coat. It was made entirely out of scrap material left over from other projects plus a few cans of spray paint.
Video of the project: https://www.youtube.com/watch?v=MKcKM0a6ONY
Driver Selection:
292-484
Enclosure Design:
1.5 cuft sealed
Enclosure Assembly:
Very simple design.
I used wood glue and brad nails for the everything but the baffle. The baffle was glued and clamped. This way there were no nail marks in the baffle.
Crossover Design:
N/A
Tips & Tricks:
I put a round over on everything expect the baffle. This gives the edges a clean look and it is still very easy to mask off the baffle for paint.
Sealed boxes are very easy. If you plan your cuts correctly you only need to set the table saw fence three times.
Conclusion:
It sounds great for for a $23 driver in a scrap wood box. It is not going to blow the windows out of your car but this is an affordable way to round out the bottom end in a budget build. This would be an excellent sub for a 2.1 system in an office or a bedroom.
About the Designer:
I have been building speakers for about 5 years. I do it for fun, I do it to unwind, I do it to keep from getting bored.
Project Parts List: