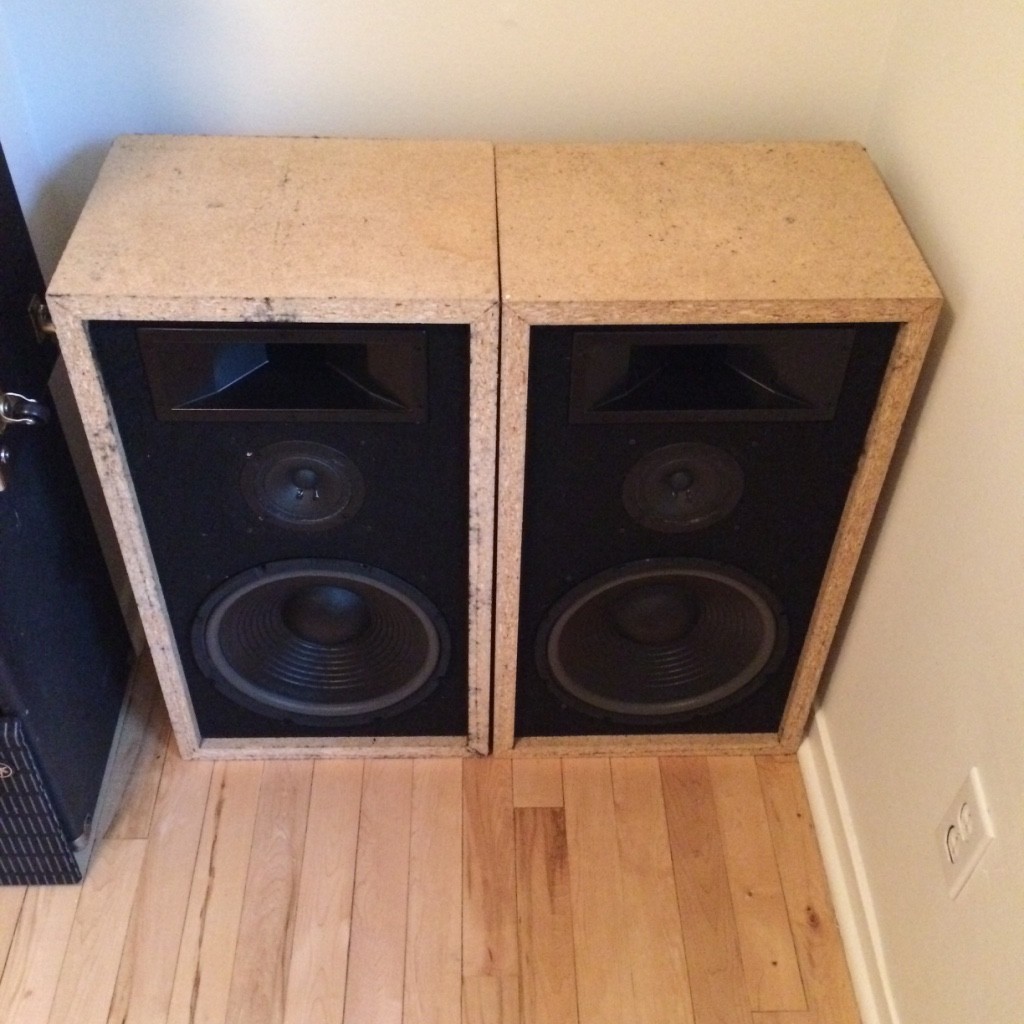 Budget Bass Cannons
---
Designer: Audio Artist
Project Time: 1-8 Hours
Project Complexity: Beginner
Project Cost: Under $100
Project Description
Using two heavy duty PA speaker cabinets and equipping them with all GRS drivers, create your own OEM project speakers with great sound without moths flying from your wallet.
Design Goals
My goal is to show what the possibilities of utilizing OEM replacement drivers and figuring out which ones should you use. so i bit the bullet and ordered two of GRS's 12″ ribbed cone woofers, two GRS 5″ mids and two Goldwood 1 3/8″ -18 TPI thread piezo compression drivers with waveguides to create a large classic 80s-90s style speaker system with enough audio output to blow the house down for around $100 custom cabinets and/or a complete speaker overhaul.
Driver Selection
My project consists of:
2x: GRS 12PF-8 292-412 12″ woofers
2x: GRS 5SBM 292-432 5″ mids
2x: Goldwood GT-1188 270-082 1 3/8″-18 TPI compressors
2x: Goldwood GT-400PB 270-095 waveguides
Enclosure Design
Already built 3-way 12″ dual ported, insulation, 1″ particle board shell for weight and overall strength to use for heavier grade drivers. soon to be wrapped in black leather to give off classic studio speaker looks. will update black cloth face to leather as well along with silver outer trim and a black steel mesh removable grills.
Crossover Design
Custom 3-way design soon to be updated with a 600 Hz – 10kHz band pass filter for the mid-range with an 8 ohm L-pad on the tweeter.
Conclusion
There will be plenty more projects to come folks!
About the Designer
I spent the last 10 years building speaker systems for car, home and pro audio as a hobby. I've worked with top brand names in my projects such as Peavey, Yorkville, Eminence, JBL, Cerwin Vega, Pioneer, Sony etc. Also i always look for great deals on OEM replacements for speaker overhauls and custom projects.
Project Parts List
| | | |
| --- | --- | --- |
| Part # | Description | Qty |
| 292-412 | | 2 |
| 292-432 | | 2 |
| 270-082 | | 2 |
| 270-095 | | 2 |