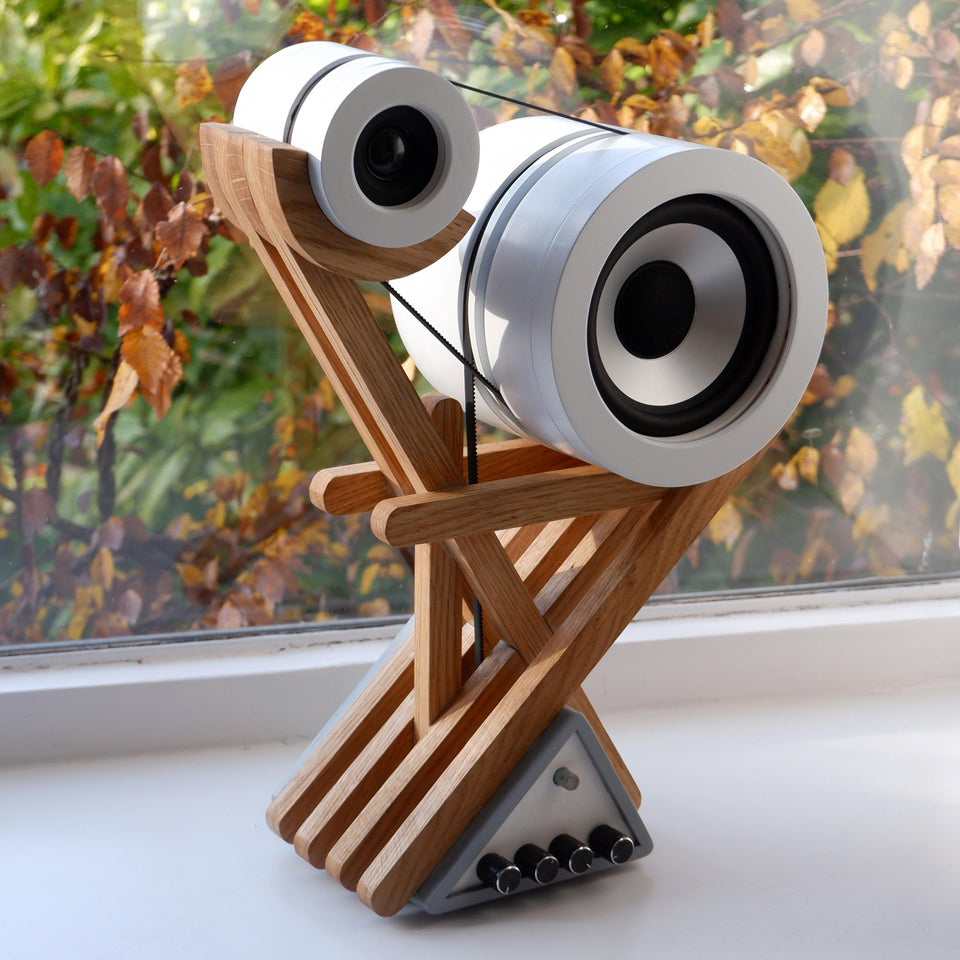 Bullet Speaker
---
Designer:
Maxim Duterre
Project Category:
Bookshelf Speakers
Project Level:
Intermediate
Project Time:
20+ Hours
Project Cost:
$500 – $1,000
Project Description:
The assignment I got was to design a speaker, I was free to do what I wanted but it had to have bluetooth. I wanted to work on my technical skills and challenge myself by having at least one mechanical movement inside of it. I designed this whole contraption with gears and belts which were supposed to drive a mechanical iris (similar to those found in cameras) but I couldn't get it to work in time for the deadline. This feature is pretty much useless but it looks cool and I wanted to try and make it work. This was my first time making speakers and I taught myself as much as I could in a few months and this is what I came up with.
Design Goals:
At least one mechanical movement and it had to be aesthetically pleasing.
Driver Selection:
295-330 Dayton Audio DA135-8
275-020 Dayton Audio TD20F-4 3/4″
Enclosure Design:
Within the enclosure I had to find a way to hide and engineer all these tiny gears whilst making it airtight. As for the material, my initial idea was to make the enclosure out of mdf but because of all these gears and the time pressure I had to resort to my trusty 3D printer.
Crossover Design:
The crossover is a bit all over the place. There is one half inside the tweeter box and the wires go through the wooden legs all the way down to the box where the other part of the crossover is.
Conclusion:
I'm rather happy with the results but there is still a lot I could improve on the aesthetic and engineering side. If I were to make more of them I would definitly get rid the mechanical components and just make a good sounding speaker. I would also make molds and cast them with some kind of resin because the PLA makes it sound a bit hollow but that's because I only had the time to print it with a 20% infill.
About the Designer:
I'm a half French / half dutch designer born in Belgium. I moved to the Netherlands a few years ago and now I'm a first years student (2020-2021) at the Design Academy in Eindhoven. My end goal is to be a designer with my own little studio.
Project Parts List:
| | | |
| --- | --- | --- |
| Part # | Description | Qty |
| 295-330 | Dayton Audio DA135-8 5-1/4″ Aluminum Cone Woofer | 1 |
| 275-020 | Dayton Audio TD20F-4 3/4″ Soft Dome Neodymium Tweeter 4 Ohm | 1 |