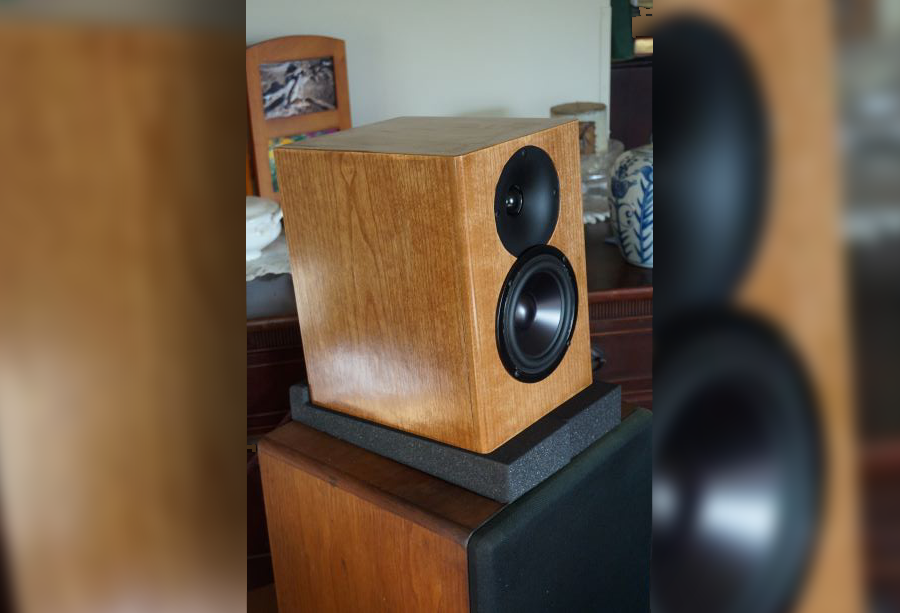 C-Note Kit
---
Designer:
Weekendredneck
Project Category:
Bookshelf Speakers
Project Level:
Beginner
Project Time:
8-20 Hours
Project Cost:
$100 – $500
Project Description:
Assembly of C-Note speaker kit with break down 1/2″ MDF cabinets. Kit was $100, veneer & glue was about $30, incidentals maybe another $15 or $20.
Design Goals:
Thought I should try out a pair of book shelf speakers.
Driver Selection:
999-7140, Dayton Audio components as selected by PE
Enclosure Design:
999-726, @7.5″W X 11″H X 10″D Ported
Enclosure Assembly:
percision cut MDF was a snap to accurately glue up.
Crossover Design:
3,000 Hz. Xover
Tips & Tricks:
BEFORE PURCHASING – You should watch video on kit assembly and download & review instruction manual. After reading all the reviews complaining about the lack of binding posts, I decided to not use any (I had several varieties kicking around). I cut a couple matching lengths of speaker cord (12.5′), tied an overhand knot on the cabinet end, and soldered directly to cross overs. I drilled a slightly under sized hole in the finished cabinet & used a tapered reamer to match the 16 guage wire. when assembling, a glob of Shoe Goo was applied to the knot and the cable drawn thru the box. Finished with shrink tube & nylon mesh.
Conclusion:
Sound/timber a good match for Part's Express Tri-Trix speakers previously built.
About the Designer:
Covid hobbiest.
Project Parts List: