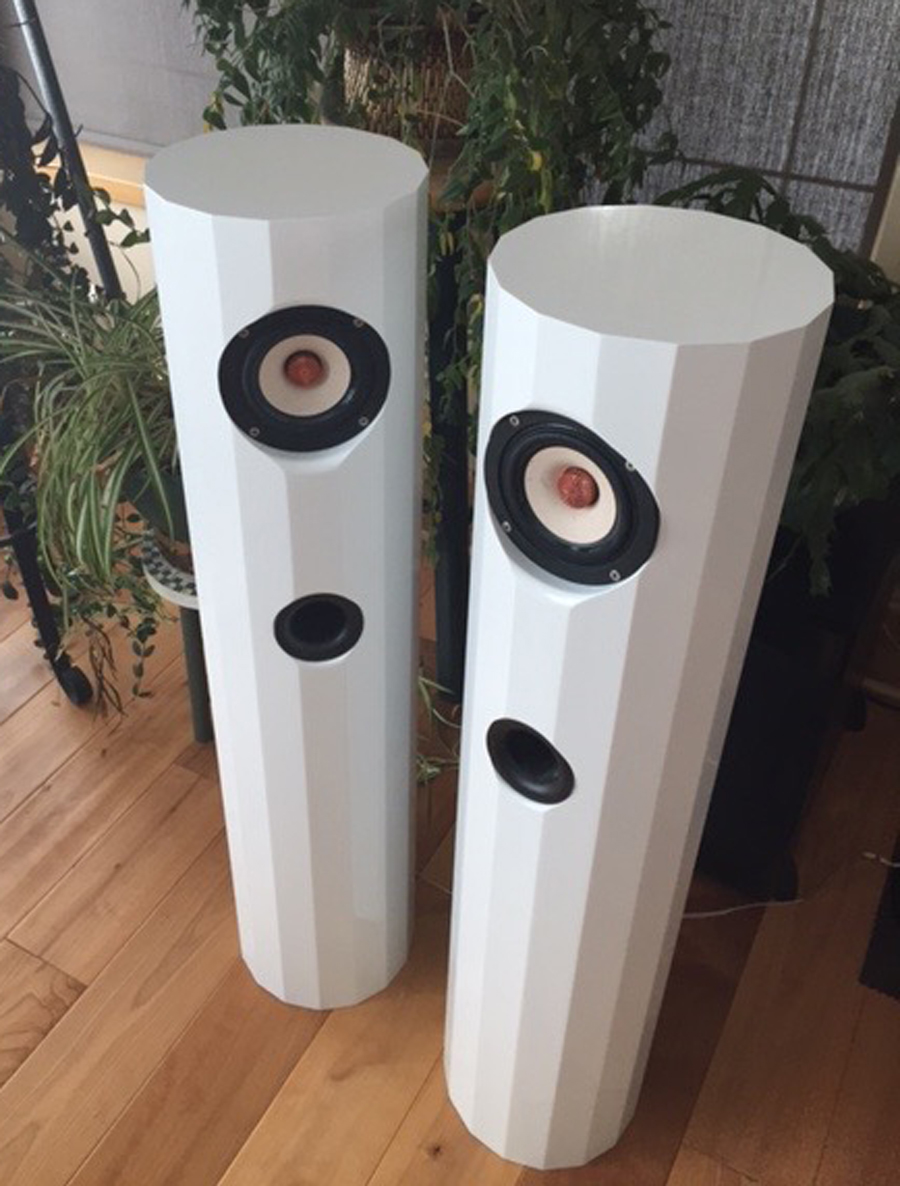 Column design
---
Designer:
Impunity
Project Category:
Tower Speakers
Project Level:
Beginner
Project Time:
20+ Hours
Project Cost:
$500 – $1,000
Project Description:
Simple but elegant tower speakers to complement my turntable
Design Goals:
As a first time builder, I wanted to make something different from the norm that wasn't too complex as far as electronics go.
Driver Selection:
Because I wanted a good sound, I decided to buy the most expensive 4″ drivers available figuring that you get what you pay for. This may or may not be correct, but that's how I approached this project.
Enclosure Design:Enclosure Assembly:
The enclosure assembly was by far the most difficult aspect of this job. The staves have to be cut accurately so that when rolled up, there are no gaps between the staves. I had installed 6 tabs on the inner faces of the staves so that the bottom and top of the enclosure could be dropped in later. Once the glue had set, then I had to mark out the positions of the driver recess & port and with the help of a circle jig, route out the recesses. Once all the wood work was done there was filling, preparation & priming before a super fine sanding and the application of pearl base coat and a urethane clear top coat.
Conclusion:
A lot of work with enclosures, expensive drivers, but worth every penny. The speakers sound terrific. They took a little while to "run in" – maybe 50 hours or so but I love their presence. I recently hooked them up to a Yaquin valve amp which almost made my hair stand on end. I play a lot of vinyl and this combination really works with that format.
About the Designer:
A regular guy…likes to play around & makes all sorts of things. First time building speakers. I would like to build a pair of horn loaded speaker using the drivers from my old Missions.
Parts Used:
Tang Band 4″ 1879
1-1/2 x 4″ flared ports
1 bag of Enclosure stuffing
Binding posts and wire