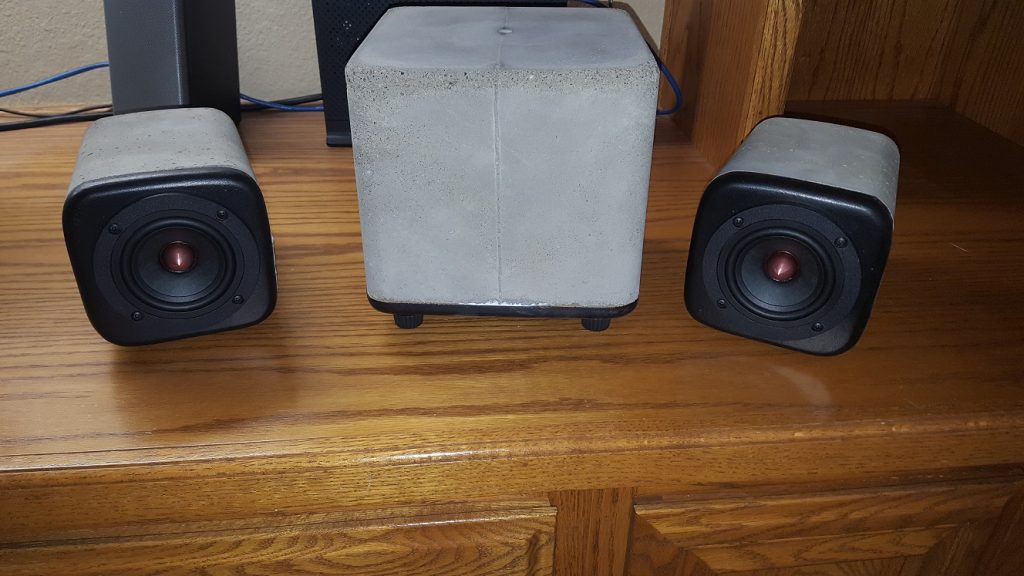 Concrete 2.1
---
Designer:
Mike
Project Category:
Freestyle Speakers
Project Level:
Beginner
Project Time:
8-20 Hours
Project Cost:
$100 – $500
Project Description:
Simple bookshelf style 2.1 system using cast concrete enclosures with MDF baffles.
Design Goals:
After assembling a pair of C-Note speakers for my home gym, I wanted to put something together for my office with a bit of an industrial feel. After doing a quick search, I decided on cast concrete enclosures with wood baffles. The end product is pretty cool and fits the goal perfectly. Some of the concrete did not settle perfectly leaving a rougher finish. Combined with a simple "plati-dipped" baffle, it give a clean industrial look.
Driver Selection:
Part # 295-349 – Dayton Audio PS95-8 3-1/2″ Point Source Full Range Driver 8 Ohm (qty 2)
Part # 297-436 – HiVi M5N 5″ Aluminum / Magnesium Midbass (qty 1)
Part # 091-1247 – Dayton Audio BPA-38SN HD Binding Post Pair Satin Nickel (qty 3 x pair)
Enclosure Design:
Designing the enclosures was simplified by finding off the shlef storage containers that would offer the right finished volumes with a reasonable wall thickness. In the end, I used two simple ones from Walmart.
Enclosure Assembly:
Each enclosure was cast using a two part mold. The exteriors were storage containers cut in half and taped back together to allow mold release once the concrete dried. The internal molds were water bottles or jugs to ensure the right volume and wall thickness. Once cast the baffles with built form 1/2″ MDF, routed, sanded and coated with flat black Plasti-dip.
Conclusion:
After connecting the finished set up to a Lepai LP-168HA (Part # 310-308) and my computer, I am reasonably happy with the setup. It took a little tuning to get the sub level matched well but the final sound is a significant improvement on the previous Bose speakers.
About the Designer:
Garage tinkerer who always wanted to build some speakers. Slowly getting better…
Project Parts List: