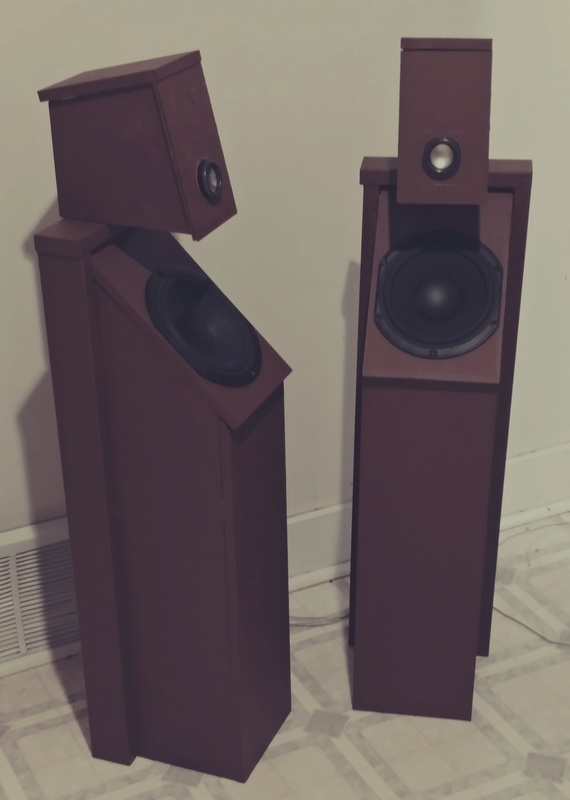 Connemara
---
Designer:
GaryD
Project Category:
Tower Speakers
Project Level:
Beginner
Project Time:
8-20 Hours
Project Cost:
$100 – $500
Project Description:
This is a hybrid design of the PLUTO loudspeaker. This an experimental design using a passive crossover with some design features of the Pluto. This is not intended to be a Pluto clone.
Design Goals:
To minimize speaker box resonance. To preserve the "point source" feature of the Pluto design. To design a passive crossover using Jeff Bagby's "Passive Crossover Designer".
Driver Selection:
264-1146 Tymphany SDS 160F25PR01-08 6-1/2″ Woofer
296-252 AuraSound NSW2-326-8AT 2″ Extended Range Speaker
Enclosure Design:
Closed box (tube) stuffed pipe design to minimize speaker box resonance. The unique feature of this design is the woofer is placed at a 45 degree angle. To my ears, the woofer integrates better with the tweeter compared to an upward firing woofer. My woodworking skills are at a beginner level, so I wanted to keep the enclosure design simple.
Crossover Design:
I wanted a second order Linkwitz-Riley design. After experimenting, I ended up with something close to a second order design for 7 ohms at 1400 hz.
Tips & Tricks:
After a little experience is gained; trust you ears before any graphs or theories.
Conclusion:
I am really pleased with this project. Both speaker drivers sound better than I expected. The "point source" aspect of the design gives these speakers an imaging quality that is not in a regular box design. Minimizing speaker box resonance gives a cleaner sound to the speakers. I play these with a subwoofer which fills out the bass. When listening to the radio, they are fine without the sub. I would recommend this to anyone wanting to experiment with speaker designs. I would be very interested if someone with more experience and a better ear made improvements to this design. With less than $60.00 for speakers and an economy crossover; this is a low cost, high value design.
About the Designer:
I am retired and enjoy experimenting. I enjoy reading and researching in the diy community. I am at the beginner level of speaker building and feel ready to bring some projects to completion.
Project Parts List: