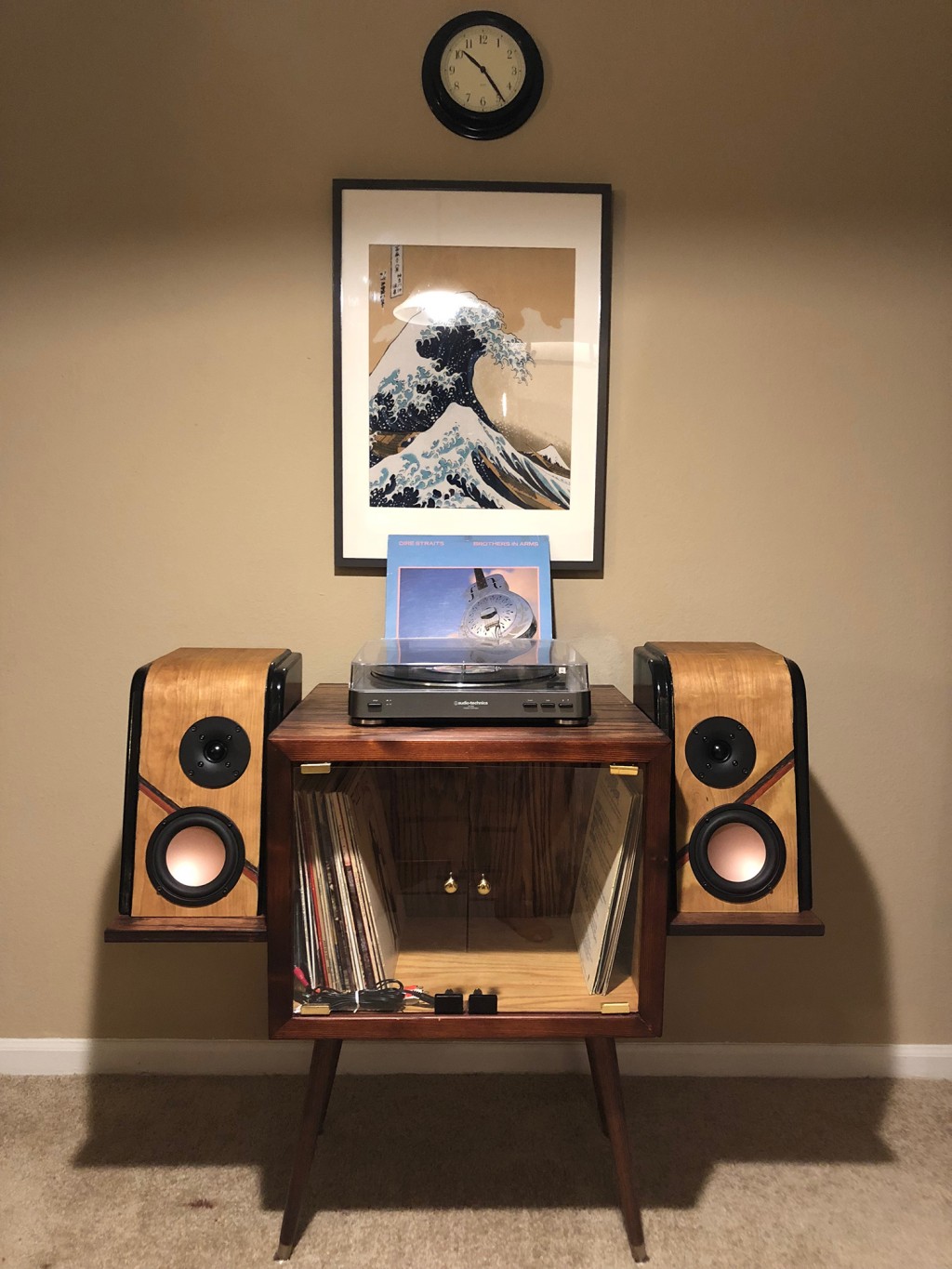 Curved Bookshelf speakers
---
Designer:
Karthik Ravi
Project Category:
Bookshelf Speakers
Project Level:
Intermediate
Project Time:
20+ Hours
Project Cost:
$100 – $500
Project Description:
Bookshelf speaker build.
Real Speakers have real curves!
Design Goals:
Build bookshelf speakers within 150-200$
A non-linear design
Good clean drivers for crisp sound
Driver Selection:
297-436 HiVi M5N 5″ Aluminum/Magnesium Midbass
264-1040 Peerless BC25TG15-04 1″ Silk Dome Tweeter
Enclosure Design:
I loved the stripes look on the Curly Maple Speaker Build by David Hall. Kudos to David!
I also wanted to try a non-linear design and wanted to give kerfing a try.
The enclosure is entirely 3/4″ MDF with Cherry Veneer and Paint to finish.
Enclosure Assembly:
Wood glue and pocket holes with bolstering behind the front panel
Crossover Design:
Simple 2nd order crossover.
Tips & Tricks:
It's all about the order of operations
Conclusion:
Speaker box construction:
As always with any project, it did cost way more that I initially expected. Had to play around quite a bit with kerfing to get a sturdy one. Kerfing is by far easiest with MDF and very tricky with hardwood. Finally it was a combination of a good rip blade and lot of steaming that provided a sturdy kerf. Also had a chance to work with wood veneer for the first time for me. Veneering was much easier than expected. Once again, credits to David Hall for the stripe accent that inspired a similar feature in my design.
Electrical:
I dont have any problems with the crossover design right now. However I haven't considered half the stuff that I believe goes into crossover design (The crossover design cookbook – Mark Lawrence). There's much learning to do for me in that regard.
It was quite a lot of fun (and frustration) building these speakers.
About the Designer:
Autonomous Vehicle Engineer during the week, Amateur woodworker in the weekend.
Project Parts List: