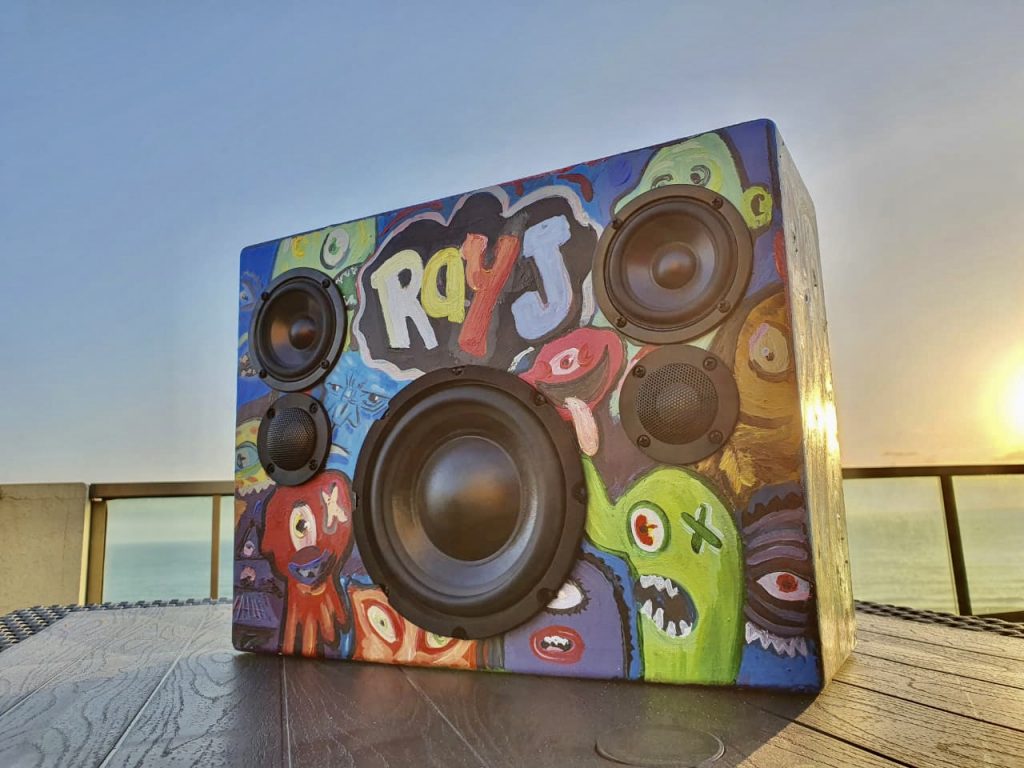 Custom Painted Blast Box 200w
---
Designer:
Gem Audio by AJ
Project Category:
Portable Speakers
Project Level:
Intermediate
Project Time:
20+ Hours
Project Cost:
$500 – $1,000
Project Description:
Custom made Blast Box speaker to match a friends Nickname (Ray J). Took about 3 days to complete! The kit was purchased from parts express and the box sanded down to give the edges a smooth feel then hand painted using oil paint!
Design Goals:
Hoping to reach a good amount of people to turn my passion into a side business!
Driver Selection:
Part #300-7162
Part #325-136
Enclosure Design:
Custom made with smoothed out edges for a clean finish
Enclosure Assembly:
Gorilla wood glue held together for 24 hours using clamps
Crossover Design:
As described in the instructions!
Tips & Tricks:
Take everything slow and definitely FOLLOW THE INSTRUCTIONS in order!
Conclusion:
This project was really fun! The instructions provided in the kit make everything simple! You just need a little experience working with speakers, crossovers, wood working and painting! Definitely impressed with the sound quality! Best bang for your buck!
About the Designer:
Just someone with a passion for everything custom made and funky!
Project Parts List:
| | | |
| --- | --- | --- |
| Part # | Description | Qty |
| 300-7162 | Blast Box 200 Watt Portable Bluetooth Speaker Kit | 1 |
| 325-136 | Dayton Audio LBB-5S 18650 5-24V Input 21V Lithium Battery Board with Balance/Charge Protection | 1 |