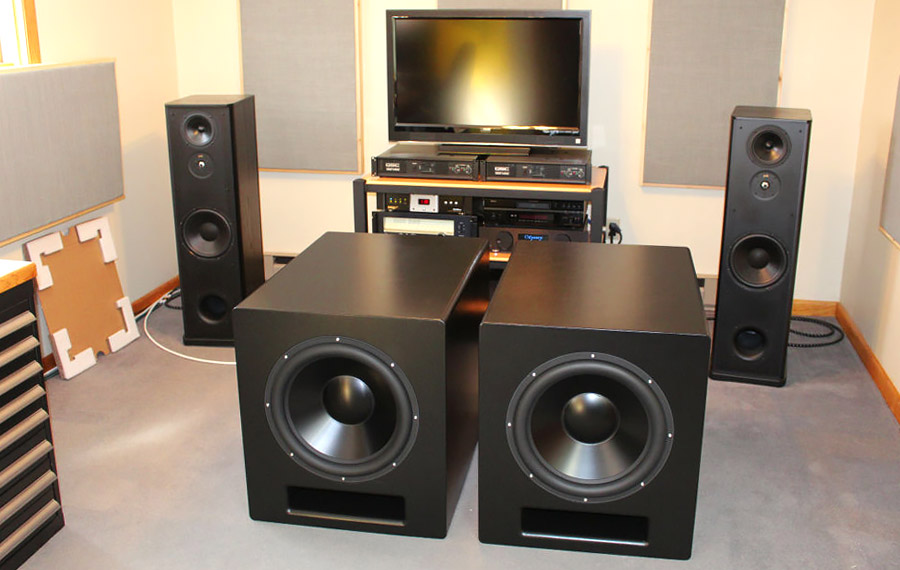 Dayton 18″ HO Slot Port
---
Designer: Brandon Boyl

Project Time: 20+ hours
Project Complexity: Intermediate
Project Cost: $500-$1000
Project Description
Slot Ported subwoofer using the Dayton Audio RSS460-HO-4 Driver in a large cabinet tuned to around 19Hz. Cabinet was designed to be very strong and very heavy. The entire construction features 1″ MDF throughout.
Design Goals
Ultra rigid enclosure to eliminate as much cabinet resonance, vibration and flexing possible. Large slot port eliminates port noise even at high volume. This subwoofer design is meant to be used for clean, powerful and efficient bass output well below 20Hz room.
Driver Selection
Dayton RSS460HO-4 was chosen for its optimal performance with both music and movies as well as the reasonable price tag.
Enclosure Design
The enclosure was designed in 3D CAD using sketchup software. Each part was calculated for volume taken up and dimensioned for overall fitment before fabrication started. All parts were accounted for in the volume calculations with the exception of the 3/4″ round over placed on all items. Designed for 1″ MDF sheet goods, a completely self contained port assembly that does not utilize a cabinet wall for any section. Internal bracing throughout that interlocks all 6 sides of the enclosure together. Flush mounted driver for a very clean look. Cabinet contains Roxul rockboard 60 covered in burlap fabric in the area around the driver and in the bottom corners near the port to help diminish any internal reflections.
Enclosure Assembly
With over 40 individual parts per enclosure this is not a weekend project. I spent nearly 2 months to complete two of these fitting in time to work on them when I could.
Crossover Design
Behringer DCX2496
Conclusion
Overall an excellent subwoofer. The musicality and speed of the gigantic 18″ driver continues to amaze me. With two of these subwoofers I can easily shake the room while the drivers hardly seem to be moving. I previously built a different pair of subwoofers in the past featuring another large slot ported box and a 12 inch driver. These are better in every way.
Tips & Tricks
There are several photos and a build follow along online. As well as the sketchup file available for download so any perspective builder can see the design and dimension their parts as needed.
About the Designer
Been into HiFi Audio for about 15 years. I enjoy working on DIY audio projects or DIY in general. One of the great hobby's that I can use my woodworking, and electronics skills to create something useful!