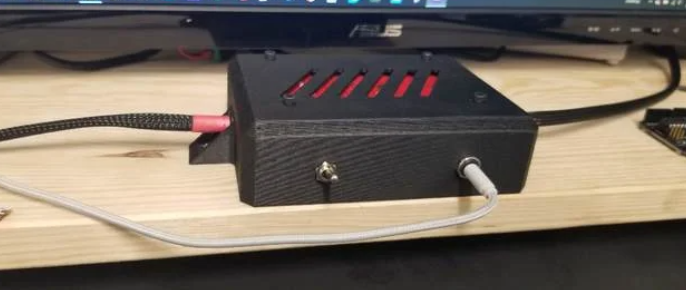 Dayton KAB Amp 3d Printed Case
---
Designer:
Alex Boyd
Project Category:
Amplifiers
Project Level:
Intermediate
Project Time:
1-8 Hours
Project Cost:
Under $100
Project Description:
I designed a mountable enclosure for a Dayton KAB 2×30 amp.
Design Goals:
I wanted a way to mount my kab 2×30 amp securely to a shelf on my desk, but I also wanted it to look good!
Driver Selection:
325-103
Enclosure Design:
The case was printed with carbon fill PLA, .2mm resolution, no infill (or 100% depending on how you look at it), and no supports.
Enclosure Assembly:
The amp mounts to the case with 4 m3 SHCS. The two holes in the front of the case fit the KAB accessory aux jack and on/off switch. The two side holes fit a 9mm rubber grommet, this isn't entirely necessary, but looks nice if you have some.
Conclusion:
The case came out great! At first I mounted it on top of a shelf, but ended up securing it to the back of my workbench out of the way.
About the Designer:
I am an engineer specializing in industrial automation. I enjoy building things more than I do actually using them. The STL can be found on thingiverse if you search for Dayton KAB case
Project Parts List: