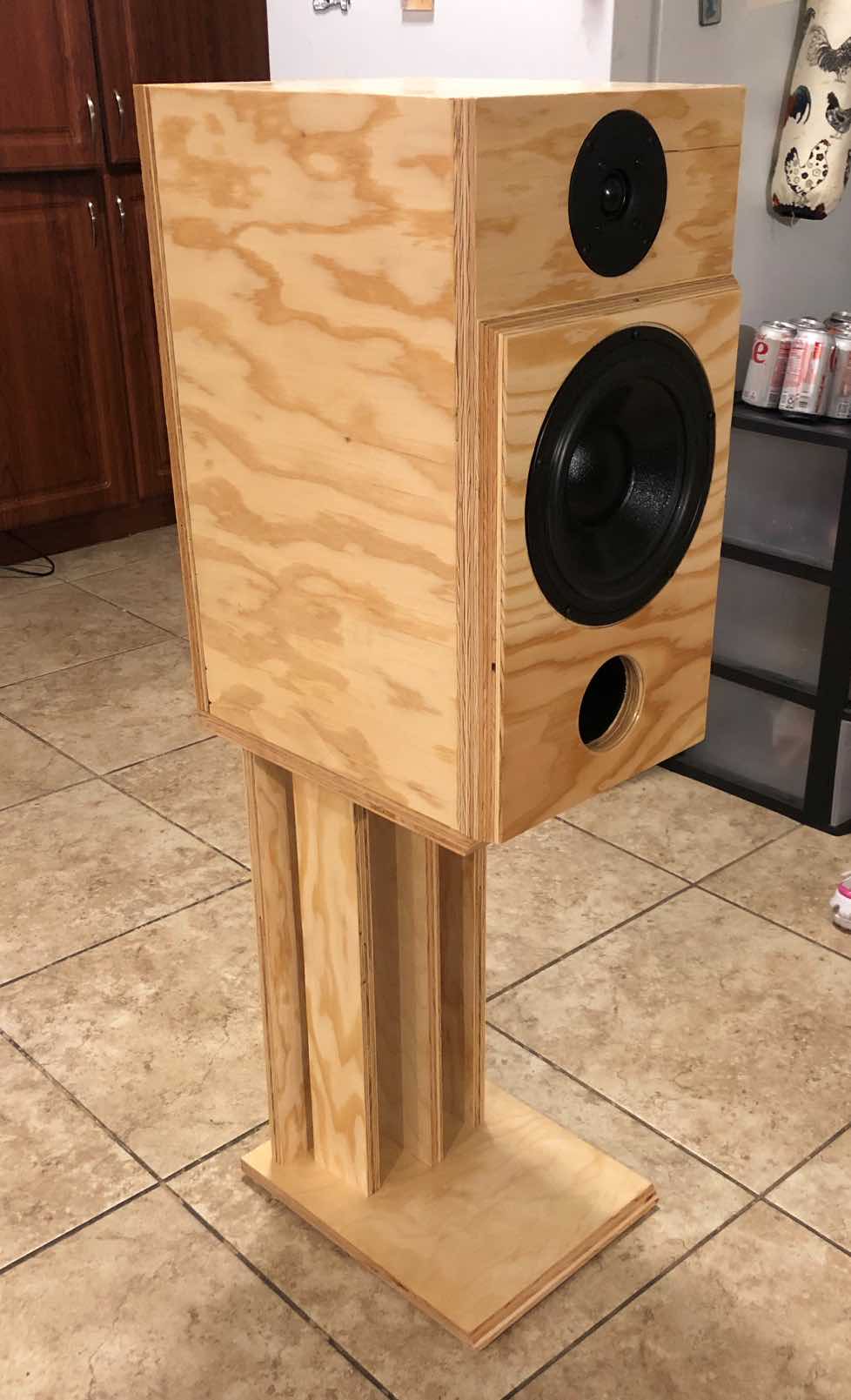 Designer Series 2W-MKI
---
Designer:
Graham De Partee
Project Category:
Bookshelf Speakers
Project Level:
Intermediate
Project Time:
20+ Hours
Project Cost:
$500 – $1,000
Project Description:
Bookshelf using simpler design methods and lower cost internal materials, all around the Designer Series 8″ paper woofer
Design Goals:
This, like all my other builds is screw free design. I used 3/4″ Baltic Birch for the main cabinet, including the inner bracing and offset baffle for the woofer and tweeter time alignment
Driver Selection:
The Designer Series has very pleasing response curves, better than the reference series IMHO. So I wanted to give the DS a try.
Enclosure Design:
This, like all my other builds is screw free design. I used 3/4″ baltic birch for the main cabinet, including the inner bracing and offset baffle for the woofer and tweeter time alignment. The front baffle worked out to simply double the thickness with two sheets of 3/4″ wood to provide the proper alignment of the tweeter and woofer. I added a 35 degree end to help with reflections, though it is not ideal, this was the "easier" way to design the baffle given the more advance cuts needed would require more than your typical table saw.
Enclosure Assembly:
I glue all 4 main pieces at the same time. My primary workbench was supporting a large project at the time so my table saw and a level table was used during the clamping drying stage. Not recommended because this can make it more difficult to ensure things set nice and square.
While the glue is drying on complete the cutouts for the woofer, tweeter and port. The back side of the baffle where the woofer is requires chamfered edges to make sure the woofer can breathe properly and pass all energy evenly when it moves both forwards and backwards (gasp! so you mean speakers send energy backwards too?… yes).
The braces typically requires circle cut outs to limit and tuning fork like resonance, but a jigsaw will prove to be "easier" if you do oval cuts.
I usually only scree on the back so that it could be removed later should the inside need any sort of service or I want to try something with the crossover. Makes for better access than the woofer hole. After putting the bracing and generic dynamat in place, added felt or in my case, egg crate foam.
Sand everything down to a 240 starting at at least a 80 or 100 crit. IF you used finished plywood you can start at 150 or 180. After sanding and assembly I paint with 6 layers of clear polyurethane paint.
Crossover Design:
crossover is mostly Jantzen and Dayton Audio parts:
027-938
027-214
027-940
255-946
257-552
257-808
If you use any other drivers, even the different version of the 8″ DS woofer you will need a different crossover.
Conclusion:
The overall sound is quite nice. The sound stage is far better than I expected it to be. vocals and strings come out crisp and clear. Low end is a bit on the light side but in hifi that lower end should be address with a larger woofer that can properly replicate the lower end, not through boomy resonance of an oversized cabinet or abused woofer.
After 2 weeks of running these even my wife liked them better than a pair of Klipsch RP-6000F I have.
About the Designer:
More to come. This is my 4th build but 1st posted. Next builds will be a 3-way and a full range 4-way using the DS 12″ sub and a DSP plate amp on and for each main tower.
Project Parts List:
| | | |
| --- | --- | --- |
| Part # | Description | Qty |
| 264-1040 | Peerless by Tymphany BC25TG15-04 1″ Silk Dome Tweeter | 1 |
| 295-430 | Dayton Audio DS215-8 8″ Designer Series Woofer Speaker | 1 |
| 027-938 | Jantzen Audio 18uF 400V Crosscap Capacitor | 1 |
| 027-214 | Dayton Audio PMPC-2.0 2.0uF 250V Precision Audio Capacitor | 1 |
| 027-940 | Jantzen Audio 22uF 400V Crosscap Capacitor | 1 |
| 255-946 | Jantzen Audio 2.20 Ohm 10 Watt Audio-Grade Superes Resistor | 1 |
| 257-552 | Dayton Audio 1.5mH 18 AWG I Core Inductor Crossover Coil | 1 |
| 257-808 | Dayton Audio 0.22mH 18 AWG Perfect Layer Inductor Crossover Coil | 1 |