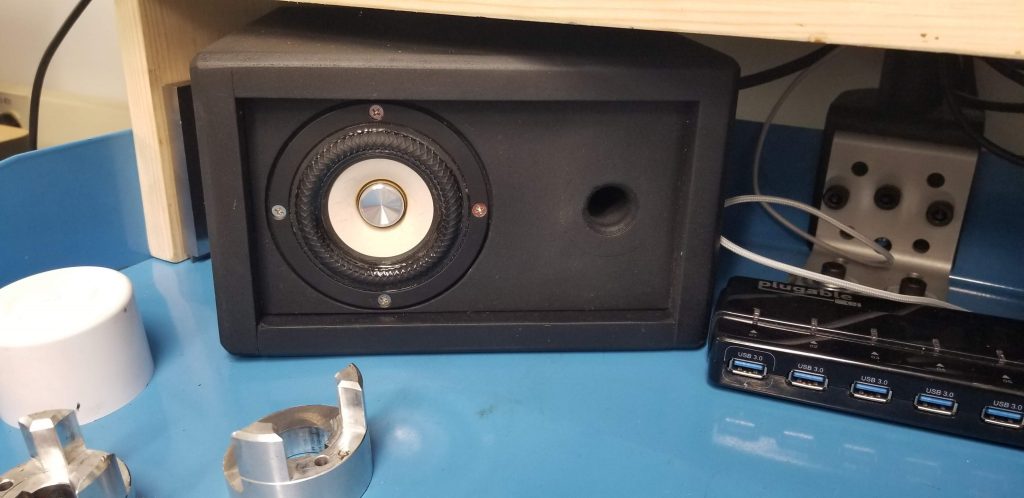 Desktop Full Range
---
Designer:
ABoyd656
Project Category:
Bookshelf Speakers
Project Level:
Beginner
Project Time:
8-20 Hours
Project Cost:
Under $100
Project Description:
I built two enclosures around Tang Band W3-2141 drivers. The enclosures are .1ft3 each. I printed the port out of PETG. I also designed and printed a case for a KAB 2×30 amp. You can find this on thingiverse if interested, just search for Dayton KAB Case
Design Goals:
I wanted some good sounding speakers that would fit well on my bench at work. I wasn't as concerned about appearances, as I knew they would get scratched up/dirty/used as a coaster…ect
Driver Selection:
264-956
Enclosure Design:
The enclosure was modeled in Speakerbox lite around a flat response.
Enclosure Assembly:
The enclosure is straight forward, it was cut from 5/8 pre-primed mdf from lowes.
Conclusion:
The W3s are great, I am very pleased overall with how they sound. For near field listening I haven't felt the need to have a sub.
About the Designer:
I am an engineer specializing in industrial automation who enjoys building things more than actually using them.
Project Parts List: