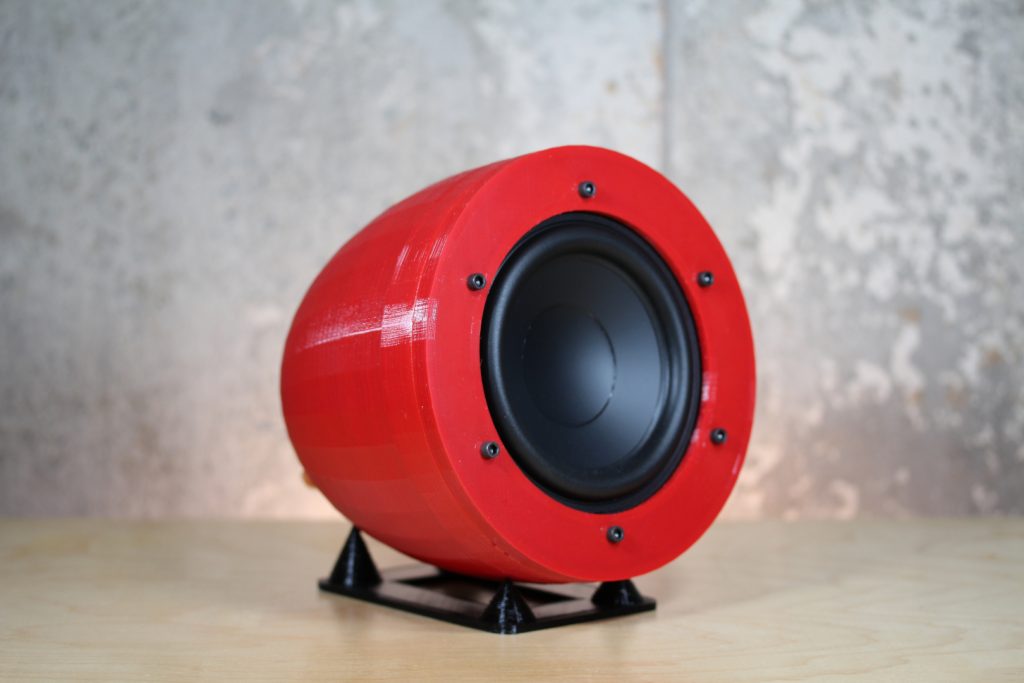 Desktop Micro-Subwoofer V2
---
Designer:
Kapman
Project Category:
Subwoofers
Project Level:
Beginner
Project Time:
20+ Hours
Project Cost:
Under $100
Project Description:
I've been working from home for over a year and felt my PC desktop audio system needed an upgrade. I 3d printed the cabinet using PETG and purchased the rest from Parts Express.
Design Goals:
1. High quality bass for PC based music and gaming
2. Small size, but something that hits hard and clean for the desktop home office environment
3. Unique but interesting design that can take advantage of the benefits of 3D-printing
4. Low cost
Driver Selection:
Peerless Tymphany SDS-135F25CP02-04 5.25 inch driver
Enclosure Design:
Half Ellipsoid Sealed
Enclosure Assembly:
3d printed PETG in fire engine red. Then simply assemble the parts. Assembly takes about an hour. Depending on your 3d printer, the print can take up to 40 hours. Recommend PETG over PLA for toughness and damping ability. Video Instructions and link to STL files: https://youtu.be/8ma982eg898
Crossover Design:
Software DSP. Using PC motherboard subwoofer channel and "Equalizer APO" for Windows and Pulse Audio for linux.
Tips & Tricks:
If you don't have a 3d printer, there are many online services that will print this for you at relatively low cost.
Conclusion:
This turned out much better than I was expecting in both the looks and the sound. This woofer really sounds great and is easy to print and assemble.
About the Designer:
I'm simply a hobbyist with an interest in applying 3d printing as a low cost construction tool for home projects with an interest in HiFi, software and electronics.
Project Parts List:
| | | |
| --- | --- | --- |
| Part # | Description | Qty |
| 295-378 | Dayton Audio RS100-4 4″ Reference Full-Range Driver 4 Ohm | 1 |
| 091-1250 | Parts Express Binding Post Banana Jack with 1″ Thread 2 Pair Black Gold | 1 |
| 260-317 | Acousta-Stuf Polyfill 1 lb. Bag Speaker Cabinet Sound Damping Material | 1 |
| 260-779 | Parts Express Cast Frame #8-32 Speaker Mounting Kit | 1 |
| 100-038 | Audtek 12 AWG Speaker Wire 100 ft. Spool | 1 |