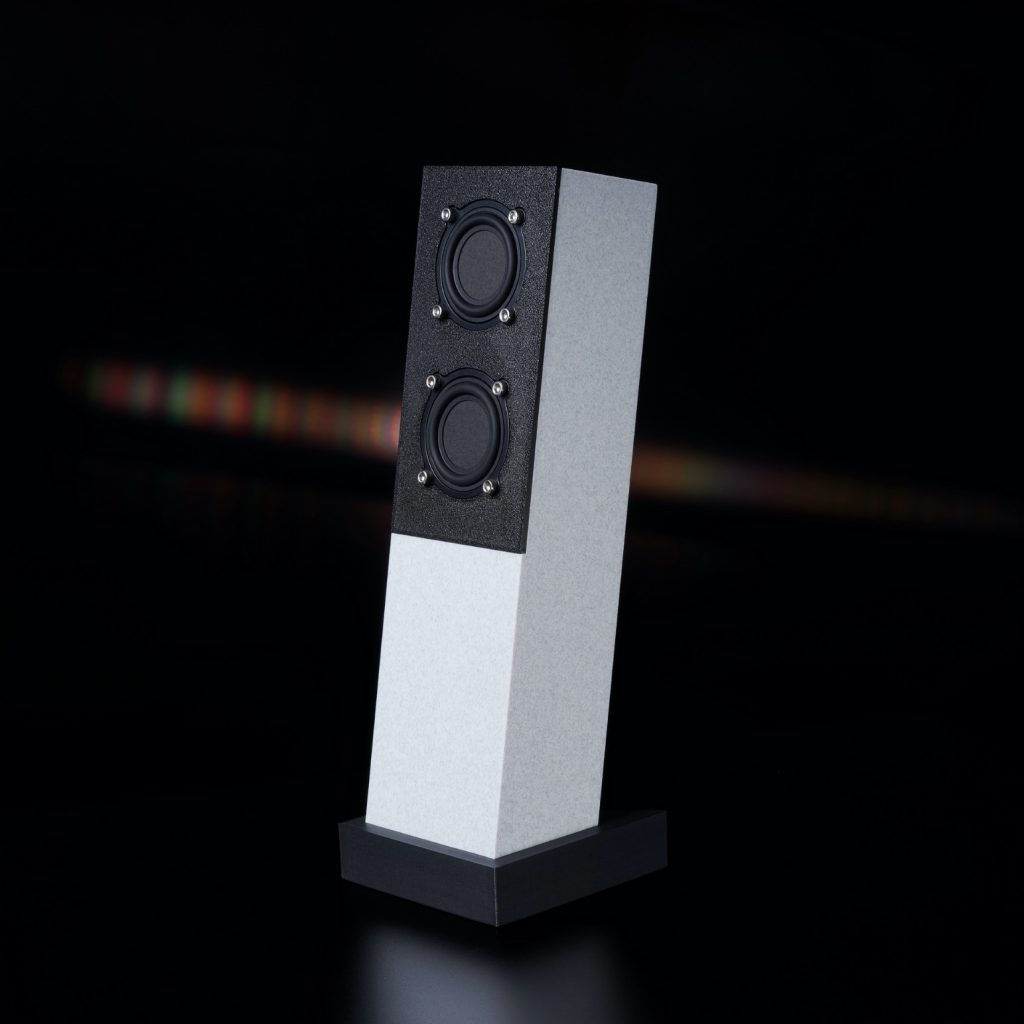 Desktop Obelisks
---
Designer:
Luke Pi
Project Category:
Freestyle Speakers
Project Level:
Beginner
Project Time:
1-8 Hours
Project Cost:
Under $100
Project Description:
These are sleek desktop satellite speakers, with a 3D printed enclosure. They have a very small foot print, but are tall enough to stand above desk-top clutter. Tectonic BMR drivers give excellent dispersion, and the bass extension is 115Hz.
Design Goals:
Hit below 130Hz with a foot print smaller than a credit card, and sound good doing it.
Driver Selection:
I love the Tectonic BMR drivers, they sound great and I really like the appearance too. I had some of these tiny 28mm drivers and wanted to find a design they would excel in. Playing around in WinISD I found they are a perfect match for the Dayton Audio ND65-PR.
Parts per speaker:
2x Tectonic BMR 28mm full range driver:
Part # 297-2172
2x Dayton Audio 2.5″ Passive Radiator:
Part # 290-205
Enclosure Design:
I designed the enclosure in Fusion360. The width and depth are determined by the width and depth of the passive radiator. (There is a recess in the front wall to prevent the screw on the PR hitting the wall!) The enclosure is designed to print in one piece without additional supports. I integrated into the model the supports that are required for the driver cut-outs. The acoustic volume is 350ml. There are struts between the front and back walls, for added rigidity.
Enclosure Assembly:
Print with 3 perimeters and 60% infill, lying on its side, per the stl file. Poke out the integrated supports from the cutouts. Fit the stand, if you are going to use it. Run the speaker cable through the guide, seal it with putty or silicone. Fit the active drivers, wiring them in series. Remove the wingnuts AND the threaded washers from the PR's. Fit the PR's, making sure the internal cables don't clash with the threaded rods. The front trim panel can be glued, or just fixed with blue tack, if you want the option of changing colors in the future.
Crossover Design:
None required. I suggest using a 120Hz high pass filter, if possible, to improve power handling. Using the "small speaker" setting on a home cinema amplifier or your PC sound card will do, at a pinch.
Conclusion:
The tuning matches the WinISD model, the measured bass response extends below 120Hz, and they sound great.
Tips and Tricks:
I recommend printing the "enclosure test section" to test your print settings before printing the whole enclosure. Don't be tempted to skimp on the infill when printing. Use an airtight solid grid or triangular infill, not rectilinear or gyroid.
About the Designer:
I design cameras, but I like speakers too!
| | | |
| --- | --- | --- |
| Part # | Description | Qty |
| 297-2172 | Tectonic BMR 28mm full range driver: | 2 |
| 290-205 | Dayton Audio 2.5″ Passive Radiator: | 2 |
| N/A | ~300g printer filament of your choice | |
| N/A | Speaker cable that will squeeze through a 5x7mm hole | |
| N/A | 16x M3 screws for the drivers | |
| N/A | 4x M3 screws for the stand | |