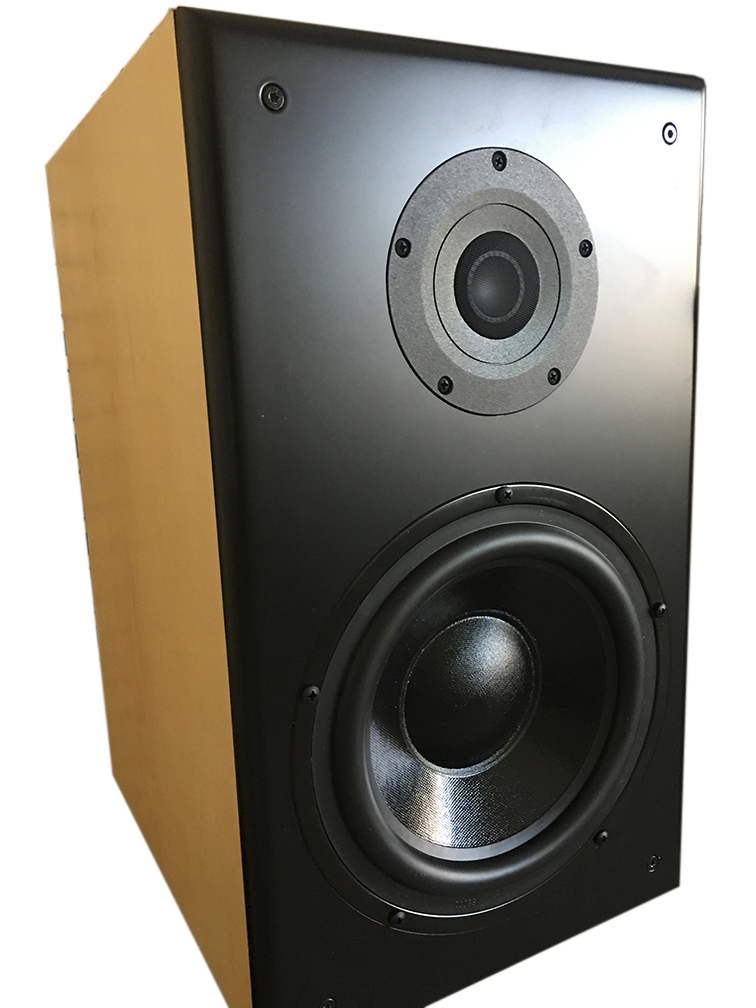 Diamond Sparkle
---
Designer:
Tiziano Diamanti
Project Category:
Bookshelf Speakers
Project Level:
Beginner
Project Time:
8-20 Hours
Project Cost:
$500 – $1,000
Project Description:
The Diamond Sparkle is a full band 2-way stand mount speaker, designed to avoid using a sub woofer, particularly tuned for music but great for movies as well.
Design Goals:
Design and build a 2 way speaker using a 8″ woofer. I wanted to experiment with an old school setup with one big woofer instead of multiple smaller ones. The inspiration also came from several studio monitors using an 8″ woofer from brands like Dynaudio, Emotiva and so on.
Driver Selection:
For the woofer I settled on the Dayton Audio DS215-8 because it has a flat response up to 2000Hz and it works well in a .78 cube feet enclosure.
For the tweeter, after much thinking I chose the Tang Band 25-1983, because some years ago I had a Focal car audio 2 way kit for my car and loved the reverse dome tweeter, and because with such a low FS I could afford to has a low cross frequency with the big woofer.
Enclosure Design:
I don't have tools for working wood, so I bought the Dayton Audio TW-0.75MA. They are very well made. I used a company that has a CNC cutting machine to cut the holes and recesses for the drivers and to cut the hole in the back for the port tube. The bass reflex is tuned for 40 Hz. I had to modify the grills, adding an offset to the magnets, because the position of the screws for the woofers would interfere with them.
Crossover Design:
I chose the drivers to have a flat response at 90 db so that I wouldn't have to worry about LPad circuits. The cross over is Audio Pipe 2000Hz (actual frequency seems to be 2100 Hz according to capacitors' value).
Conclusion:
This was my first complete project of DIY speakers, I really had fun and I am having a lot of fun listening to the speakers. The bass and base are outstanding. The amount of details is incredible, for some songs was like rediscovering the record altogether. Both drivers need a good 20 hours of break-in.
About the Designer:
Tiziano is a software engineer, with a long standing passion for music reproduction, both home and car. Recently interested in DIY speakers. Tiziano thanks Parts Express for making this possible and all the people on the forum for the useful information.
Products Used:
Cabinets Dayton Audio TW-0.75MA 0.75 cu. ft. 2-Way Speaker Cabinet Maple
https://www.parts-express.com/dayton-audio-tw-075ma-075-cu-ft-2-way-speaker-cabinet-maple–302-736
Woofers Dayton Audio DS215-8 8″
https://www.parts-express.com/dayton-audio-ds215-8-8-designer-series-woofer-speaker–295-430
Tweeter Tang Band 25-1983 1″ Titanium Dome
https://www.parts-express.com/tang-band-25-1983-1-titanium-dome-tweeter–264-908
Speaker Cabinet Port Tube 1-3/4″ ID x 4″ L
https://www.parts-express.com/speaker-cabinet-port-tube-1-3-4-id-x-4-l–260-407
Dayton Audio BPA-38NI HD Binding Post Pair Nickel
https://www.parts-express.com/dayton-audio-bpa-38ni-hd-binding-post-pair-nickel–091-1246
JSC Wire 18 AWG Red/Black Zip Power Speaker Wire
https://www.parts-express.com/jsc-wire-18-awg-red-black-zip-power-speaker-wire-1-ft-usa–100-050
Audio Pipe Crossovers CRX-22K
1-1/2 acoustic insulating foam