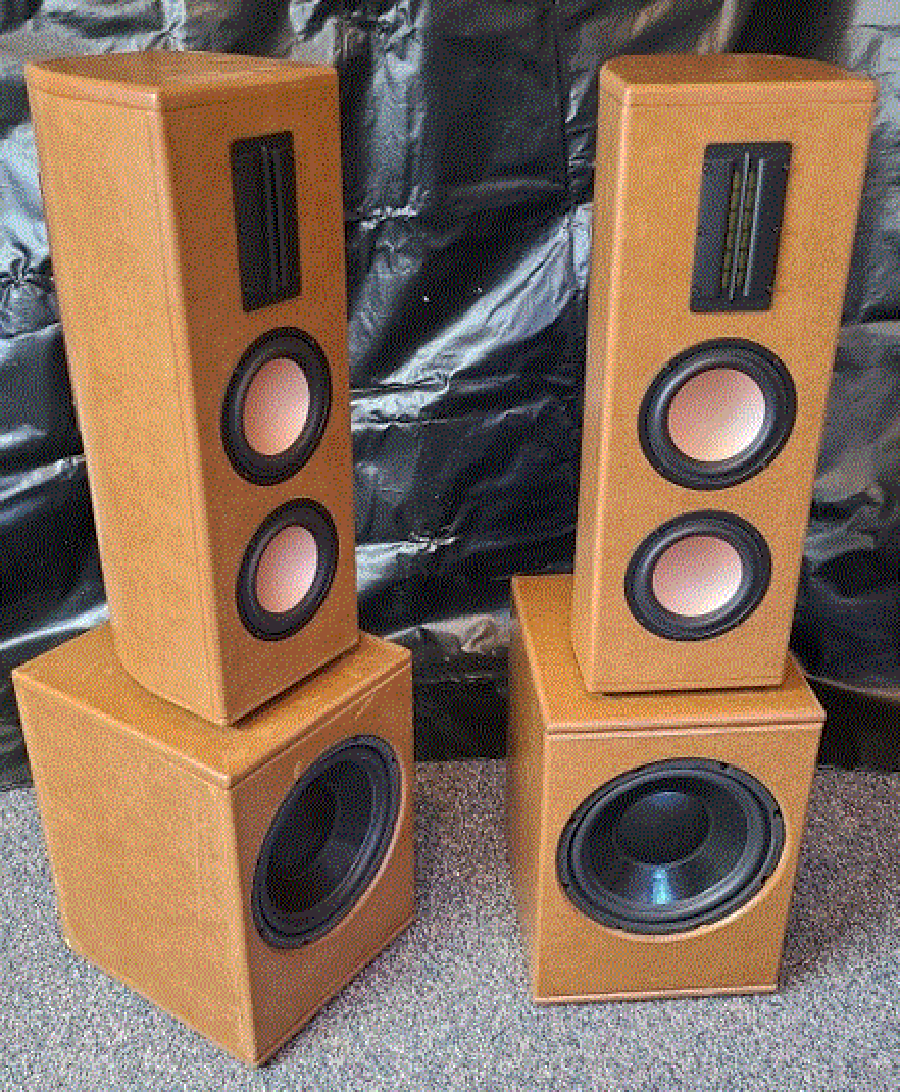 DIY Stereo Towers
---
Designer:
Nick
Project Category:
Tower Speakers
Project Level:
Intermediate
Project Time:
8-20 Hours
Project Cost:
$100 – $500
Project Description:
This was my first speaker build. I wanted speakers specifically for stereo without the need for a separately placed subwoofer.
I left the crossover visible on the rear of the speaker. So much work goes into this I didn't want to hide it. The frequency response from XSim turned our very flat. I am very happy with the results.
Design Goals:
The goal was for a relatively inexpensive build that achieves a high quality full range sound.
Driver Selection:
Dayton Audio PT2C-8 Planar Tweeter
Part # 275-085
HiVi M6N 6″ Aluminum/Magnesium Midbass
Part # 297-441
Dayton Audio DCS305-4 12″ Classic Subwoofer 4 Ohm
Part # 295-204
Enclosure Design:
MDF with internal bracing
Enclosure Assembly:
Separate upper and lower cabinets allow for easier placement of the speakers.
Crossover Design:
4th order Linkwitz-Riley at 2500 Hz
Woofer is crossed over at 100 Hz through a AV receiver
Tips & Tricks:
XSim
DIY Audio & Video website for calculators
AudioTool
Parts Express
Conclusion:
The speakers exceeded my expectations.
About the Designer:
I am an aircraft structural engineer who has always had a hobby in home and care audio that likes wood working. This combined the two perfectly.
I will probably never buy a premade set of speakers again.
Project Parts List:
| | | |
| --- | --- | --- |
| Part # | Description | Qty |
| 275-085 | Dayton Audio PT2C-8 Planar Tweeter | 1 |
| 297-441 | HiVi M6N 6″ Aluminum/Magnesium Midbass | 1 |
| 295-204 | Dayton Audio DCS305-4 12″ Classic Subwoofer 4 Ohm | 1 |
| 300-807 | Dayton Audio SPA500 500W Subwoofer Plate Amplifier | 1 |
| 027-236 | Dayton Audio SPA500 500W Subwoofer Plate Amplifier | 1 |
| 027-436 | Dayton Audio DMPC-20 20uF 250V Polypropylene Capacitor | 1 |
| 257-052 | Dayton Audio 1.5mH 20 AWG Air Core Inductor Crossover Coil | 1 |
| 257-044 | Dayton Audio 0.80mH 20 AWG Air Core Inductor Crossover Coil | 1 |
| 257-030 | Dayton Audio 0.35mH 20 AWG Air Core Inductor Crossover Coil | 1 |
| 257-022 | Dayton Audio 0.15mH 20 AWG Air Core Inductor Crossover Coil | 1 |
| 027-426 | Dayton Audio DMPC-8.2 8.2uF 250V Polypropylene Capacitor | 1 |