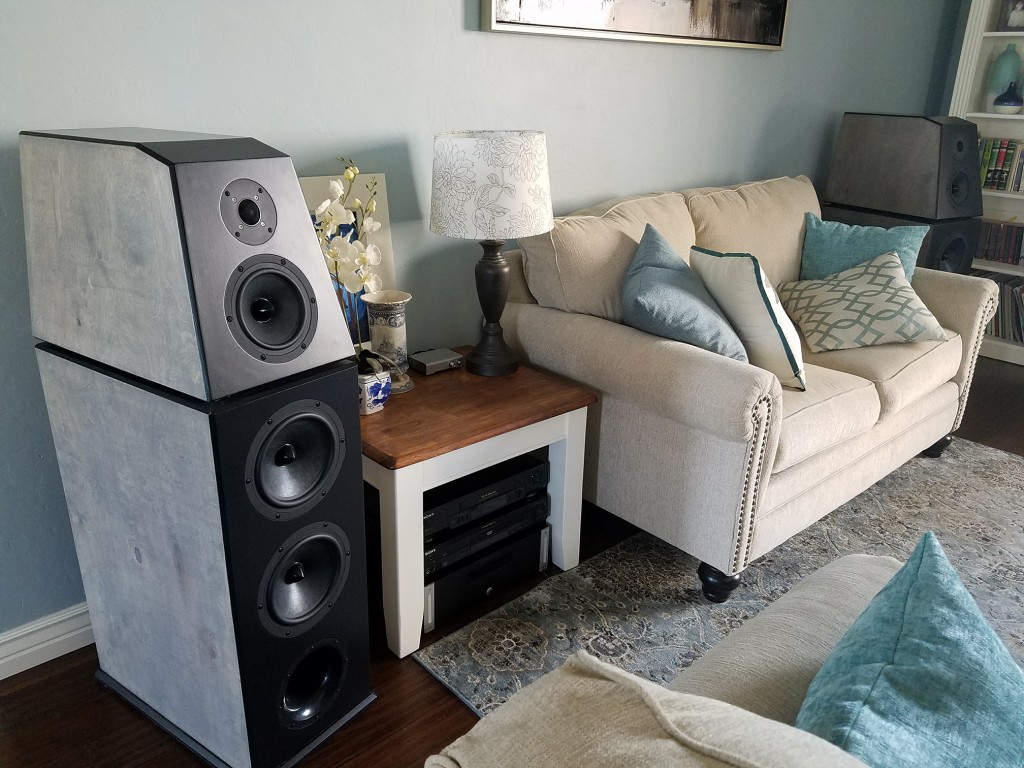 DM-4 Active Reference Series Speaker
---
Designer:
Dan Marx
Project Category:
Tower Speakers
Project Level:
Advanced
Project Time:
20+ Hours
Project Cost:
$500 – $1,000
Project Description:
The DM-4 Active Reference Series Speaker is an audiophile-grade floor standing speaker system based on a selection of 8″ and 7″ Dayton Audio reference series paper cone drivers and the famous RS28F soft dome tweeter. The speakers are designed for use in a dedicated 2-channel audio setup with a 6-channel amplifier and an active DSP crossover.
Design Goals:
The design goal was to build a no-compromise speaker system using only Dayton Audio drivers in a dual-enclosure setup with some aesthetic influences borrowed from other well-known commercial hi-fi speakers. The idea being to showcase what can really be accomplished with a relatively inexpensive set of drivers from our favorite speaker building resource. The reference series speakers can be made to look and sound fantastic once built into a well-designed cabinet that compliments their design characteristics and finished with some quality woods, paint, stain and clear coat.
Driver Selection:
The speakers consist of two separate cabinets for ease in manufacturing, cutting and assembly. The lower cabinet houses a pair of Dayton Audio RS-225P-8 8″ Paper Reference Drivers wired in parallel for a nominal 4 ohm load. The drivers were selected because they contain all of the best elements of a great 8″ woofer: cast aluminum basket, aluminum vc former, low inductance, low moving mass, high xmax, low-loss rubber surround, solid aluminum phase plug, dual short-circuit paths and to steal the description from PE themselves contain "a proprietary paper cone formulation combining natural paper pulp and synthetic Kevlar® and glass fibers to create an advanced non-woven fiber composite that delivers the perfect combination of excellent detail and smooth, natural sonic character, plus a distinctive, classy look." Since this driver is in a family of reverence drivers, there are multiple driver sizes which meant picking a 7″ woofer/mid for the midrange was easy and provided a cosmetic and acoustic match to the 8″ woofer. The midrange is the RS180P-4 driver and was selected for the same reasons as the 8″ however since it will be handling the midrange region of sound, has a slightly higher upper operating frequency than the 8″ and therefore allows easy transition to the RS28F-4 tweeter. The tweeter was picked for its ability to be crossover over extremely low with a low fs and low moving mass which provides low distortion and great on and off-axis frequency response. It's a favorite tweeter among speaker enthusiasts because of its relatively low cost compared to its exceptional performance. Plus is matches the other drivers from PE's reference series line with the all-black aluminum faceplate and other features. The grill protects the dome from the probing fingers of little ones which in my house have destroyed more than just a single pair of tweeters.
Enclosure Design:
The lower enclosure is a standard 4th order vented cabinet with a net volume of 78L and tuned to 32 Hz using a 4″ Precision Port. The cabinet is constructed of 3/4 MDF with multiple window bracing and cross braces throughout. The bottom and back panels are 1.5″ thick and the front panel is 1.75″ thick. The internal walls are damped with carpet pad, cotton batting and polyfill batting. The cabinet is glued and screwed together using wood glue and 2″ dry wall screws. The front panel uses an extra 1/4″ piece of MDF to allow the drivers to be flush-mounted. A Jasper Jig was used to cut the cutouts in the this ¼" baffle board to provide a perfect fit to each driver. This took some trial and error to get just right though!
The upper cabinet design is a little more complex, with a 14 degree sloped front baffle, the midrange and tweeter are brought into near perfect physical acoustical time alignment. The sides of the cabinet are tapered at 7 degrees towards the top to prevent parallel internal walls and help to reduce unwanted internal standing waves. The sloped sides also add to the overall aesthetics design of the speaker. All of the edges on both cabinets are chamfered at 45 degrees to reduce the effects of edge diffraction. The sides of speakers are covered in a 1/4″ birch veneer which increased the panel thickness to 1" which are stained gray while the rest of the cabinet is painted black. A polycrylic top coat finishes off the enclosures for that clean, professional, high-end look.
Enclosure Assembly:
The assembly of the four enclosures took about two years to complete. This was not a weekend project. This was one of those projects that sat in the garage and got worked on every once in a while on weekends for a couple of hours as time permitted. The assembly went like most of my projects, slow and steady. I made my fair share of mistakes along the way, but with the end game a little closer each day, I pushed on.
Crossover Design:
While a passive crossover could be designed for this speaker, today it utilizes a pair of MiniDSP units with the 4-way Advanced Crossover plugin from MiniDSP. An Emotive UPA-700 provides 100 watts per driver (yes, even the tweeter and 50 watts to each 8" woofer) of discrete, raw, dedicated power. The crossover points are 170 Hz and 1700 Hz with 24 dB/octave slopes and Butterworth filter types. There is some EQ adjustment on the midrange and the woofers but mainly just to balance the speakers in the room. The Dayton drivers have excellent overall balance and frequency response and do not need fancy notch filtering to sound great. There is roughly a 4 dB shelf filter to account for baffle step losses. There is no time electrical time alignment adjustment and all drivers are wired and operate acoustically in-phase with one another.
Conclusion:
Overall these speakers exceeded my expectations as far as aesthetics and acoustics. Even when I'm not listening to music, I just enjoy having them in the house, they portray a sense of sophistication and worth that far exceeds the actual material dollars put into them. I can't put a price on the sweat labor that went into them though, I'd say several hundred hours at least, but when you're doing something you love, whose really counting hours?
The speakers have been dialed in for a completely flat response from 29-20,000 Hz ±2 dB (give or take). With that kind of neutral response they play a wide range of music flawlessly without seeming stressed. Vocals sound natural and full, the tweeter is crisp and clean and the bass is tight and deep. These speakers image very well casting a decent soundstage beyond the position of the speakers in the room. They sound warm and clear and can play quite loud with arguably very low levels of distortion. There is a wide acceptable listening area with no obvious single point sweet spot. I can listen for hours and enjoy every minute. I have enjoyed listening to my favorite tracks over and over and experiencing the music like I never have before. Even though the Reference Series speakers are meant to be Dayton Audio flagship drivers, they are by no means the best you can buy in the industry, but in this setup they showcase what a remarkable value they can offer, when installed into the right enclosure, powered with a good amplifier and the right crossover. If it does get better than this, it's going to have to cost a lot more to get there and how much better you can actually get is debatable. While these drivers have seen their way into many speaker projects, this is just one more example of a combination of Dayton's reference speakers and how truly great they sound together. The sky's the limit with what you can do with them especially with a little imagination and creativity.
About the Designer:
My name is Dan Marx and I've been designing and building speakers for over 25 years. And I've been purchasing products from Parts Express for about just as long. I'm an Electrical Engineer by trade and a DIY enthusiast by night. I'm married with 4 children and I love to play guitar and piano, I love writing music and watching movies and just spending time with my family and last but not least…designing and building speakers.
Project Parts List: