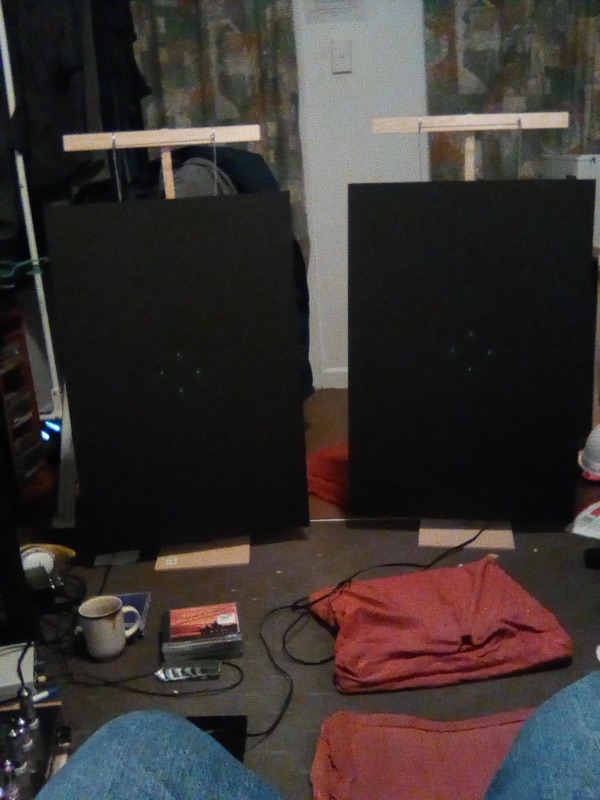 DML Speakers MK2
---
Designer:
geoff hooker
Project Category:
Freestyle Speakers
Project Level:
Beginner
Project Time:
1-8 Hours
Project Cost:
Under $100
Project Description:
DML SPEAKERS MK2
Design Goals:
these are an improved version over my previous speakers using a carbon fiber plate behind the driver to improve frequency response and sound quality without the need for equalization.
Driver Selection:
These use the Dayton audio DAEX25FHE-4 transducers
Enclosure Design:
The drivers are superglued onto 100x100x 2mm thick carbon fiber squares which you can get from ebay or aliexpress and attached onto 5mm thick 20×30 inch foamboard sheets using 3m plastic screws and nuts do not glue the carbon fiber to the board. I used plastic washers made from toy boardgame discs to stop the foamboard from crushing.
Enclosure Assembly:
The panels need stands to hand them on- I used string glued on the back of the panel hung on hooks
Crossover Design:
I found carbon fiber excellent since it is very light and does not flex lthis is needed for dispersing the sound over the panel.
Tips & Tricks:
you can cut carbon fiber with a hacksaw if you cant get the right size boards.
Conclusion:
These sound excellent and are a big improvement over my previous design and can be made easily for low cost.
About the Designer:
I have been experimenting with DML speakers for months. I am a keen audio DIYER.
Project Parts List:
| | | |
| --- | --- | --- |
| Part # | Description | Qty |
| 295-224 | Dayton Audio DAEX25FHE-4 Framed High Efficiency 25mm Exciter 24W 4 Ohm | 1 |