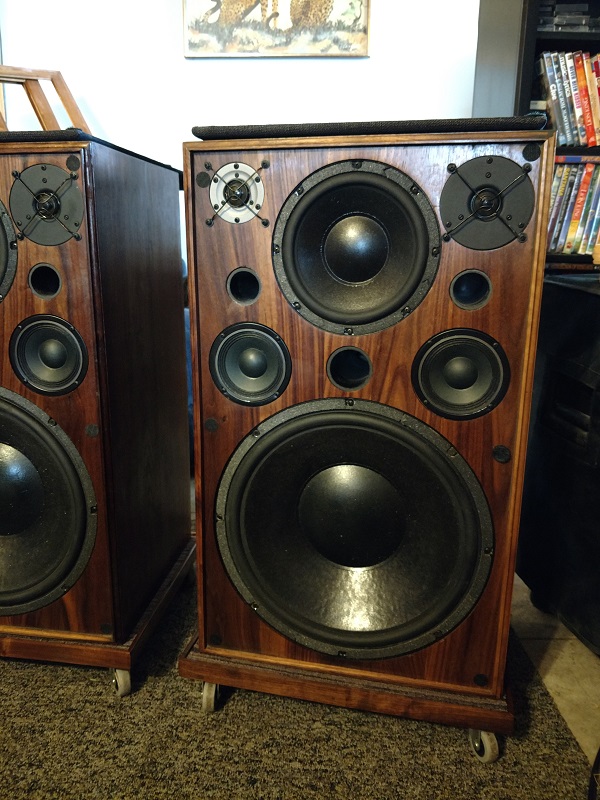 Double trouble
---
Designer:
Jeff Greenlee
Project Category:
Loudspeakers/Cabinets
Project Level:
Advanced
Project Time:
20+ Hours
Project Cost:
$500 – $1,000
Schematic:
new_speaker_schematic_718
Project Description:
Wanted to build a better set of speakers than the ones I built in high school that I still use today, using solid Walnut just like those (no there is no resonance) to make them a thing of beauty & detailed sound, cost was no object nor was weight a consideration, nobody is going to try & steal them. The final set of speakers I am going to build probably.
Design Goals:
Big, bad, beautiful & superior sounding with no subwoofer required, enough said.
Driver Selection:
2) Morel ST 728s #86-277-090
2)Morel CAT 308s #277-082
4)Eminence Alpha 4-8s #290-4012
2) Dayton (made by Eminence) ST-210-8 8″ series II woofers #295-100
2) Dayton (made by Eminence) ST-385-8 15″ Series II woofers #295-130
Enclosure Design:
15/16″ thick solid walnut cabinets & backs, mitered corner joints with glued & screwed bracing throughout, backs have 1/4″ 3 ply birch laminated to them. 3/4″ solid walnut front baffles with 6 ply 3/8″ birch plywood laminated to them for strength for a 1-1/8″ thickness. 3 port design with baffle separating woofer compartments. 4 Eminence ISO-5 5″ mid range isolation enclosures used. Cabinet dimensions are 28.5″ high x 17.5″ wide x 14.75″ deep. 1″ thick foam glued to insides of cabinet for sound absorption. Black PVC for ports with flanges on the inside for a clean look. Offset terminal board of walnut for beauty. Speaker grill cloth frame made of 3/8″ industrial fiberglass.
Enclosure Assembly:
2 pieces of 7 to 8″ wide 15/16″ thick walnut laminated to get the required 14.75″ width, mitered & braced. Backs & fronts glued into cabinet channel along with glued & screwed bracing from the inside. All speaker cavities routed for flush flanges. Modified cooling fan guards were used for the tweeter guards
Crossover Design:
All 2nd order except for the mid ranges which use a narrow band first order, using TRW, Epos & Rifa polypropylene metal film capacitors, 14 ga. hand wound coils for the woofers. 200 watt 4 ohm L pad for tweeters. (8 ohm 100w stereo L pads in parallel). -6db switchable L pads for the mids & 8″ woofer. Hand wired circuit boards made of fiberglass.
Conclusion:
A very involved & long project that turned out better than expected. I did not hurry on this project that took 4 months to complete, attention to detail was given.
About the Designer:
Built my first set of speakers in high school in 1975, I still have them today & use them. Have built 7 sets of solid walnut speakers over the years because I love to beauty of the wood. There is no resonance when built right. Instrument tech/electronics tech is my job, Audio & music is my passion. I don't own any manufactured speakers, be they Pro audio or otherwise.
Project Parts List: