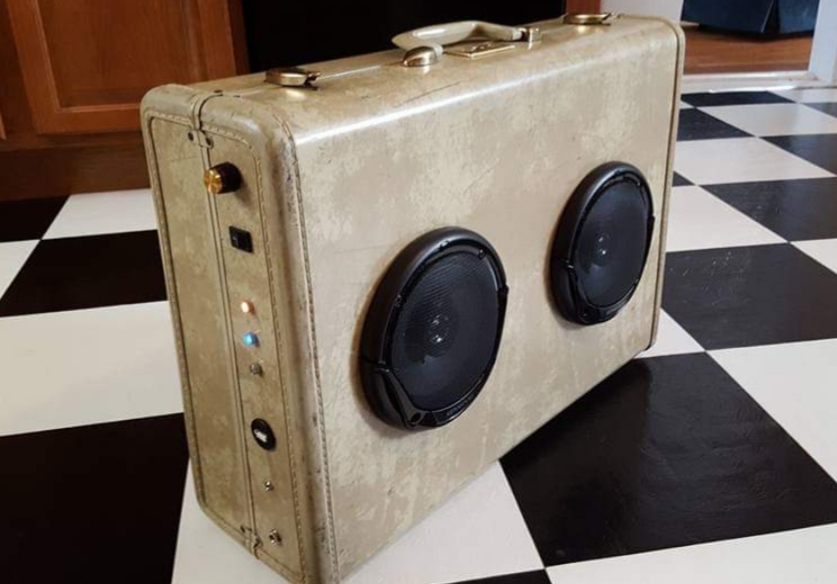 Dynamite Samsonite Boom Case
---
Designer:
Greg T
Project Category:
Portable Speakers
Project Level:
Beginner
Project Time:
1-8 Hours
Project Cost:
$100 – $500
Project Description:
I have several old Samsonite luggage pieces that i have not used for years. They are also not as great for travel compared to a modern bag so I decided to upcycle them to be boom boxes. This was the first attempt.
Design Goals:
I wanted a portable Bluetooth setup that I can use around the house.
Driver Selection:
267-4327
Enclosure Design:
Small vintage Samsonite suitcase with some egg crate foam to deaden the walls a bit.
Enclosure Assembly:
I removed the inner pant bar and one of the pouches for small items like socks. I left the other and use it as a cubby for the ac adapter and cables so it is always ready to go. I cut the holes for the speakers and mounted some egg crate foam inside. The holes for each item on the side were all various diameters of drill bits so simple to setup and prepare.
Tips & Tricks:
I chose to use the KAB-INT for the USB charger, and I used an extension cable to connect it to the outside of the cabinet and avoid the odd cutout of that board. I extended the AUX input as well but do not use either. In the next project I may not use either.
Conclusion:
The frequency results using the IMM-6 mic and an Android app show an acceptable mid range response for the application. Bass response is limited since I used car audio speakers and enclosed them but it does fine overall. It is also not a large suitcase so i knew it was not going to go exceedingly low. I have a larger case for the next project that will focus more on a wider response curve. Battery life is 18-20 hours on background listening levels in my home as I work on projects. Less of course if I am pushing the volume, and I can always add another battery board later if I feel the need.
About the Designer:
I am a Technical Adviser for Parts Express for nearly 5 years.
Project Parts List: