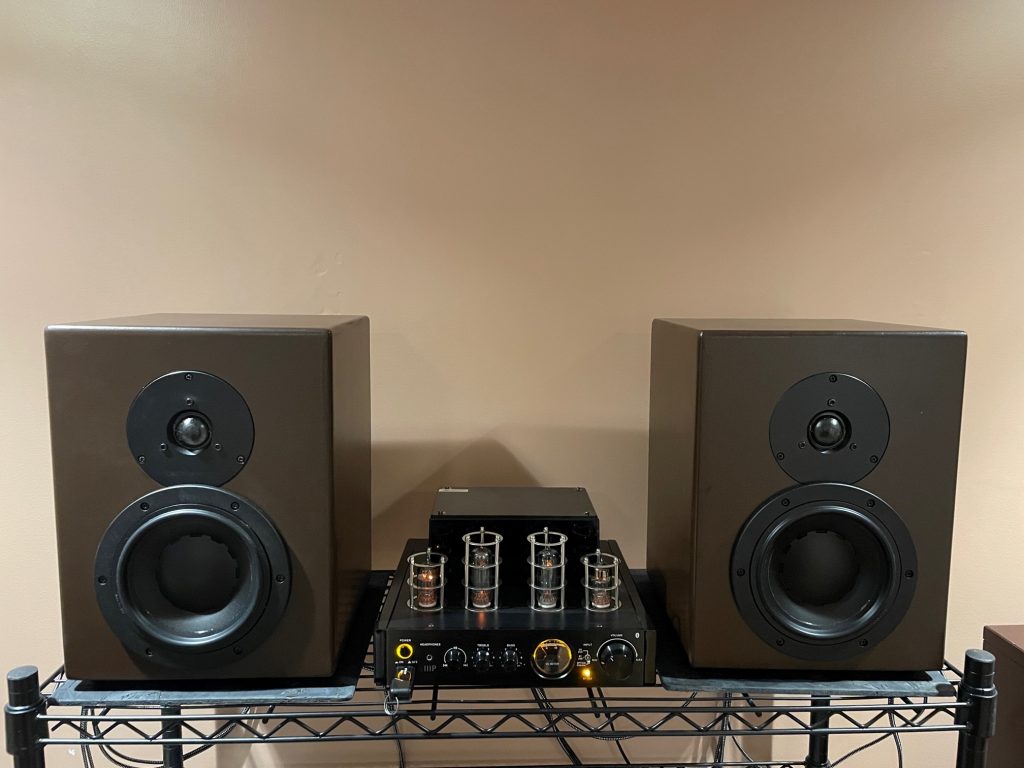 Dynavox 2-Way
---
Designer:
Tom Denton
Project Category:
Bookshelf Speakers
Project Level:
Beginner
Project Time:
1-8 Hours
Project Cost:
$100 – $500
Project Description:
2-Way bookshelf speakers
Design Goals:
Make a set of bookshelf speakers for under $300.00 that had a great low bass sound.
Driver Selection:
Dynavox LW6004PMR-N 6-1/2″ Poly Cone Woofer
Dynavox TD2801XL 1-1/8″ Silk Dome Tweeter
Enclosure Design:
I used a standard 2-way box design with inside bracing & laminated foam insulation.
Enclosure Assembly:
3/4″ MDF with 1/4″x1/4″ slot and rabbet for the sides. 1/4″ rabbet for both front and back to snugly fit these into enclosure housings. 2″ x 4″ pvc port tube on rear baffle. Gold plated binding posts.
Crossover Design:
I used X-Sym to design a simple crossover.
Tips & Tricks:
None, just followed many forums and took their advice as it applied to what I was doing.
Conclusion:
These ended up having more bass from a such a small 6-1/2″ driver than I could have ever though them having. Already have 2 orders from friends to make more.
About the Designer:
I have been doing many woodworking products for years and wanted to make a decent pair of bookshelf speakers.
Project Parts List:
| | | |
| --- | --- | --- |
| Part # | Description | Qty |
| 295-620 | Dynavox LW6004PMR-N 6-1/2″ Poly Cone Woofer | 1 |
| 257-028 | Dayton Audio 0.30mH 20 AWG Air Core Inductor Crossover Coil | 1 |
| 027-428 | Dayton Audio DMPC-10 10uF 250V Polypropylene Capacitor | 1 |
| 027-430 | Dayton Audio DMPC-12 12uF 250V Polypropylene Capacitor | 1 |
| 005-2 | Mills 2 Ohm 12W Non-Inductive Resistor | 1 |