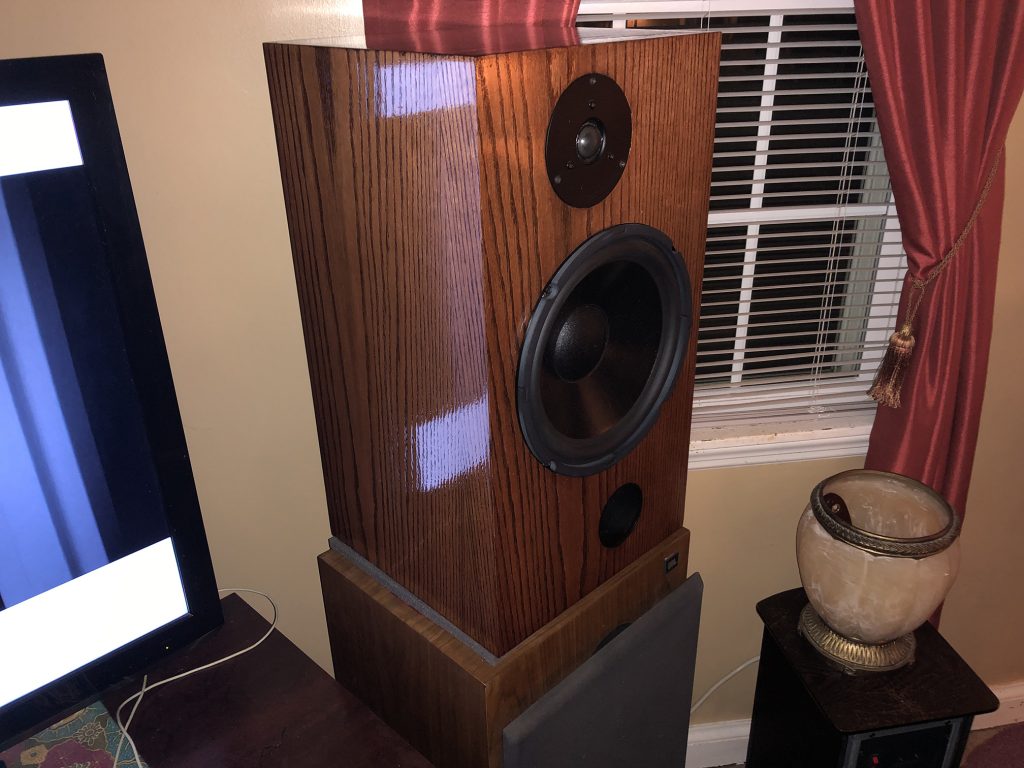 E'couter
---
Designer:
Frankiegeee
Project Category:
Bookshelf Speakers
Project Level:
Intermediate
Project Time:
20+ Hours
Project Cost:
$100 – $500
Project Description:
Classic 10″ Retro Design
To me there's just something Magic about a well designed, large woofer 2 Way speaker. Understanding the problems of meshing a large paper Woofer and small non loaded Tweeter into a flat accurate speaker system, I can see why there's not to many being made today. But with the more advanced drivers and crossover technology available today, I thought I'd revisit some old memories. I like a challenge and it seems no one designing speakers like this anymore, I figured I'd give it a shot.
Design Goals:
To reproduce the speakers I Loved in my teens with a modern drivers and crossover design. I figure I could do at least as good as my old Realistic Optimus 23s I settled with, since I couldn't afford the Dynaco a25s I lusted after or the JBL L56s.
Driver Selection:
295-315 Dayton Audio DC250-8 10″ Classic Woofer
275-070 Dayton Audio DC28F-8 1-1/8″ Silk Dome Tweeter
Enclosure Design:
Large Bookshelf Ported design.
I decided to try to copy the drivers and cabinet dimensions of those old Realistic Speakers. Dimensions are 22.25″x 12.25″x 11.75″ Internal enclosure volume of 1.3 is a little small for the 10″ woofer but still goes quite low with the DC250-8 and 3″ port facing forward. I'm solid and fast too, down to 40Hz.
Enclosure Assembly:
Particle Board, Red Oak Veneer/White Maple
Using the materiel of choice during the 80's-90's, I've been doing my measurements accounting for the sound of the box. Minimal bracing used. I think the cabinet is part of the presentation. It gives a speaker character and a signature.
Crossover Design:
The woofer uses a 2nd order filter with a notch capacitor across the coil. While using resistors in the load for contouring the woofer's response and maintaining a flat impedance. I used 2 high powered ceramic/sand wire-wound paralleled for increased power handling. The tweeter filter is a simple 2nd order with padding resistor dropping the tweeter down to match the woofer.
Conclusion:
Dayton makes great Drivers, I usually buy nothing else for my original designs. The Dayton Audio DC250-8 10″ Classic Woofer is a great driver to work with, solid and clean bass, and a good sounding mid-range to at least 2kHz. The Dayton Audio DC28F-8 1-1/8″ Silk Dome Tweeter is an over-achiever. It's an amazing value and sounds like it cost many times more than it sells for.
I was able to put the 2 drivers together with a solid response, excellent imaging and powerful bass in a classic looking speaker that's way better than those in the 70's and 80's. I've made a few sets of these now, and my customers and I are very pleased with the results.
About the Designer:
I've been in the Audio/Video and Electronics Security Business for a long time. Building custom home theater rooms and set up, led me to building custom speakers for a few of my clients. Though I've always been a Speaker DIYer since my early days at the local Radio Shack and using the drivers they sold. Good Times!
Project Parts List: