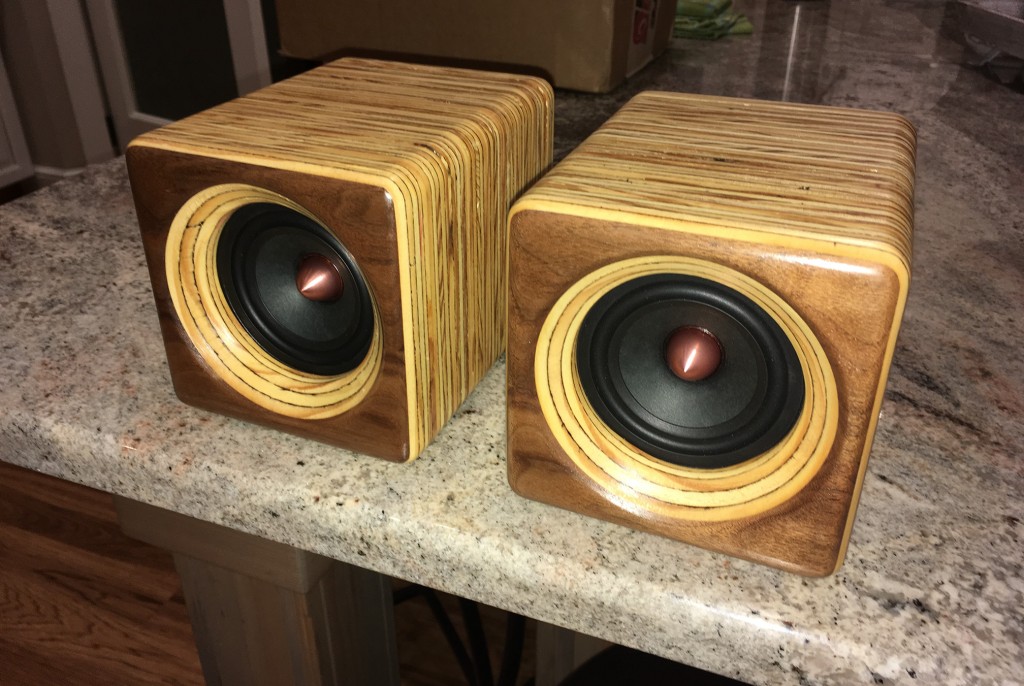 Edge Grain Plywood Computer Speakers
---
Designer:
Nick
Project Category:
Bookshelf Speakers
Project Level:
Beginner
Project Time:
1-8 Hours
Project Cost:
Under $100
Project Description:
These are small speakers i made for use at my desk at work, using a single full range driver for each enclosure i was able to make a fairly small profile speaker pair that fits under my monitors while also sounding great and looking good.
Design Goals:
I needed small speakers that sounded good but did not need to get loud since i will be using them at work. I had noticed how the exposed end grain plywood look was getting more popular and decided it would be an interesting look for my desk.
Driver Selection:
I used the Dayton Audio PS95-8 3-1/2″ Point Source Full Range Driver ( 295-349 ) mostly for its looks and its very impressive high end.
Enclosure Design:
Again my goal was to make these have a small footprint on my desk space, although i wanted to aim for the optimum sealed enclosure volume for these particular drivers (found the value from the driver's information on Part Express), that number was not met simply to make them compact.
Enclosure Assembly:
Used 7 layers of 3/4″ cabinet graded void-less plywood, cut into 5″x 5″ squares and then used a 4″ hole saw bit to cut a circle into each to make the interior of the enclosure. Used wood glue to attach each layer together face to face. After looking at the enclosures for a minute i didn't like the look of the plywood on the front so i decided to add a layer of walnut veneer to give it a clean look. after that there was simply a lot of sanding, routed the edges and tossed a few layers of polyurethane on them.
Crossover Design:
No crossover, these drivers sound great on there own.
Tips & Tricks:
make sure you check the enclosure for voids and seal them up (plywood is not perfect).
Conclusion:
These things sound great, take up no space on my desk and add a cool industrial and walnut look to my work space. Im using the Dayton Audio DTA3116HP Class D Mini Amplifier to power them, its got a good clean look and also has a very small footprint. The only issue i have is that because they are at work, i never get to turn the volume up.
About the Designer:
I've been woodworking for years now but just started into speaker design. I really enjoy the enclosure design and construction side of speaker building but am lacking a little in the driver selection, crossover design, and electronics side of it all and still go to an Electrical Engineering friend for assistance.
Project Parts List: