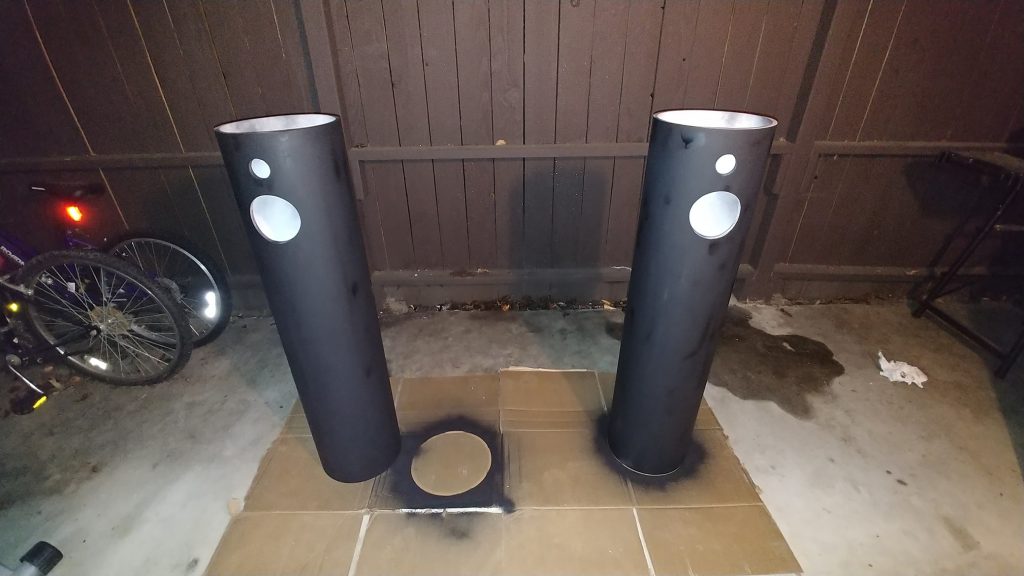 Eliasound v2
---
Designer:
Andy
Project Category:
Tower Speakers
Project Level:
Intermediate
Project Time:
8-20 Hours
Project Cost:
$100 – $500
Project Description:
3-way tower speaker with sealed 10″ woofer and pass through mid-range. Made from schedule 40 10″ PVC pipe and 4″ PVC that houses a 4″ mid-range and passes through to the back of the speaker
Design Goals:
My design goals were to achieve a clean open baffle like sound while retaining strong bass.
Driver Selection:
277-062
290-4012
295-334
Enclosure Design:
10″ schedule 40 PVC pipe was used for the speaker cabinet.
4″ PVC pipe was used to house a 4″ mid and used as a pass through.
1×12 solid red oak was used for the base
Enclosure Assembly:
10″ schedule 40 PVC pipe was cut and drilled to fit 4″ PVC pipe that holds it's own 4″ mid. the 4″ PVC was then sealed around seams to keep air from the woofer from escaping. The red oak base was then attached to the bottom using screws and a window seal as a gasket.
Crossover Design:
Crossover is a premade Dayton audio crossed at 375/3000
Tips & Tricks:
Like I said in my previous build.
Try to come up with a unique design and don't stop adjusting,tinkering or manipulating until you achieve what you want.
Conclusion:
After building my first pair of speakers the Eliasound M1 and hearing how good they sounded I immediately wanted to try and improve them. So the Eliasound v2 was born. Although the v2 looks similar in design to the M1 it's almost completely different,using a sealed woofer Instead of an open bottom design, this helps keep the bass solid on lower volume listening and not over the top on louder volume listening sessions.
Instead of a 12″ paper woofer a 10″ aluminum woofer was used In a sealed cabinet with polyfil. The same Eminence full range drivers were used because they proved to be extremely capable, the Dayton amt 8 tweeter was switched out for a morrel 1⅛inch soft dome tweeter partly because the amt couldn't cross low enough and partly because I found it a little fatiguing, with the morrel I was able to use a crossover that was crossed lower and to my ears the morrels seem to have smoother top end
A new Dayton audio crossovers as previously mentioned was used,crossed at 375/3000 this helped keep any unwanted voices coming from the woofer and only coming from only the mids and highs.
About the Designer:
I've always liked building things and working with my hands, I also love listening to music in my free time so why not have some fun building some that I can have fun listening to later.
Project Parts List: