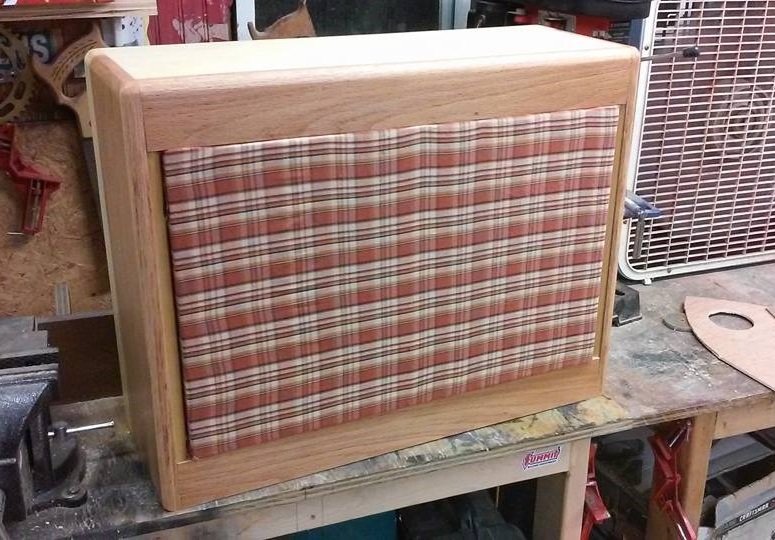 Eminence Legend 1258 Guitar Cabinet
---
Designer:
Chris N
Project Category:
Guitar and Bass Speakers
Project Level:
Beginner
Project Time:
1-8 Hours
Project Cost:
Under $100
Project Description:
A traditional guitar cabinet with one 12″ driver.
Design Goals:
A versatile cabinet that could be used open back or sealed.
Driver Selection:
Eminence Legend 1258 290-486
Enclosure Design:
The enclosure is roughly 25″ wide, 19″ tall, and 9″ deep. The sides are made from solid Red Oak and Pine, laminated together. The top and bottom pieces are Birch plywood, the front and rear baffles are Pine plywood. The rear panel is removable, held in place with screws.
Enclosure Assembly:
The cabinet was joined together with biscuits for alignment, and held by glue and pocket screws. The finish is satin poly, wiped on with a rag, then rubbed with #0000 steel wool. The grill is made from scraps of wood, with fabric wrapped over it and held in place by staples.
Conclusion:
I'm pleased with the way this turned out. I prefer the sound with the rear baffle in place. It is plenty loud without needing much power, and sounds good with clean and dirty tones.
About the Designer:
Speaker building is a hobby I've never considered quitting.